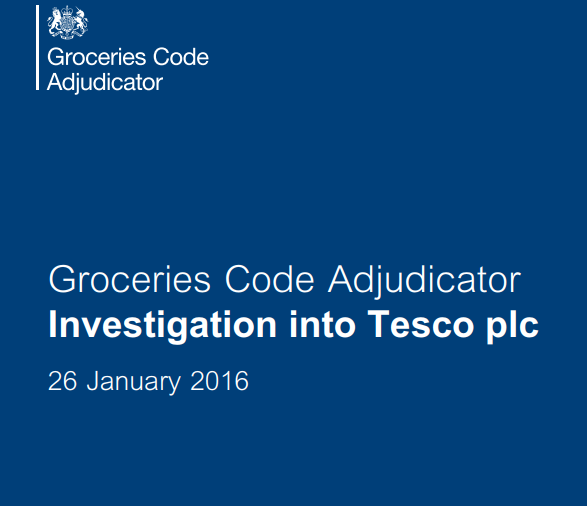 Retail chain Tesco acted unreasonably when delaying payments to suppliers, often for lengthy periods of time, according to the UK's grocery watchdog.
Groceries Code Adjudicator (GCA) Christine Tacon has told Tesco to introduce significant changes to its practices and systems.
After "a thorough investigation" covering 25 June 2013 to 5 February 2015, she found Britain's largest supermarket seriously breached a legally-binding Groceries Supply Code of Practice that protect groceries suppliers
In a press release, the GCA said the adjudicator was concerned about three key issues:
Tesco making unilateral deductions from suppliers,
the length of time taken to pay money due to suppliers,
and, in some cases, an intentional delay in paying suppliers.
Her five recommendations are:
1: Money owed to suppliers for goods supplied must be paid in accordance with the terms for payment agreed between Tesco and the supplier.
2: Tesco must not make unilateral deductions.
3: Data input errors identified by suppliers must be resolved promptly.
4: Tesco must provide transparency and clarity in its dealings with suppliers.
5: Tesco finance teams and buyers must be trained in the findings from this investigation.
In her report, Tacon said an example of delays in payments arising from data input errors included "a multi-million pound sum owed to a supplier as a result of price changes being incorrectly applied over a long period. This was paid back by Tesco more than two years after the incorrect charging had begun."
In regard to duplicate invoicing, generally in respect of promotional activity, she said she saw "examples of large amounts owed to suppliers, of which money owed for duplicate invoices formed part of the total, including…nearly £2 million which took over 12 months to be repaid."
Tesco says it's sorry & has already made big changes
Responding to the report's release, Tesco said in a press release that it accepts the findings of the report and is committed to continuing to build trusted partnerships with suppliers.
Tesco CEO Dave Lewis said that in 2014, Tesco undertook its own review into certain historic practices, "which were both unsustainable and harmful to our suppliers."
"We shared these practices with the Adjudicator, and publicly apologised. Today, I would like to apologise again. We are sorry," he said.
After a comprehensive review of how it works with its 3,000 UK suppliers, Tesco says it has implemented 14 significant initiatives to improve the way it works with suppliers and how it runs its business.
The company said that new initiatives included it becoming the first UK retailer to publish its payment terms with its suppliers, resulting in a fair, transparent and consistent approach across its supply base. "The move introduced payment terms of 14 days for hundreds of small and medium-sized businesses across the UK," it said.