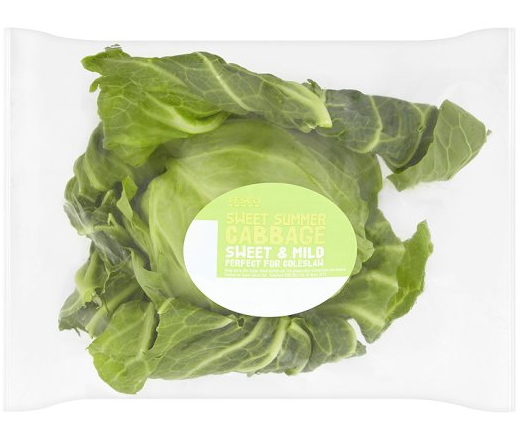 A sweeter variety of homegrown cabbage is being trialled by Tesco.
The UK retailer said the cabbage – known as Sweet Summer Cabbage – is grown in Lincolnshire and was "naturally developed to re-generate interest in the vegetable."
In a press release, Tesco said it has a light, sweeter and fresher taste than other cabbage varieties and is ideal for people who like making their own salads and coleslaw.
Tesco vegetable buyer Luke Shutler explains: "In recent years many greens have not only shed their 'difficult' image but have been re-appraised as superfoods because of their great nutritional value.
"Broccoli was the first about 10 years ago but more recently, thanks to foodie culture and a greater awareness of what we eat, we have seen other greens such as spinach and even sprouts become more popular.
"Unfortunately that has not happened with cabbage, yet, and we think that demand is being held back because of a poor image that goes back to memories of school dinners and cabbage that was boiled to within an inch of its life.
"We have worked with TJ Clements, one of the UK's biggest brassica producers, to come up with this sweet green variety that we believe will not only be a hit with children but with adults too.
"Regular varieties of cabbage have a slightly peppery, almost bitter flavour but the sweetness of the Summer Sweet can be tasted as soon as you take your first bite. "We are trialling it this summer and if demand is strong then we will have more next year." Tesco said the cabbages will be sold in 250 stores.
Cabbage sales down 6% in the UK
Tesco said Kantar data for the UK retail market shows demand for cabbage has fallen 6% in the last two years.
It said cabbage sales in Britain were at their highest in the 1950s when the vegetable was a seen as a relatively inexpensive way of eating nutritious food. But as Britain became more prosperous, the 'meat and two veg diet' began falling by the wayside and, with the introduction and influences of other cuisines and fast food culture, over the years there has been has been a downturn in demand for cabbage.
A the time of publication, Summer Sweet Cabbage cost £1 each, compared to £0.45 for Tesco Everyday Value cabbage, £0.49 for Tesco Everyday Sweetheart cabbage, £0.52 for Tesco red cabbage, £0.55 for Tesco white cabbage, £0.80 for Tesco savoy cabbage and £1.30 for Tesco organic seasonal cabbage, according to Tesco.com.
source: Tesco press release "Sweet Summer Cabbage launched to help image of 'unloved' green"