Japanese supermarket giant Aeon, in online grocery push
Aeon is partnering with British online grocery pioneer Ocado to launch a new company by March 2020 that will use AI and robotics to deliver a cutting-edge digital experience. Also, as a sustainability initiative, Aeon has set up a platform to help boost organic farming in Japan, where demand is outstripping supply of organic food.
Mon 10/02/2020 by Richard Wilkinson
Follow us :
Fresh food delivery has yet to truly take off among the Japanese, who largely still pick up fresh produce on a daily basis. But with better logistic networks and different demographics – such as more dual-income households and senior citizens – that's forecast to change. And with AmazonFresh already in Tokyo, and Walmart (owner of Aeon rival Seiyu) beefing up its online grocery delivery together with Japanese e-commerce giant Rakuten, it's no surprise that supermarket Aeon is also making the leap. In a statement in November, Aeon said it will leverage Ocado's world leading know-how to launch and operate "the next generation online supermarket." It plans to open its first customer fulfilment centre harnessing the Ocado Smart Platform by 2023 to serve Japan's Kanto region, followed by others over the following two years in order to eventually serve the whole country. And it anticipates achieving online grocery sales of about 600 billion yen (about €4.92b) by 2030. "Aeon will realise a highly efficient operations and distribution system to deliver 'anytime, anywhere, anything' through a superb application interface to meet our customer needs. It is expected that these technologies can be utilised for the existing Aeon online supermarket business, store pick up, click & collect," the company said in a press release. Aeon also plans to seek more partners both in Japan and around the world in order to be at the forefront of the digital era. Ocado, it should be mentioned, has also been chosen as a partner by other major supermarket groups around the world, including Kroger in the US, Casino in France, Marks & Spencer in the UK, ICA in Sweden and Coles in Australia.
Produce from farms run by Aeon Agri Create // Credit: Aeon
A platform to boost organic production
Two other key initiatives from Aeon are in the area of organic food. Back in 2017, among the sustainable procurement goals the group set itself was that of boosting the sales ratio of organic products to 5% of all its agricultural products by 2020, also when Tokyo will host the summer Olympics. Aeon says it wants to contribute to "human, social and environmental health" through organic products, furthermore ones that are "cultivated, distributed and consumed naturally." It also says it is "responding to our customer demands for safer, better tasting, and environmentally friendly food products." However, while interest in organic produce is on the rise in Japan, "supply of organic products has not caught up with growing consumer demand," it says, and "organic JAS certified producers in Japan account for only 0.2% of all farmers." Given this context, in September 2019 the retailer announced another initiative, the new Aeon Organic Alliance (AOA). In a statement, it said this platform will boost the supply of organic products and help farmers overcome the burden of high organic cultivation costs and those incurred due to inefficient distribution, as well as giving them opportunities to gain new skills, exchange information and share and solve issues together. The AOA platform will be used to "centrally manage production, procurement, processing, distribution, and sale of organic agriculture products."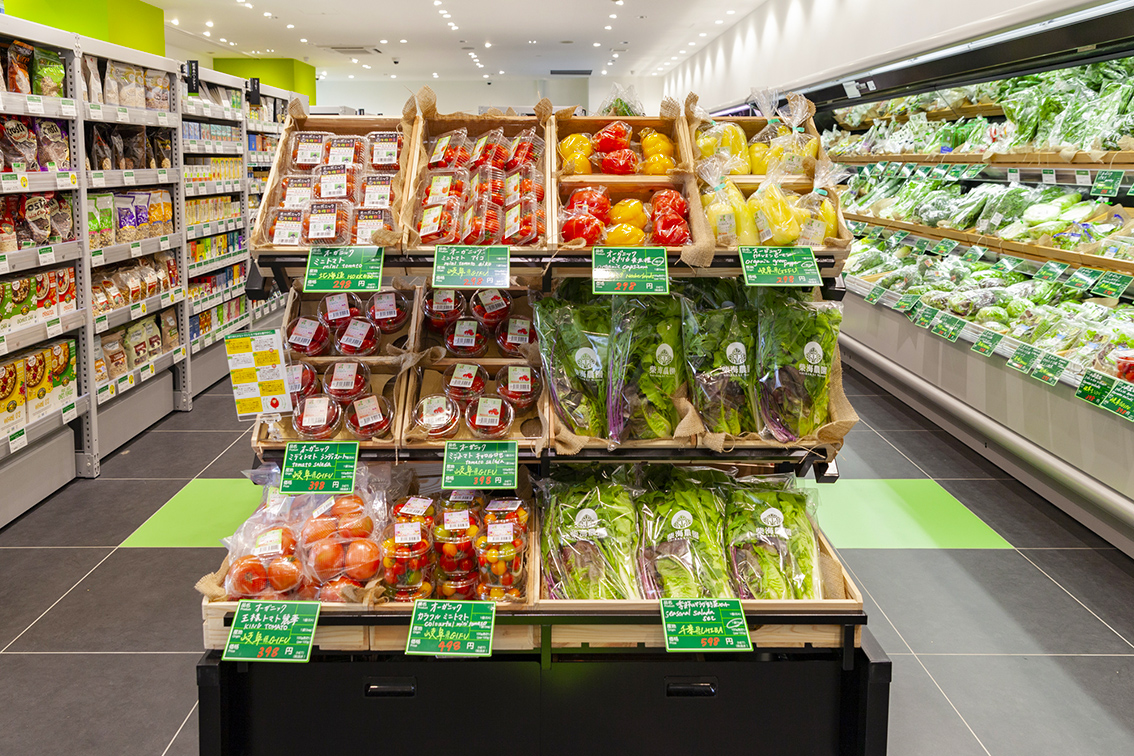 Organic produce in Bio c' Bon store in Japan // Credit: Aeon
14 new organic stores in Japan
AOA members will also have access to technological know-how for the acquisition of Global G.A.P. and organic JAS certification. Aeon has acquired such expertise via the 20 farms it directly manages across Japan. The farms are operated by the company Aeon Agri Create and three hold organic JAS (Japanese Agricultural Standard) certification, one of which is the fully organic 16 ha Saitama Hidaka Farm. Aeon's organic farms will serve as distribution bases that collect products from growers who are members of its organic alliance, thus reducing distribution and delivery costs while also facilitating joint purchasing of materials necessary for cultivation, which in turn lowers costs. Furthermore, an AOA website will share what is happening in stores, including customer feedback, product line-ups, and sales performance, as well as overseas trends and other relevant information. It will also serve as a communication platform for connecting producers. Another group subsidiary, Aeon Topvalu, develops Aeon's private brand for organics, Topvalu Gurinai, which is sold in group stores across Japan. Also providing a sales outlet for organic produce in Japan are the Bio c'Bon stores operated by Aeon in partnership with French firm Bio c' Bon. There are now 14 such stores in Japan.