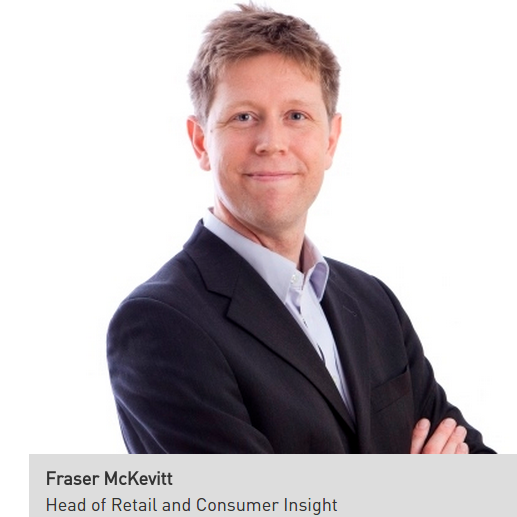 The British grocery market is growing at 1.1%, the fastest rate since June 2014, according to Kantar Worldpanel.
Its grocery share figures for the 12 weeks to February 1 also show:
Tesco, Britain's largest retailer, returned to growth for the first time since January 2014, increasing sales 0.3% on the same time last year, but its overall market share fell to 29%, down 0.2 percentage points on last year.

Asda reclaimed the title of second largest retailer this period with 16.9% of the market, overtaking Sainsbury's, which traditionally performs more strongly at Christmas than the rest of the year. But both grocers saw sales fall compared with a year ago – Asda by 1.7% and Sainsbury's by 1.0%.

Morrisons' sales fell 0.4%, the best performance from the Bradford-based retailer since December 2013.
based on data for 12 weeks to February 1, 2015


Kantar Worldpanel head of retail and consumer insight Fraser McKevitt said Tesco is bouncing back from a tough year, with efforts to overhaul the supermarket attracting an additional 236,000 shoppers into its stores in the last 12 weeks.
"Early results suggest that discounters Aldi and Lidl will find their accelerated growth levels hard to match in 2015. Aldi's growth of 21.2% is still impressive but a relative slowing from its 36% peak in May 2014. Likewise, Lidl's maximum growth of 24% in the same period is now down to 14.2%. Despite this slowdown, both retailers are still taking share from the other retailers – rising 0.8 percentage points and 0.4 percentage points respectively to 4.9% and 3.5%," he said.
At the premium end of the market, Waitrose has supported growth with a greater focus on price and promotion, delivering a 7.2% sales rise taking its overall share to 5.2%.


British grocery market accelerating
McKevitt said British shoppers are taking advantage of lower fuel prices and the ongoing supermarket price war to slightly increase their grocery spending. "This has pushed the market into 1.1% growth, low by historical standards but a considerable improvement compared to November 2014, when the market contracted."
"All of the major grocers have continued to compete fiercely on price leading to like-for-like grocery prices falling by 1.2%. This is another record low, saving Britain's shoppers £327 million over the past 12 weeks," he said.


Tool for seeing latest rankings
Kantar Worldpanel now provides an online visualisation tool for its grocery market share data (including historical figures) here:
http://www.kantarworldpanel.com/en/grocery-market-share/great-britain.
source: http://www.kantarworldpanel.com/en/Press-Releases/Market-accerlerates-and-Tesco-returns-to-growth