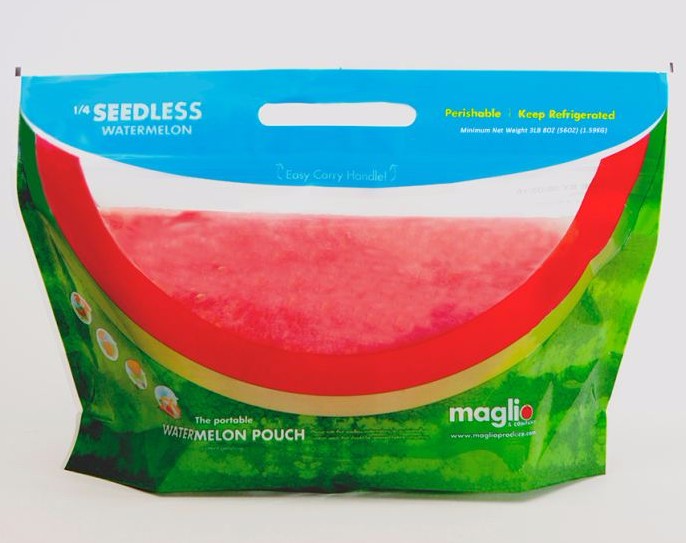 A resealable, anti-fog watermelon pouch which comes with a handle for easy carrying is the subject of a United States patent application by Wisconsin-based grocery wholesaler The Fresh Group, Ltd.
The application says the zip-lock bag has a gusseted floor to accommodate a large watermelon slice. A transparent window allows consumers to see the watermelon inside the pouch, which also features an upwardly concave interior volume – to orient and stabilise a watermelon for best presentation and least damage – and sturdy sidewalls to support the pouch on a flat surface.
The packaging was developed to keep larger sliced produce, such as watermelon, viable, at a high quality level and freshness for consumption, and easy for the consumer to carry home, the document says.
In an interview with the Australian Broadcasting Corporation (ABC) earlier this year, Maglio product manager Joseph Delgadillo said an 11-day shelf life had been consistently achieved with watermelon in such a pouch. He said that in a trial in the US, the bags proved popular with consumers, who liked the added convenience, and retailers, who particularly appreciated the extended shelf-life. Delgadillo said the bag was attracting interest from other countries and markets and was a concept that would apply to other kinds of fresh produce, the ABC said.
The patent application has also been published by the World International Property Organization.
According to the andnowuknow website, the 'ready-ripe watermelon pouch' won the 2015 Innovation Award for Best New Packaging at United Fresh Produce Association trade show and has since been endorsed by America's National Watermelon Association (NWA) for its ¼ sliced watermelon program.
Some of the drawings included in the patent application.