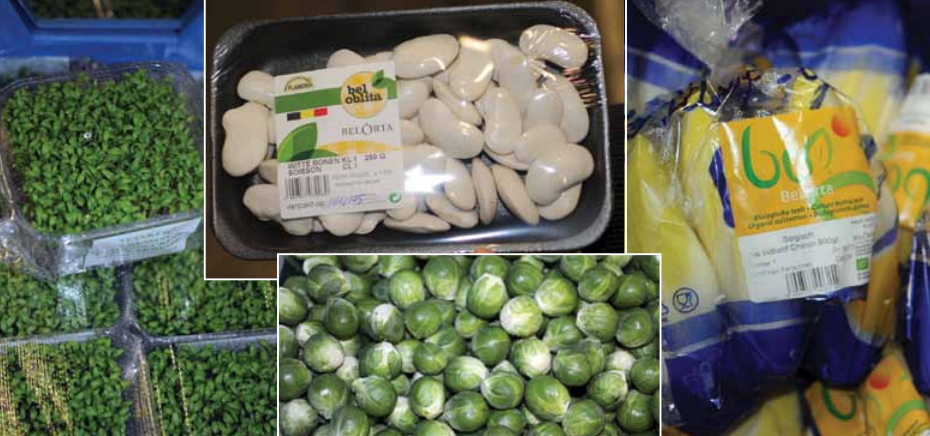 The leading Belgian supplier will present its new tagline and a wall of innovations at Fruit Logistica.
Last year was a standout one for BelOrta. It achieved record turnover of €400 million by providing the highest quality and innovative fruit and vegetable varieties day in and day out. And it goes into this year with a new message. "From 2016, we shall add a new tagline below our company logo," explained BelOrta commercial manager Jo Lambrecht. "This tagline, 'redefining fruit & vegetables', expresses our mission: to redefine the standards within the fruit and vegetable landscape," he said. In a rapidly changing market environment, BelOrta completely re-invents itself and is always looking for a higher level in all areas of its business.
For the second time, BelOrta will have its own booth at Fruit Logistica, in hall 6.2 A-04. This year, BelOrta is adding a wall packed with its innovations from 2015 and upcoming launches for 2016. BelOrta focuses on innovation and is continually searching for consumer-desirable products and packaging, innovative growing techniques, storage systems and modernised logistics processes.
Working to improve air connections
With a 60 ha investment project around the location of the BelOrta facilities in Mechelen, BelOrta's goal together with the Antwerp province's authorities is to create a large logistics and agronomic park in order to include all of the supply chain activities in one single location. Direct access to the highway will be created soon to improve the road connections. Another project has been started up to facilitate daily logistic connections between the Rungis wholesale market, Brucargo (Brussels airport) and BelOrta. "BelOrta aims to increase its airfreight operations as well," Lambrecht said.
The widest vegetable assortment and a world of specialities
"The garden of Europe" today offers more than 150 groups of produce for retail, catering industry professionals and the food industry. Traditional varieties, organics and speciality tomatoes have been the latest 3 categories with the largest Interested to see our Wall of innovations at Fruit Logistica? Visit us in Hall 6.2 A-04 or contact us via sales@belorta.be or +32 (0)15 565 617 Focus on innovation Wide range of fruits & vegetables Experts in product, production & market knowledge www.belorta.be 16073-EN-V2-ad Eurofresh-217×305.indd 1 12/01/16 10:23 Jo Lambrecht increase in items this season. "Several retail customers want some distinctive or sometimes even exclusive items," Lambrecht said.
White beans, yellow turnips, jumbo parsnips, topinambours, young ferns, black salsify, black radishes (both long and round types), as well as kale and flower sprouts are among the traditional and new variety selections to seduce both the culinary experts and ordinary consumers with more exclusive flavours and healthy selections. "Our range of kale already includes a wide selection such as green kale, purple kale and the palm variety," explains Lambrecht. From 2016 onwards, the packaging of the Flandria tomato line will be renovated. All segments (Baron, Prince, Princess, Elite, Romared and Prunella) are getting a new fresh, even look, each with its own colour. The new style guarantees a wider recognition of Flandria tomatoes in the vegetable section.
BelOrta also offers a very large assortment of organic fruit and vegetables today, with over 60 items. Among the more successful varieties this season are the Belgian endives and greenhouse vegetables. "We will increase our organic greenhouse production significantly in 2016," Lambrecht revealed.
PE