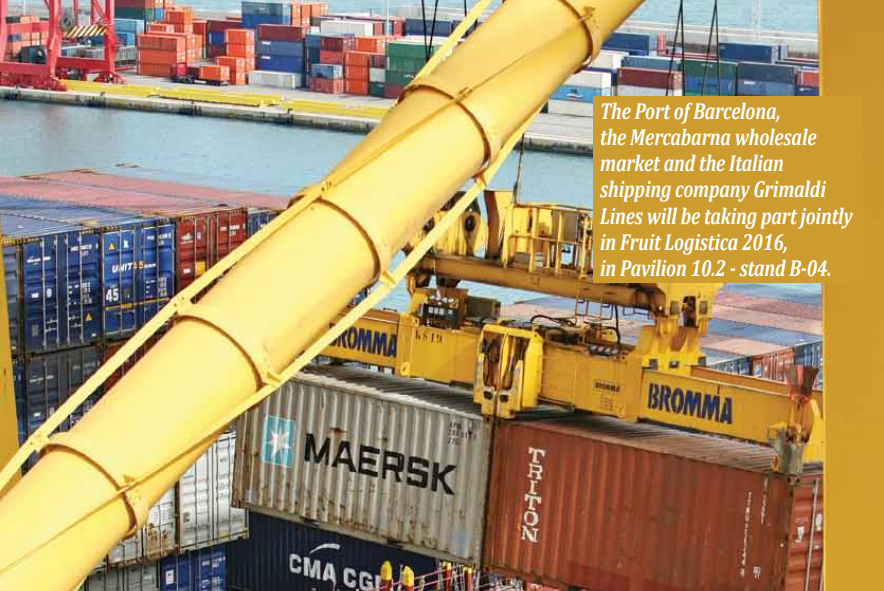 The Catalan port will be participating in Fruit Logistica with a joint stand with Mercabarna and Grimaldi Lines.
Under the slogan "Integrated Trade & Supply Chain", the Port of Barcelona and its partners, Grimaldi Lines and Mercabarna, will be present for the third year in a row at the fair in Berlin with a range of integrated logistics that is unique in the region.
Their logistics have complete connectivity, supply and distribution solutions to meet the needs of importers and exporters, as well as logistics operators specialising in fresh produce.
The collaboration between these three major players enables them to offer a combination of the biggest supply and variety of fruit and vegetables in Europe, which is currently in Mercabarna, together with logistics solutions adapted to fresh produce, allowing them to transport it with the utmost guarantees via the maritime services offered by the Port of Barcelona.
Among the services the Port of Barcelona will be promoting, the short sea shipping (SSS) lines are particularly noteworthy. Combined with road transport, these sea routes optimize logistics to the maximum for exports to Italy, the countries of Northern and Central Europe, and North Africa. Moreover, the regular container lines with major counterseason fruit source markets have been changed in recent years to improve transit time and make importers more competitive.
This advertorial appeared on page 63 of edition 141, Jan/Feb 2016, of Eurofresh Distribution magazine. Read that issue online here.