What is new in PDO or PGI?
The Protected Designations of Origin (PDO) and Protected Geographical Indications (PGI) recognise and certify a product's differentiated quality. This quality comes from the products differential characteristics due to the geographical environment in which the raw materials are produced or the products are manufactured, or due to human factors in their production. In short, they offer quality, origin, tradition and certified guarantee.What do Italians bring to the table in 2023? Particular attention is being paid to "Made in Italy" and "100% Italian" claims as well as quality certifications.
Thu 09/11/2023 by María del Mar Valenzuela & Gabriele Orsi
Follow us :
PGI Poma de Girona maintains stable supply
One in five Spanish apples is from Girona. With 2,000 ha in production, apples grown in the Girona region account for 33% of the production in Catalonia and almost 20% of Spain's entire apple crop. In the area regulated by the PGI Poma de Girona, four main varieties are grown. This year, the Golden Delicious variety leads production (31,740 tons), followed by Gala (19,240 tons), Granny Smith (14,390 tons), Fuji (7,820 tons), Cripps Pink (6,830 tons), and other red varieties (6,030 tons). The expected harvest of 88,570 tons is similar to last year's. Good calibres and high quality are anticipated, especially in varieties like Gala, as the cold nights promote a deeper red colouring in the apples.
Persimmon from Ribera del Xùquer DO, local quality products from the territory
The Ribera del Xùquer PDO encompasses 6,000 persimmon growers along the Valencian coast. While last year's campaign was a poor one (just 40,000 tons sold), this season's crop is expected to reach 110,000 tons. "Despite hail and pests, we will have a normal campaign. However, persimmon production is stabilising due to the reduction in cultivated area in recent years, as we reach a balance in production and marketing," said Rafa Peruccio, manager of the designation of origin, with a surface area of 3,000 ha, equivalent to 50% of Spanish production. The PDO certifies and promotes the "Kaki Persimon" branded fruit, ensuring profitability for producers and promoting values such as recognition of agricultural work and caring for the region's land, while guaranteeing quality local products.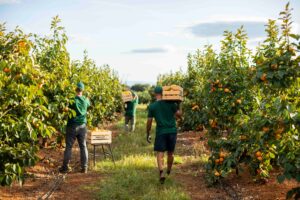 Benicarló artichoke PDO guarantees quality
The Benicarló PDO will expand its range of artichoke varieties in the 2023/24 season with the addition of the new Green Queen variety, approved by Spain's Department of Agriculture. Until now, only the Blanca de Tudela variety had been recognised. The Benicarló Artichoke PDO Regulatory Council supervises quality and labeling standards, ensuring the quality of artichokes marketed under the PDO seal. Nacho Lluch, the regulatory council's quality director, said: "We are very rigorous in our controls to ensure the quality of artichokes sold under the PDO seal." Grown on 300 ha in Castellón, Spain, the Benicarló artichoke benefits from the local microclimate, which gives it a distinctive flavour. The artichoke, which has a flat and compact shape, is rich in calcium, iron and vitamins A, B and C. The season runs from November to May and is mainly geared for the Spanish market.
Citricos Valencianos PGI launches consumer brand
The Citricos Valencianos PGI has grown dramatically since the turn of the millennium, when it only had 13 farmer members. Twenty years later, 60 operators now use its seal, representing 33% of the Valencian citrus sector. The fruit sold under this seal must have the characteristic internal qualities of Valencian citrus in terms of flavour, colour, sweetness and juice. Furthermore, the seal ensures the region's fruit maintains its reputation for excellence and quality in international markets. General director Jose Enrique Sanz is satisfied with the new 'Valenciana' brand aimed at the end consumer and available to operators and supermarkets. Large chains such as Carrefour and Consum are already using it successfully. However, Sanz warns that there will be a small harvest this year, 20% less than in a year of full production.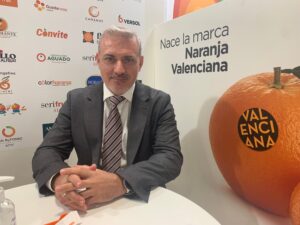 Cereza del Jerte DO guarantees origin and production process
The Spanish cherry season in the Jerte Valley, which runs from April to August, presents varieties such as Navalinda and Picotas (Ambrunés, Pico Limón Negro, Pico Negro and Pico Colorado). These fruits are produced in a unique microclimate following quality standards stipulated by the Denomination of Origin Cereza del Jerte. Choosing the best cherries requires looking for intense colours, fresh stems and firm fruits. The Picota del Jerte, notable for its flavour, has no peduncle and is harvested in accordance with the strict quality controls laid out by the Regulatory Council of the Denomination of Origin. Besides tasting delicious, cherries and cherry blossoms also offer health benefits, such as purifying properties, reduction of uric acid and prevention of cardiovascular diseases due to their high carotene and fibre content.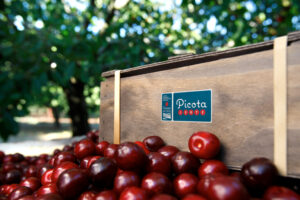 Consumption of PDO and PGI products continues to grow
Fucino Potato PGI: high-quality products
The Fucino PGI potato is a high-quality product characterised by its high phosphorus and potassium content. The production area, located 720 metres above sea level in the Fucino Plain, has a broad day-night temperature range and dense canalisation, which gives the soil its humidity and fertility. The harvest of Fucino PGI potatoes takes place from August to mid-October. There is no limit to the number of varieties allowed; all varieties registered in the ENSE register can be certified. The permitted production area is limited to the Fucino Plain in the municipalities of Aielli, Avezzano, Celano, Cerchio, Luco dei Marsi, Ortucchio, Pescina, San Benedetto dei Marsi and Trasacco. Currently, around 200 potato growers are authorised to use the PGI seal.
Red Radicchio of Treviso PGI: a pioneer in certification
In 1996, the Red Radicchio of Treviso became the first PGI-certified fruit or vegetable product in Italy. There are two types: early (harvested from September to November), and late (October to April). "Both undergo natural whitening," said Andrea Tosatto, president of the Consortium for the Protection of the Red Radicchio of Treviso PGI and the Variegated Radicchio of Castelfranco PGI. The Consortium has 90 producers with 400 ha in 24 municipalities of Treviso, Padua and Venice, producing 1,350 tons per year.
The Alto Adige PGI apple: 18,000 ha of production
The Alto Adige PGI Apple is distinguished by its intense colour and flavour, dense pulp and long shelf life. The production region, Alto Adige, boasts favourable climatic conditions, with more than 300 days of sunshine per year and significant temperature changes between day and night in summer and autumn. There are 72 municipalities in the Autonomous Province of Bolzano, with a total of 18,000 ha cultivated and the consortium has 7,000 member producers. This apple is marketed through three brands: Marlene®, Mela Alto Adige PGI and Val Venosta. Eligible apple varieties include Braeburn, Elstar, Fuji, Gala, Golden Delicious, Granny Smith, Idared, Jonagold, Morgenduft, Red Delicious, Stayman Winesap, Pinova and Topaz.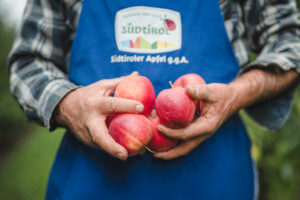 Ribera PDO Orange: blonde, sweet and crunchy pulp
The Ribera PDO Orange has a blonde, sweet and crunchy pulp thanks to its soft-fibrous balance. Its peel is edible as it does not undergo post-harvest treatments; it is only washed and dried before packaging. This type of orange is produced in 14 municipalities on the island of Sicily, from November with the Navelina variety and from December to the end of May with the Brasiliano and Washington Navel varieties. "The Arancia Ribera PDO Orange valley is unique, as it's protected by the Sican mountains to the north and the sea to the south, guaranteeing the product protection from cold winds in winter and offering coolness in summer thanks to the sea breeze," said Paolo Parlapiano, vice-president of the Ribera PDO Orange Consortium.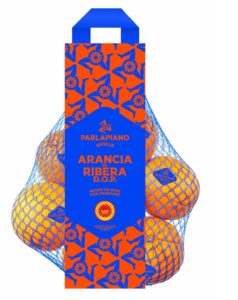 Radicchio di Verona PGI, the heart of Veneto´s territory
The radicchio di Verona PGI distinguishes itself for the heart-shaped clump of leaves folded over at the top, brilliant dark red colour with very prominent white central ribs, slightly bitter flavour and crunchy texture. Thanks to its versatility, this radicchio variety can be used in both traditional recipes and modern ones from appetizers to desserts. From nutritional point of view, it is low in calories, but very rich in mineral salts and vitamins. "Geofur is a recognised producer and packer of Radicchio di Verona PGI with an annual production of around 730 tons (60 hectares)" explains Cristiana Furiani, CEO and commercial manager of OP Geofur Soc. Coop. Agr., an agricultural cooperative that was established at the end of 2006 by including all the growing companies which for over 20 years. Radicchio´s geographical production area includes the provinces of Verona, Padua and Vicenza. It comes in two types: there is the early-season one harvested from September with a single clump weight 150g-350g and the late-season one harvested from December with a single clump weight 50g-300g.