Trends driving America's produce category
Tue 12/07/2016 by Julie Butler
Follow us :
The recent wave of consumer interest and demand for health and wellness products has been great for the fresh produce business in the United States.
However, winning in produce requires more than just resting on the inherent health aspects of fruit and vegetables, warns the Nielsen Perishables Group.
Director of client services Jennifer Campuzano (pictured) told ED that in the US grocery retail sector, the average produce department dollar sales CAGR from 2011 to 2015 was 3.7%. And what's more, it's well-positioned to continue its steady growth, "as a widely purchased department that brings higher overall basket rings than those trips that don't include produce," she said.
Produce is the second-largest fresh department behind meat in US supermarkets, and rang in a total of $47 billion in the US in 2015.
But while it's an exciting time for the produce department, Campuzano emphasised that the steady growth of the department over the past few years is being driven by trendy products – those that have adapted to contemporary consumer demands, such as convenience – while many staple categories are declining.
"Additionally, organics, innovative convenience products and differentiated assortment are becoming more common outside of high-end grocery, even within value retailers.

"And although a shifting retail environment and increasingly choosy consumers can and do present challenges, they also offer exciting new avenues for growth.

"Retailers and suppliers can now embrace a variety of opportunities within the store – think product innovation, merchandising across departments for more holistic consumer solutions etc. – and outside of the store (meal and grocery delivery, partnering with local suppliers) in order to win," Campuzano said.
Simply relying on the health benefits of produce and trusting consumers to know and understand those benefits is not enough, however, to continue to drive growth within the department, she stressed.
"In fact, traditional staple categories like whole apples and bananas had flat or declining sales in 2015 (down 4.2% and 0.6% compared to the previous year), and products like value-added fruits and vegetables and mandarins, that offer additional benefit for consumers in terms of convenience, bold flavour, and snack-ability, are driving growth.
Organic outpaces conventional in sales growth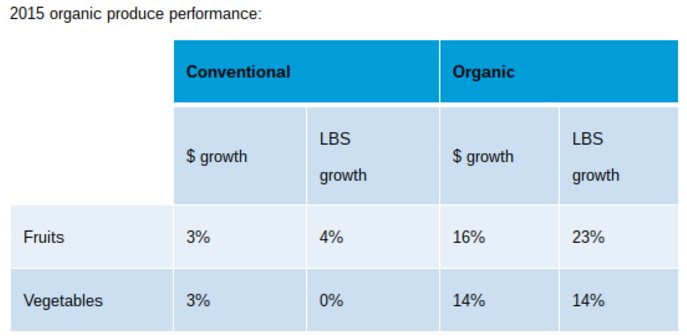 Produce is also well-positioned to take advantage of what we call '21st century health concerns', Campuzano said.
"Twentieth century health concerns were all about reducing and removing – reduced/non fat, low sodium and sugar.
Today, 21st century health and wellness concerns are more benefit focused (high protein, grains and natural heart healthy foods) and how the food is sourced. Is it organic? Local? Gmo-free? 21st century health and wellness devotees want to know where their food comes from and what it's doing for them.
"The perceived benefits of organic produce (free of pesticides, healthier, fresher) fall in line with these "new" 21st century health priorities, and help explain why sales of organic produce grew at nearly four times the rate of conventional produce in 2015," she said.