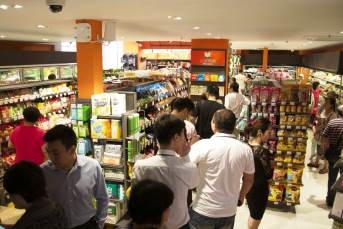 Carrefour launched its second Easy Carrefour store in Shanghai on June 30.
The new proximity format store is located on Chaling North Road, Xuhui District.
In a press release, the French retail group said its Easy Carrefour format "is an innovation as well as a breakthrough in profitable mode. In recent years, Carrefour has been trying various ways to open up a larger market, including eCommerce and convenient stores," it said.
Carrefour's proximity stores sell takeaway food
Easy Carrefour stores cover up to 280m2, with two levels. The first floor offers fast food, cooked food, dairy products, salads, and semi-cooked food, as well as shampoo and washing powder and some French brands. On the second floor there is an open space with free Wi-Fi where customers can stay for a rest or to have a meal, Carrefour said.
China expected to be growth leader
On announcing its third quarter results last year, Carrefour said it was continuing its expansion in China despite "a frugal consumption environment."
Carrefour was the first retailer to open a hypermarket in China – in 1995, in Beijing. It now manages about 240, across 73 cities there.
A hypermarkert opened by Carrefour in China in December
Carrefour CEO Georges Plassat has said Carrefour plans to continue expanding its market share in China, focusing on "newly developing urban areas." Both China and Brazil "will continue to be growth leaders for the future. Income levels will increase substantially in emerging countries, which should bolster our business over the medium term."
According to China Daily USA, Carrefour is expected to open 15 new hypermarkets in China this year and roll out more convenience stores.
source: Carrefour