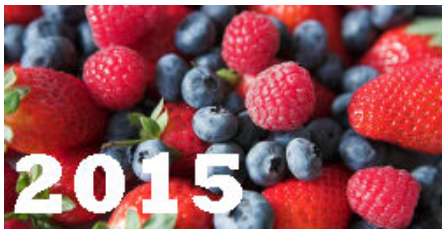 "Berries of Ukraine – 2015: Frozen Produce & Fresh Market"
Preferential registration fees for Ukraine's leading berry conference in effect till Monday April 13
The conference will be on May 21-22 (a sessional part in Rus Hotel, Kiev, on the 1st day and a business-tour to Agrofirma Vesna-2011, one of the leading berry farms in Kiev Region, on the 2nd one).
This 6th International Conference will focus on the following questions:
– The Ukrainian berry production and price forecast for 2015
– Imports' influence on the Ukrainian market and export potential of Ukrainian fresh and frozen berries
– Berry production technologies in Ukraine: strawberries, raspberries, blueberries, gooseberries, honeysuckles, currants, blackberries, cherries, grapes
– Agrichemistry support for berry production
– Berry growing in different climatic zones in Ukraine (open ground and under cover)
– Production potential of everbearing berry varieties
– Investments in the berry business: most attractive positions
– The Ukrainian market for deep frozen berries: present situation and development prospects
– Modern handling, packaging and processing technologies for berries in Ukraine
– Key sales channels for fresh and frozen berries: supermarkets, wholesale markets, processing, export
The business-tour to Agrofirma Vesna-2011 will focus on:
– plantations under summer and everbearing strawberries (open-ground and under cover), black, red, white currants; summer and everbearing raspberries; blueberries;
– machinery used during berry growing;
– berry harvesting process;
– post-harvest cooling of berries;
– berry packaging, different packaging types.
Why to attend:
– Obtain exclusive market information about real market situation and outlook, which can't be found in the official statistics
– Meet in person the largest growers of berries, cherries and table grapes from Ukraine, Moldova, Belarus and Russia
– Meet leading processors of berries from these countries
– Excellent promotional and advertising options for suppliers of inputs, equipment, plants, agrichemistry, technologies
Key conference audience: growers of strawberries, raspberries, blackberries, currants, blueberries, table grapes, sweet and sour cherries as well as processors of those products account for more than a half of the delegates.
The event, organized by Fruit-Inform and sponsored by Syngenta, will be attended by more than 150 participants – from 8-10 countries – with more than a half of them to be represented by producers of fresh and frozen berries.
Find out how to join the sector leader at:
www.fruit-inform.com/en/conferences/berry2015/about
email: fruit.intl@fruit-inform.com