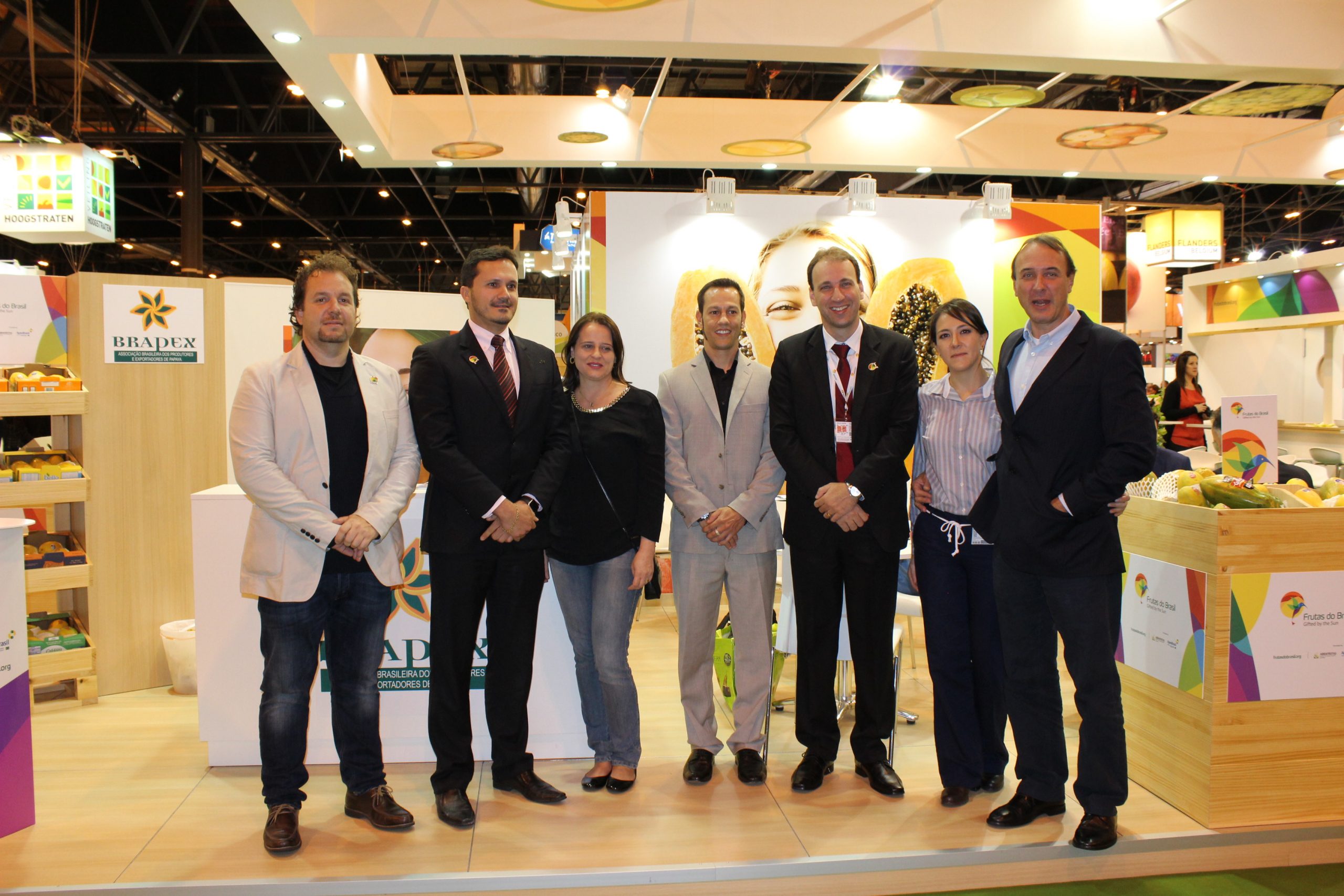 The Brazilian Fruit Growers-Exporters Association (ABRAFRUTAS) and the Brazilian Trade and Investment Promotion Agency (Apex-Brasil) joined together to launch a new brand, Frutas do Brasil, at Fruit Attraction in Madrid in October.
"Today only 3% of Brazilian fruit is exported, but we want to go much further, showing the world the unique flavors of the Brazilian sweet, juicy and fresh apples, avocados, bananas, grapes, lemons, limes, mangoes, melons, oranges, papaya, tangerines and watermelon, among others," Frutas do Brasil project manager Helio Lobo told Eurofresh Distribution.
Lobo said the aim of this organisation, which unites 14 producers and exporters, is to support international partnerships, promoting the origin of Brazil worldwide.
"Brazil, the World's Barn is also a Superb Orchard" is the motto for the new campaign, which focuses on the quality and taste of the fruit nourished by the country's unmatchable tropical sunlight. The brand uses joyful colours, representing the diversity of the fruit and natural warmth of the Brazilian people. The native bird the beija-flor" (hummingbird in English) acts as a symbol of sustainability.
"The Brazilian fresh fruit industry became very competitive in the last years. Breeding and technical developments in the orchards allowed us to achieve a high level of quality, producing almost 365 days a year. Traceability, food security and social and environmental sustainability are also our hallmarks," Lobo said.
Quality label for Brazil's papaya growers
Brazil produces about 1.5 million tons of papaya ("mamão"), from 32,000 ha, yet just 33,000 tons were exported in 2014, worth $45 million. According to Brapex, the Brazilian Papaya Growers-Exporters Association, this was a 16% increase in exports on 2013, driven by new plantings in Rio Grande do Norte, where exports rose 55% in 2014. Formosa is the main export variety.
Five papaya exporters were at Fruit Attraction 2015 in the Brapex stand in order to convince Europe of the great flavour of the Brazilian papaya. The 'Brapex' quality brand is about to be implemented in the papaya sector, signifying farms and packing units that will have to adhere to technical specifications aimed at improved quality and undergo independent auditing. The quality brand will be used by 15 growers and 6 papaya exports, and will not replace their individual brands, Brapex executive manager Franco Fiorot told ED.
TranscomexGG 1st exporter at Jaiba project
TranscomexGG was created in 2010, being the first exporter based in the Jaiba Project, in Minas Gerais, which is the largest irrigation program in Latin America and known for the high volume and quality of its Tahiti limes, Palmer mangoes, Formosa papayas and Prata bananas.
A banana field in the Jaiba Project
The project is being developed on around 25,000 ha but is expected to reach a total area of 47,000 ha by 2020 and 73,000 ha by 2035.
The TranscomexGG stand
The region's main agricultural product is the Prata banana, which accounts for 50% of the bananas consumed in Brazil. It is a tropical variety mainly grown in Brazil and has several features distinguishing it from the Cavendish variety, namely that it is easier to digest, has a slightly longer shelf life and does not brown as easily after being processed. Prata bananas were first presented internationally at Fruit Logistica 2015.
TranscomexGG partners with local grower associations, cooperatives and large producers in order to export their products. At present the company exports 10,000 tons of fruit, but aims to reach 40,000 tons by 2020, targeting Europe, Southeast Asia and the Middle East said TranscomexGG business director Cristiano Glória. The company has its own fleet of trucks, which gives it a unique control of the cold chain supply.