Interview of the Month: the US Food Marketing Institute's Rick Stein
Mon 26/09/2016 by Richard Wilkinson
Follow us :
The voice of food retail in the United States is the Food Marketing Institute (FMI). Here the trade association's vice president for fresh foods, Rick Stein, pinpoints what's happening in his country on major issues for the sector. Stein was previously vice president of retail merchandising and marketing execution for Safeway, where he led marketing activities for the company's eastern division spanning 180 locations and 20,000 employees.
What are the main challenges for fresh produce distribution in the US?
When it comes to providing fresh foods in retail, food safety is the utmost priority for the US retail food industry. The industry is doing a good job keeping food safe. According to the 2016 US Grocery Shopper Trends report, 9 in 10 shoppers have confidence in the safety of food at the grocery store.
As for fruit and vegetable distribution in the US, the produce supply chain is unique because products have a short shelf life, require fast distribution and temperature control is essential. We're also often dealing with fresh foods being transported long distances. More fresh food providers in the US are relying on improved data quality to help address these elements of the produce supply chain. By optimising quality data, producers are better able to share data with retailers so they can provide a more transparent picture to shoppers about the path their produce took from farm to store. This ability to trace product back to its source is a critical part of the new produce supply chain and many US retailers and packers/shipper or implementing traceability initiatives.
In addition, shopper demand for local fruit and vegetables is changing the produce supply chain. Finding local sources, ensuring those sources have safe food, and getting product to shelf quickly is an emerging trend that is resulting in many new supply chains within the US produce business.
What are the latest improvements in food safety and sustainability?
Right now, food retailers and manufactures in the US are working to implement the Food Safety Modernization Act (FSMA), the most sweeping regulation of the US food safety system in 70 years. FSMA fundamentally changes the way food is regulated in the US and abroad and affects the entire supply chain from farm-to-fork. FSMA focuses more on preventing food safety problems rather than relying primarily on reacting to problems after they occur. FMI has worked closely with the Food and Drug Administration (FDA) throughout the FSMA implementation process and continues to offer our members resources, training and implementation guidance.
FMI is also working on the issue of food waste. Every year, about 40 million tons of food waste is sent to landfills in the US. FMI has joined with the Grocery Manufacturers Association (GMA) and the National Restaurant Association (NRA) to form the Food Waste Reduction Alliance (FWRA). This group has three major business goals: 1.) Reduce food lost within our operations so it never becomes food waste in the first place; 2.) Recover safe and nutritious food that might have been wasted by sending it to our partnering food banks; and 3.) Recycle unavoidable food waste by diverting away from landfill and moving it to productive use, including animal feed, compost or food to energy.
What is being done to promote fruit and vegetable consumption?
According to FMI's Shopping for Health 2016 report, two-in-three US shoppers agree that food choices affect their health, but half say they struggle to find the motivation to eat healthfully. At the same time, FMI's Power of Produce 2016 report finds shoppers are choosing produce as part of a healthier lifestyle and eating habit.
Grocery stores are uniquely positioned to be key partners in health and wellness for the communities they serve, including helping to increase consumption of fresh foods. Food retailers have the opportunity to help their customers find and distinguish dietary choices, offer weight management solutions and share convenient meal ideas that help feed families. Some of the actions retailers take to incentivise more fruit and vegetable consumption start with the location of produce near the entry of the store. Also, the location of produce on the front page of their advertising circulars is another way supermarkets highlight their produce.
Many US food retailers are transitioning their stores into health destinations and that includes offering more resources for shoppers to increase their fruit and vegetable consumption. According to the 2014 FMI report on Retailer Contributions to Health and Wellness, 95% of US grocery stores surveyed employ dietitians at the corporate, regional and store levels. In addition to offering nutrition counseling, grocery stores are helping shoppers develop culinary skills. More than half of the food retailers in this survey employ chefs at the corporate level and 74% of respondents have offered cooking classes to customers.
In the US, the Dietary Guidelines for Americans offer an opportunity for food retailers and manufactures to help Americans eat a healthier diet. Many retailers and manufactures help support this information by making it available to customers on packages, in store, online and through their nutrition counseling services.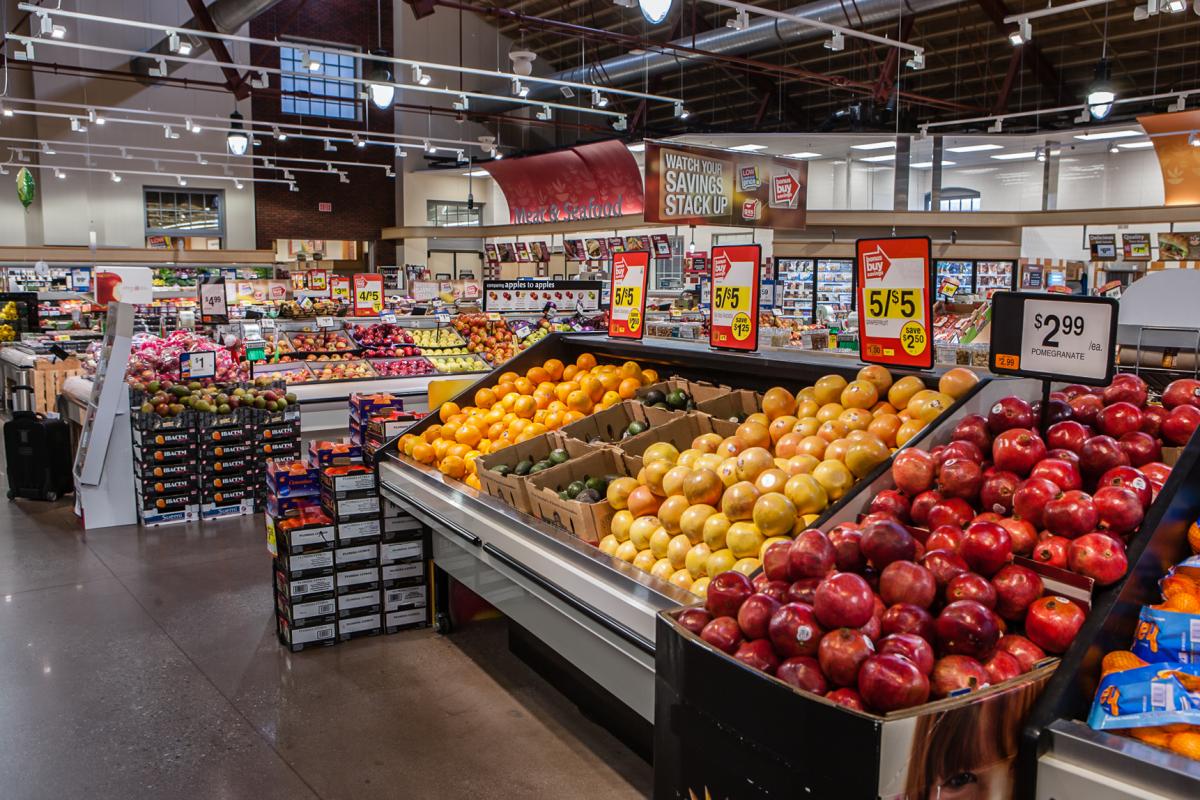 How are online sales, home deliveries and the hard discounters affecting in store sales?
In the US, fresh produce is what brings shoppers to the grocery store. According to FMI's Power of Produce 2016 report, 63% of US shoppers prefer the supermarket for their produce purchases. Consumers cite concerns over product freshness and quality, but also want control over selecting the produce they purchase. However, when the online shopping platform is supported by their primary brick-and-mortar grocery store, shopper interest increases.
When it comes to overall grocery shopping trends, the 2016 US Grocery Shopper Trends report finds 15% of shoppers occasionally purchase food or groceries online through a service or meal subscription. At the same time, 16% of US shoppers report purchasing fresh produce online in the past 12 months. This represents an opportunity for US food retailers to further enhance their online produce offerings, while also creating unique in-store fresh food purchasing experiences for shoppers.