Courgette prices rise but are lower than during previous campaigns
Thu 28/12/2017 by Richard Wilkinson
Follow us :
The arrival of significantly lower temperatures led to a reduction in the supply of courgette in Week 49. From Week 47 to 49, the price paid to the farmer for this product increased by 83%, reaching nearly €0.80/kg. The high prices are expected to continue in the lead-up to Christmas. Compared with the previous two campaigns, price levels are much lower in these weeks.
Average weekly prices paid to courgette producers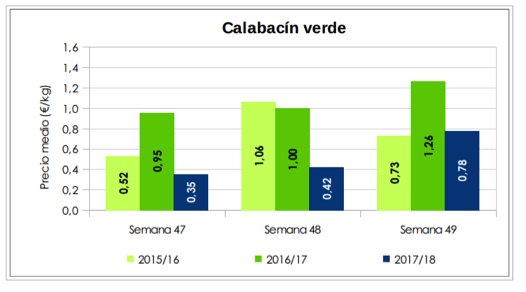 Source: Consejeria de Agricultura, Pesca y Desarollo Rural
Morocco's courgette exports to the EU under quota began on October 1 (Week 40) and continue until April 20. The total quota for the 2017/18 campaign amounts to 56,000 tons, maintaining the figure of the previous campaign. In Weeks 48 and 49, almost 2,800 tons of Moroccan courgette entered the EU at a price of €55.20/100Kg and €58.85/100kg, respectively.