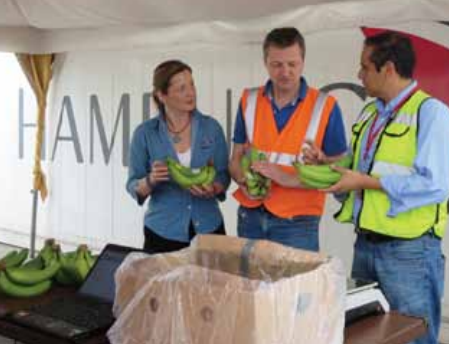 Hamburg Süd, a traditional North-South carrier, offers services in most of the world's key reefer trades. With over 90 years of experience in the transportation of perishable cargo, Hamburg Süd ranks among the top five reefer container carriers worldwide. "We have grown close with the subject of refrigerated cargo in virtually all areas, especially in the Southern Hemisphere where we have our specialists," says Michaela Steineker, head of Hamburg Süd's Global Reefer Competence Team. "Where reefer containers are concerned, we transport about 98 per cent food." Fresh and frozen products are transported, like fruit and vegetables, meat and fish. Bananas currently offer the greatest potential for growth as they are increasingly transported in containers instead of reefer vessels. Hamburg Süd has recently introduced a new service for banana transportation to Europe from Puerto Moin in Costa Rica instead of Cartagena, Colombia. The first port of call in Europe is the Spanish Marin followed by Antwerp, a traditional banana port.
Innovations maintaining quality
Innovations are important at Hamburg Süd, but always with a keen eye on product quality. "We are a high quality reefer carrier dedicated to the cargo. We want to follow new technologies for the best products, but we do not blindly adopt any new technology. We make sure there is extensive testing so no cargo problems arise," says Michaela Steineker, who has a post-graduate degree in Food Chemistry. One of the projects in the testing phase is 'Enhanced Reefer Monitoring'. This is a system that monitors the reefer container in real time via mobile data communication. At the same time, the container can be accessed when needed at any time to take corrective action in the box's operations. Another new technology in co-development with the container manufacturer Carrier is XtendFRESH, a controlled atmosphere technology that is particularly suitable for avocados and bananas. The oxygen content in the container is reduced and the amount of CO2 increased. At the same time, the system removes ethylene, the ripening gas. The XtendFRESH system is a solution integrated into the cooling unit. Until now, so-called ethylene scrubbers were installed in the container. "They would only keep for one journey and then had to be renewed. That involves costs and is laborious in handling," says Michaela Steineker.
This article originally appeared in the July-August 2015 edition, number 138, of Eurofresh Distribution magazine. Read it here: https://www.eurofresh-distribution.com/magazine/138-2015-julaug