storageMove – The 3-dimensional warehouse management system
Company news
Picking with pen and paper? Goods receipt at fixed locations? These outdated practices are a thing of the past! With storageMove you get a professional and comprehensive 2D and 3D real-time image of your warehouse environment.
Mon 30/10/2023 by TopControl
Follow us :
Your warehouse becomes almost transparent and see-through thanks to storageMove. Your employees have access to the location of each transport unit at any time, can check the age of goods and identify the most suitable units for the current "mission". Fully automated productivity analysis and statistics round off the scope of the software.
Storage locations, bin locations and stock movements are automatically recorded, eliminating potential sources of error. All this is done without the need for structural modifications, barcode labels or transponders for localisation. Only the installation of sensors and the appropriate equipment on your forklift trucks are required. In addition, the system is characterised by its freedom from maintenance.
storageMove takes care of incoming goods registration, stock transfers and outgoing goods. Unit transports are controlled by missions that are sent to your forklifts. These missions are transport orders with defined start and destination points that also contain product information. This holistic intralogistics ensures error-free and efficient warehouse management, as all goods movements and inventories are seamlessly linked. The automated, mission-driven control of your forklift fleet contributes significantly to increasing productivity through resource optimisation.
storageMove supports various warehouse structures with temperatures down to -20°C, including:
Block storage
Drive-in rack storage
Gravity storage
Mobile racking storage
Our solution is highly adaptable and meets your requirements regardless of the type of transport unit (large boxes, pallets, mixed containers and other packaging). Every transfer of goods in the warehouse is recorded in storageMove, including the transport of material to the production line.
The forklift automatically recognises which transport unit is currently being moved. Intuitively, it displays which box or pallet are to be used for the current mission and where they needs to be taken. Our innovative software solution, in combination with the sensors built into the forklifts, enables the complete recording of all logistical processes and a real-time visualisation of the warehouse.
You too can opt for the warehouse management system of the future.
Experience more transparency, accelerated processes and increased profitability.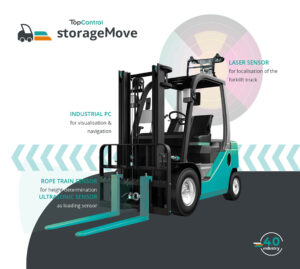 For more information:
TopControl
Tel. +39 0471 319 999