Saint Charles International a key hub
Tue 12/04/2016 by Pierre Escodo
Follow us :
Nearly a third of France's fruit and vegetable imports (from Europe and other countries), and a quarter of its exports, move through Saint Charles International.
France imports nearly €4.9 billion worth of fruit and vegetables, 30% of which transit through Saint Charles. This marketing, transport and logistics platform in Perpignan also handles nearly a quarter of France's €2.7 billion worth of exports. Spain is still the foremost partner: 971,600 tons imported in 2015, accounting for 60% of the total by volume. Morocco, in second place, supplied 411,565 tons, nearly 25% of the volume transiting through Saint Charles. French products amounting to 132,922 tons, mainly from the local region, were also distributed via the platform in 2015. Lastly, 104,054 tons from non-EU countries cleared customs at Saint Charles. In reality, much higher volumes of products from non-EU countries are marketed through this platform, but they are difficult to follow statistically because a large proportion enter the EU through other European countries.
A platform that looks to the future and is doubling its exports
Saint Charles International is pursuing innovation and prospection initiatives and multiplying its logistics solutions in order to strengthen its leadership. The volumes it exports have doubled in 10 years and are now around 700,000 tons. In partnership with the authorities, a price reporting system has been implemented to monitor tomato imports from Morocco, as provided for in the special import regime for this product.
"Import prices and volumes are reported daily by the companies" in order to support the mission of the market news network, said communications manager Anne Florin.
A project to expand Saint Charles International into the Orline ZAC development zone between Saint Charles and the motorway is also under study.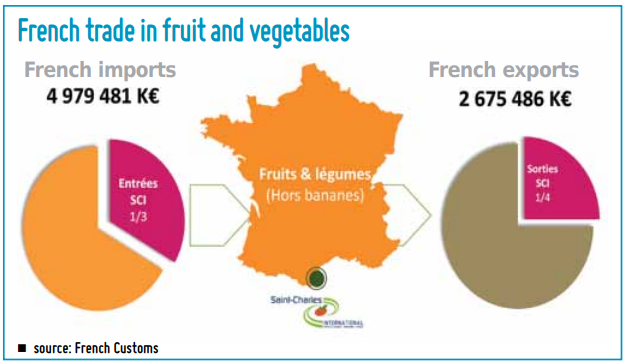 More combined transport
Perpignan and its region offer a number of rail transport possibilities: conventional, piggyback and combined road/rail transport. Combined transport is now booming, with containers loaded daily onto wagons at the Saint Charles rail terminal. One of the main destinations is Valenton (in southern Paris), for delivery to the Rungis area. A new line to Rotterdam will be operating from 15th March, with five departures a week. The 2-day journey is comparable to the time it takes by road.
The port of Antwerp will also be served directly. In addition, Saint Charles is part of a working group called Clyma (Connexion Lyon-Madrid). The first stage of this European programme analysed the bottlenecks on the Madrid-Lyons axis that need to be eliminated in order to move towards facilitating modal transfers, the development of multiclient freight trains from Saragossa to Germany, and advancing the 'green corridor' concept as a whole.
This stocktaking exercise has led to the partners proposing specific measures, classified into priorities 1 to 3, which will enable real progress to be made. The piggyback service is operated by the Lorry Rail company at Le Boulou (between Perpignan and the Spanish border). It consists of loading freight trailers onto special platform wagons. Lorry Rail delivers them direct to Duisbourg (Germany). A project for an additional line to Calais is under study for the longer term, for deliveries to the United Kingdom. By sea, Port-Vendres plans to retrofit the Dezoums quay so that taller shipping from overseas can berth there. Over 300,000 tons a year are imported through this port, particularly from West Africa and Morocco.
Combined road/rail transport a reality
The rail terminal at Saint Charles provides a competitive road/rail transport service for companies based at Perpignan and in the neighbouring regions of Barcelona, Toulouse and Montpellier. The terminal, built in 1985, has been extended from 370 to 750 m in length so that it can take trains of the maximum length allowed in France. This investment has cost €40 million. The road/rail container traffic using the terminal has almost doubled as a result, increasing to 20,000 containers a year, with nearly 50 trains a week. The terminal is mainly publicly-funded, as its break-even point is 30,000 containers a year. It is managed by a semipublic company: 38% of the capital is owned by the province, 35% by the city of Perpignan, 5% by the Chamber of Commerce, 10% by the operator Novatrans, 2% by Froid Combi and 5% by the port of Barcelona.
The volume of fruit and vegetables shipped through this terminal is still small and 75% of the containers loaded there come from Asia.
"Our trains are not yet sufficiently regular and punctual to interest the Saint Charles operators."
Compared to Rotterdam or Antwerp, the ports of southern Europe save 2 to 3 days' sea journey for goods passing through the Suez Canal and the Mediterranean. Rail links for goods from Spain also take some of the traffic off the overcrowded roads: over 10,000 lorries on average pass through Le Perthus, while one train can carry 40 to 50 containers.