Morocco's SIAM fair draws record crowd
Tue 03/05/2016 by Richard Wilkinson
Follow us :
'Resilient and sustainable agriculture' was the theme of this year's SIAM – the International Exhibition of Moroccan Agriculture – held April 26 to May 1 in the northern Morocco city of Meknes.
This year marked the 11th edition of SIAM, which is held under the high patronage of His Majesty King Mohammed VI and was organised by Morocco's Ministry of Agriculture and Fisheries, and the Association of the International Exhibition of Moroccan Agriculture.
SIAM is a major date on the African continent and has an important place in the agenda of key national and international decision-makers, attracting more exhibitors and visitors every year.
Spread over 17 ha and integrating 9 marquees, the 2016 event was particularly special, attracting a record level of visitors – more than 700,000 – as well as 1,200 exhibitors, with 65 different countries represented, including from Europe (21 countries), Sub-Saharan Africa (16 countries), North Africa (4 countries), Asia (7 countries), the Middle East (6 countries) and South America (6 countries) as well as the United States, Canada and Australia.
SIAM is the biggest professional event for Morocco's agricultural sector and follows the framework of the national agricultural development programme, Plan Maroc Vert (the Green Morocco Plan), which runs until 2020.
Another aspect making the 11th edition of SIAM a very special event was the fact it took place between two major events with extreme importance for the environment: COP 21 last December in Paris and COP 22 this November in Marrakech.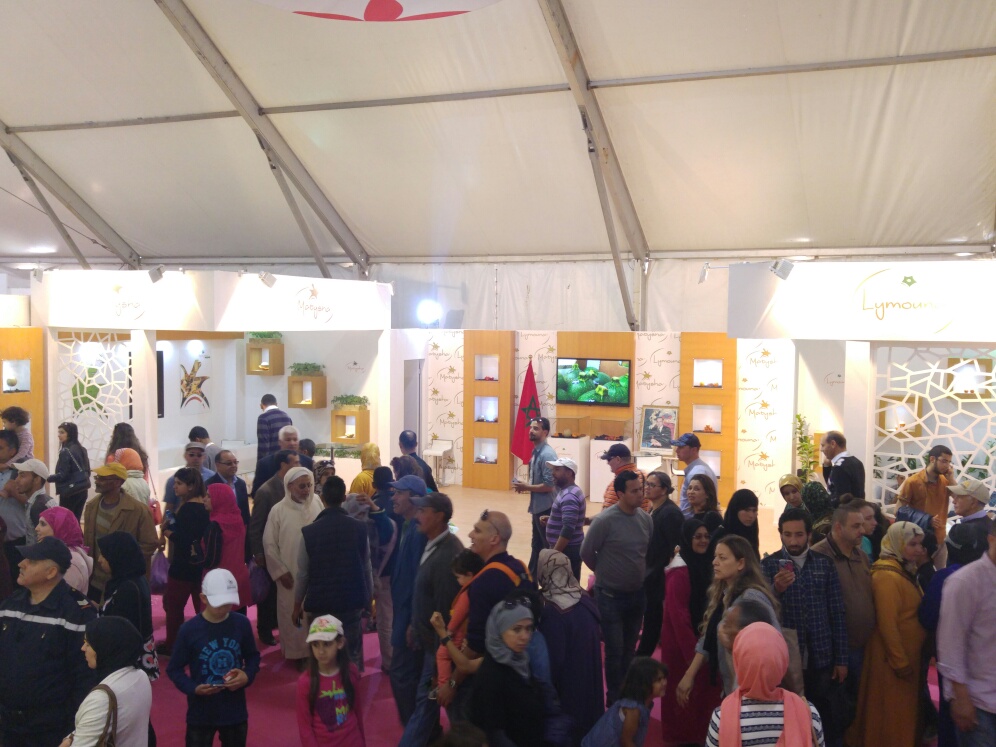 SIAM showcases Moroccan agriculture
The 11th edition of this event put the emphasis on resilient and sustainable agriculture, which is at the heart of various challenges facing the sector, which is increasingly exposed to the risks posed by climate changes, organisers said.
Issues addressed included how to face up to the challenges inherent in Moroccan agriculture, such as managing soils and optimised use of water, fertilisers and pesticides, reducing the environmental impact of agricultural labour, safety for farm workers, production of renewable energy based on agricultural waste, and sustainable production.
Many topics were discussed during the various activities held as part of SIAM 2016. For instance, the International Exhibition of Moroccan Agriculture, through a very well elaborated and strongly oriented scientific programme, provided an ideal space to match the multiple challenges that face agriculture today with solutions. One of SIAM's strengths is that it offers professionals in the sector valuable opportunities to share multidimensional experiences with echoes beyond African borders.
Because of its multidimensional vocation, SIAM strives to generate important investments for its partners, sponsors and exhibitors, for instance, organisers say cooperatives make more 65% of their annual turnover during SIAM.
SIAM is also open to the general public, inviting them to come and discover the richness and diversity of Moroccan agricultural patrimony during the last 3 days of the exhibition.
SIAM 2016 welcomed the UAE
For the 11th edition, the United Arab Emirates (UAE) was invited as a country of honour. Partners for a long time, the UAE and Morocco have worked together during the last decade to intensify their economic partnership. The UAE is now the 3rd biggest foreign investor in Morocco and number one among Arab countries. The two counties have more than 60 cooperation agreements concerning different sectors, from industry to agriculture and tourism.
Organisers said the UAE was a natural choice as country of honour given the fair's theme of 'Resilient and sustainable agriculture', as the UAE is also seeking to develop its farm sector.
"Though agriculture represents only 1% of the United Arab Emirates GDP, 60% of their water potential is used. Thus, the country is developing an ambitious strategy in order to maximise its water productivity," the said, also noting that the UAE has achieved a degree of self-sufficiency, "mainly in the production of fruits such as mangos and citrus, as well as vegetables such as tomatoes, cucumbers, eggplants, cabbages and squash."
They also mentioned the UAE's "expanding market of organic fruits and vegetables."
9 emblematic poles
As with every year, SIAM focuses around 9 emblematic poles:
1 – Pole of Areas: gathers the twelve Areas of the Kingdom in order to focus on their specificities and their agricultural richness.
2 – Pole Institutional & Sponsors: concentrates the public and private institutions involved in the country agriculture and supporting SIAM
3 – Pole of the International: gathering all foreign enterprises working in agriculture or food processing sector, embassies, international organisations and NGOs.
4 – Pole of Products: gathers small-medium and big agricultural or food processing enterprises providing raw products such as fruits and vegetables to processed products.
5 – Pole of Agro-Supply: includes all related sectors to agricultural inputs and small machinery for vegetable production.
6 – Pole of Nature & life: covers outdoor hobbies such as fishing and hunting, gardening, green spaces, forests and also plantations, eco-housing and environmental activities.
7 – Pole Livestock Farming: puts forwards animals from Moroccan and international breeding, as well as all veterinary activities and related animal food. Very dynamic, this pole proposes a breeding contest which is one of the most important events of SIAM.
8 – Pole of Machinery: dedicated to big agricultural materials and to farming equipment.
9 – Pole of local products: exclusively handles Morocco's different cooperatives and associations, working towards the promotion of traditional and local agricultural products.
Read more about SIAM here: http://salon-agriculture.ma/English/
See our SIAM 2016 photo gallery:
Google +
Facebook www.facebook.com/EurofreshDistribution/