EU apple producers enjoy biggest harvest for a decade
Tue 28/08/2018 by Richard Wilkinson
Follow us :
Following last year's catastrophic apple campaign, the EU's producers can expect a great deal of relief this year. Total apple production for the EU in 2018 is estimated at 12.6 million tons, representing a 36% increase on last year's harvest. It is also 13% above than the average of the past three years. Poland, in particular, has seen a 56% rise in its production, reaching nearly 4.5 million tons. This is 23% above the average of the past three years.
Italy's apple production is expected to rise by 29% to 2.2 million tons. France expects a 5% increase to 1.5 million tons, while the German apple harvest is expected to rise by 66% to just under 1 million tons. Only Spain, Portugal and Latvia expect lower volumes than last year.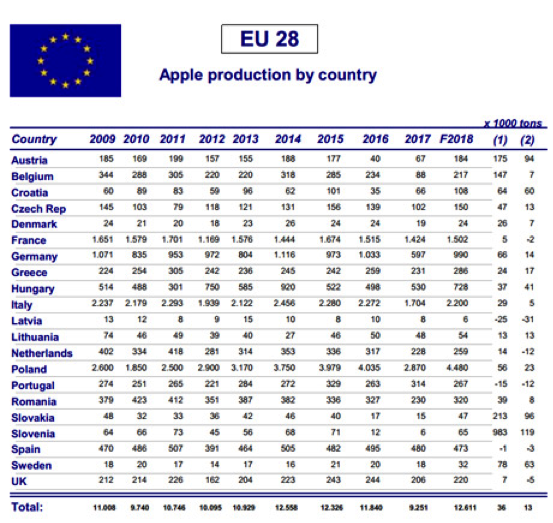 Source: WAPA
The Netherlands expects a 14% rise from last year's difficult season. However, this represents a 12% lower level than the three-year average. After last year's frost-ravaged campaign, Belgium expects a 147% higher apple harvest of 217,000 tons. Likewise, in Austria, the apple harvest should be up 175% to 184,000 tons.
Golden Delicious remains the most produced variety by far, with an estimated production of 2.4 million tons, which represents a 23% increase on last year and a 3% higher level than the average for 2015-2017. Meanwhile, volumes of Gala should increase by 15% to 1.46 million tons. The production of Jonagold is estimated at 1.1 million tons, which is 71% more than last year and 12% more than the three-year average.