ASIA FRUIT LOGISTICA is back bigger and better in Hong Kong  
Company news
Record attendance makes a highly successful show, with two-day visitor count surpassing 2019 total visitor numbers.
Wed 20/09/2023 by Asia Fruit Logistica
Follow us :
ASIA FRUIT LOGISTICA has made a very impressive return to Hong Kong, as larger-than-ever visitor numbers contributed to excellent business meetings and outcomes for exhibitors at the sell-out show on 6-8 September 2023.
Although the worst rainstorm to hit Hong Kong in 150 years prevented ASIA FRUIT LOGISTICA from opening on day three, the first two days of Asia's premier fresh produce trade show were exceptionally busy. The onsite atmosphere was noticeably vibrant and many exhibitors reported back-to-back meetings.
More than 13,000 trade visitors from over 70 different countries and regions came to Hong Kong to make the most of the opportunities to meet and do business with over 700 exhibitors from some 43 countries or regions at ASIA FRUIT LOGISTICA this year. China was the single-largest exhibiting country with around 250 exhibitors, followed by Australia, USA, Egypt and New Zealand.
ASIA FRUIT LOGISTICA achieved a record-breaking attendance. Visitor numbers for days one and two combined already surpassed the final visitor number for the 2019 edition when it last took place in Hong Kong before the pandemic.
ASIA FRUIT LOGISTICA was unable to open on its final day of Friday 8 September due to an extreme weather warning issued by the Hong Kong Observatory. Local authorities in Hong Kong had issued a black rainstorm warning that remained in place for more than 12 hours after the city was unexpectedly hit by huge rainstorms on Thursday evening. The intense rainfall had caused significant road flooding and traffic disruption across the city.
"We are delighted to have delivered such a hugely successful edition of ASIA FRUIT LOGISTICA despite the enforced closure of the show," said David Axiotis, managing director of Global Produce Events, the organiser of ASIA FRUIT LOGISTICA. "Traffic on the trade show floor in the first two days was remarkable. Feedback from our exhibitors and visitors has been extremely positive, and we thank them all for their support and their participation.
"It was not an easy decision to call off the last show day, but the safety of our attendees always remains our top priority."
Visitor survey results underline the success of this year's ASIA FRUIT LOGISTICA: 97 per cent of visitors confirmed they were satisfied with their participation and would recommend their colleagues or partners to participate in the exhibition next year.
Exhibitor survey results also confirm the excellent business outcomes at ASIA FRUIT LOGISTICA. Almost 90 per cent of exhibitors said they were positive about the quality of trade visitors and 94 per cent of exhibitors reported a good or very good impression of ASIA FRUIT LOGISTICA 2023.
Leading Chinese fruit distributor Hongjiu Fruit also made its debut at ASIA FRUIT LOGISTICA 2023, becoming the first Official Fresh Fruit Partner to ASIA FRUIT LOGISTICA.
"We see ASIA FRUIT LOGISTICA as a key international platform where we can engage in in-depth communication and cooperation with global suppliers, customers and industry peers," said Deng Hongjiu, chairman and founder of Hongjiu Fruit. "We had some big display areas for cherries, durian and longan at our stand and showcased our core brands such as Thai Yummy, Yopretty, and Fengshanghao, which have a reputation for providing quality fruit products nationwide across multiple channels."
ASIAFRUIT CONGRESS: high-quality insights
In addition to the wealth of meeting and business opportunities at ASIA FRUIT LOGISTICA, visitors and exhibitors gained top-quality information and insights through a packed event programme across two stages on the show floor.
ASIAFRUIT CONGRESS, Asia's premier fresh produce business conference event, took place on the main stage at ASIA FRUIT LOGISTICA, with high-level speakers providing expert insights on the key changes and opportunities in the fast-moving Asia markets.
Day One's sessions (6 September) were themed around Marketing & Consumers. Prerna Garg of HSBC set the scene with analysis of Asia's shifting demographics, while Chris Baker of brand and digital agency Totem Media provided an overview of the changing marketing landscape across the region.
In a session looking at 'What's next for food retail?' Edwin Sun of NIQ (formerly NielsenIQ) explained how inflation, convenience and sustainability are shaping the market. Rockit Global's Julian Smith and Konna Mu of Fresh Go (Joy Wing Mau) also discussed the keys to cut-through fresh produce marketing in Asia, drawing on the experience of their respective campaigns.
Day Two of Asiafruit Congress (7 September) focused on Tech & Innovation. Elad Mardix of Clarifruit and DiMuto's Gary Loh delivered case studies demonstrating how artificial intelligence is bringing new solutions to the fresh produce trade. Turning the focus to tech in production, T&G Global CEO Gareth Edgecombe explained how the leading apple grower-packer-marketer is integrating technology at every step of the supply chain and automating key processes. The day rounded out with a lively panel discussion on varietal innovation involving VOG's Hannes Tauber, Marie-Anne de Béjarry of SNFL and George Jessett of Costa Group.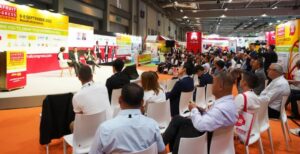 ASIAFRUIT BUSINESS FORUM: practical takeaways
Visitors and exhibitors were also able to join a diverse programme of practical workshops and information sessions at ASIAFRUIT BUSINESS FORUM.
At Launchpad on Day One (6 September), ASIA FRUIT LOGISTICA exhibitors showcased a range of new products, technologies, and solutions. Presenters included Hans Liekens of Sekoya Fruit, Duncan Aust of AgroFresh, Ting Yuan of Shenzhen Asia Global, Basilio Huang of Lytone Enterprise, and California Avocado Commission's Ken Melban and Terry Splane.
Day Two (7 September) featured Partner Content. The International Fresh Produce Association (IFPA) delivered an education programme on food safety and retail merchandising in the morning. In the afternoon, Asiafruit China hosted a series of Chinese-language sessions offering practical advice on developing a premium domestic fruit brand in China, from production through post-harvest to marketing.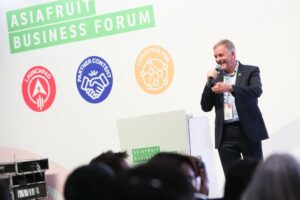 ASIA FRUIT AWARDS: winners announced
The winners of the ASIA FRUIT AWARDS 2023 were also announced at ASIA FRUIT LOGISTICA in a special presentation ceremony at ASIAFRUIT CONGRESS on 7 September.
Snack-sized apple marketer Rockit Global won the Marketing Campaign of the Year Award for its collaboration with Pokémon on an extensive omnichannel campaign in China to celebrate Children's Day.
Taiwan-based fruit importer United Produce Company took out the Importer of the Year Award.
The Produce Retailer of the Year Award went to leading Vietnamese food retailer WinCommerce, which operates the WinMart supermarket and WinMart+ minimart chains.
The Impact Award was presented to Tatsuo Horiuchi, president and CEO of Farmind Corporation, in recognition of his record of innovation across multiple areas of Japan's fresh produce business over his 40-year career.
ASIA FRUIT LOGISTICA's return to Hong Kong at full scale highlighted its position as the premier international platform for Asia's fresh fruit and vegetable industry. "It's great to be back in Hong Kong right in the heart of Asia and on the doorstep of China," said Axiotis. "The huge success of this year's event only underlines our commitment to further grow and develop this high-quality, efficient and leading trade platform for Asia's fresh produce business."  
ASIA FRUIT LOGISTICA and ASIAFRUIT CONGRESS return to Hong Kong next year, taking place on 4-6 September 2024 at AsiaWorld-Expo.
Statements
VISITORS
Lu Minh Quang, import director, Biovegi (Vietnam)
"I really like coming to ASIA FRUIT LOGISTICA because I get to meet everyone here – all our suppliers, exporters and partners. It's also a great place to find potential new business."
Xiongjie Liu, general manager, Shanghai Huizhan Market (China)
"ASIA FRUIT LOGISTICA is the most important platform for the fresh produce industry in Asia. This is also the first large-scale international exhibition in the industry after the three-year pandemic. We are delighted to meet face to face with new and old friends from all over the world at the show."
Celia Wang, fruit buyer, Freshippo (China)
"ASIA FRUIT LOGISTICA is an amazing platform that gathers almost all our main suppliers in one place so we can meet them all in a matter of a few days. We talked about the past season and planned for the coming one, settling everything in one meeting. It is highly efficient!"
Reena Verma, chief executive officer, NexGen Fresh (India)
"ASIA FRUIT LOGISTICA has been an amazing experience as always. The opportunity to have meetings with existing and prospective suppliers from all origins under one roof is what really sets this event apart. For India, the import season looks set to start early this year, so the timing of the show is also perfect."
EXHIBITORS
Cici Yang, marketing head, Pagoda (China)
"This year's ASIA FRUIT LOGISTICA is unprecedented in scale. Not only is there a larger crowd, but exhibitors have also put great effort and investment into preparing their booths, and the presentation is excellent. Judging by the level of commitment from everyone and the volume of participants in the entire show, we can see the global industry is eager to learn more about the Chinese and Asian markets, and there is great optimism for the future."
Nico van Vliet, Bayer Vegetable Seeds (Singapore)
"This is our first time exhibiting at ASIA FRUIT LOGISTICA. A lot of visitors see the Bayer brand and would like to come and talk with us at our stand."
Janine Luten, chief executive officer, Holland Fresh Group (The Netherlands)
"We enjoy being here at ASIA FRUIT LOGISTICA in Hong Kong. We have a lot of people visiting our booth, and that's why we exhibit here."
Terry Splane, vice-president of marketing, California Avocado Commission (US) 
"This is my first time here. ASIA FRUIT LOGISTICA is extremely professional, extremely well put together. It comes off very well. The colours on the show floor and the energy levels are very good. We've already had some really good meetings just on day one."
Reece van der Velden, general manager, New Zealand Cherry Corp (New Zealand)
"ASIA FRUIT LOGISTICA's return to Hong Kong is a reminder of what it was like pre-Covid. As expected, it's been busy with high-quality customers attending to ensure their allocated volume for this upcoming Lunar New Year is confirmed."
Shaimaa ElShafei, logistics manager, MEAD (Middle East For Agricultural Development) (Egypt)
"We like ASIA FRUIT LOGISTICA so much – Hong Kong is a beautiful city and the exhibition is nice and well organised. We are looking to meet buyers here to get some opportunities on the Asian market."
Ping Zhang, general manager, Three Gorges Citrus Group (China)
"This is the first time we've exhibited at ASIA FRUIT LOGISTICA as our company was only established in 2021. I am very happy to see so many visitors and exhibitors here, and we can connect easily and efficiently with our clients. We are considering having a bigger booth next year."
Renata Dalton, director of global business development, US Highbush Blueberry Council (US)
"This has been a show well worth attending and an opportunity to bring our international teams together to strategise on how to further develop the market for our fruit."
Pham Lan Huong, chief executive officer, Fosacha (Vietnam)
"Exhibiting at ASIA FRUIT LOGISTICA is a great opportunity to grow our business. We've been able to connect our growers to customers and use the event to expand our own sourcing and markets."
Marc Peyres, director of global sales, Blue Whale (France)
"We are happy to be at ASIA FRUIT LOGISTICA and back here in Hong Kong. It's somewhere we've been visiting for the last 30 years, and we like the city. And if we're back, it also means that the last crisis is over, which is good news for everybody."
About ASIA FRUIT LOGISTICA
ASIA FRUIT LOGISTICA is the leading continental trade show for Asia's fresh produce business. The 17th edition of ASIA FRUIT LOGISTICA takes place on 4-6 September 2024 at AsiaWorld-Expo in Hong Kong. ASIA FRUIT LOGISTICA is co-located with ASIAFRUIT CONGRESS and ASIAFRUIT BUSINESS FORUM, which are organised by ASIA FRUIT LOGISTICA's knowledge partner Asiafruit Magazine.
For more information on ASIA FRUIT LOGISTICA, please visit www.asiafruitlogistica.com or contact the Organising Team by email: info@gp-events.com