Another Innovative Year for United Fresh
Tue 18/07/2017 by Richard Wilkinson
Follow us :
The West Hall of McCormick Place in Chicago this past June was the innovation epicenter for the entire fresh supply chain. For two days, 7,500 attendees and 700 exhibitors participated in the four co-located shows: Global Cold Chain Expo, the International Floriculture Expo, and the new United FreshTEC and United FreshMKT Expos.
United's two expos offered attendees and exhibitors a more personalized experience than years past. United FreshMKT Expo, the fastest growing segment of the annual United Fresh event, unveiled the new Organic Showcase – where more than 50 organic products were on display – providing buyers with the unique opportunity to explore everything organic in one location on the show floor, maximizing their time for discovery.
Attendees voted for the United Fresh Innovation Award Winners – an annual favorite of the trade show. Out of 46 finalists across five categories, the 2017 Produce Innovation Awards Winners are:
Best New Food Safety Solution: Nature's Frequencies – Food Freshness Card

Best New Fruit Product: Crunch Pak – Crunch Pak Apple Rings
Best New Packaging: Dole Food Company – Dole GO Berries!™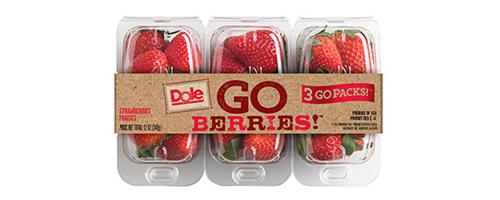 Best New Packing/Processing Equipment: Full Harvest – Full Harvest
Best New Vegetable Product: Veggie Noodle Co. Veggie Spirals – Veggie Noodle Co. Veggiccine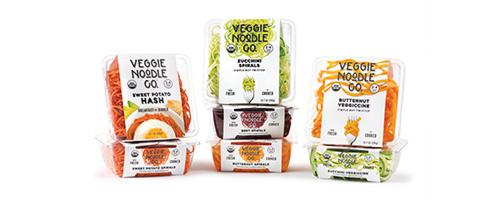 Growing from the equipment side of the trade show floor to a true tech expo focused on innovations in fresh foods technology from field harvesting to packing, packaging, processing, and refrigerated delivery to customers worldwide, United FreshTEC Expo boasted new equipment and solutions for automation, engineering, supply chain management, food safety and more.
The FutureTEC Zone was a popular attraction at the FreshTEC Expo, with more than 40 start-up companies ready to solve business challenges with their innovative solutions. Attendees found the answers to their food safety questions, including solutions to help businesses comply with FSMA and advance their food safety operations, at the Food Safety Pavilion. In addition, the University Research Poster Session featured cutting-edge research on food safety and quality aspects of fresh and fresh-cut produce, from an international range of researchers and research organizations.
The FreshMKT and FreshTEC Learning Centers were once again anchors on the show floor, giving attendees an opportunity to hear from the experts on a variety of topics in 45-minute education presentations.
Attendees and exhibitors also participated in the newest feature of the United Fresh event: the FreshMKT and FreshTEC X-Changes. During the X-Change Sessions, industry professionals who share common interests connected and participated in group discussions, exchanging perspectives on key industry issues and topics. The FreshMKT X-Change covered topics such as organics, branding, merchandising, and innovative product development. At the FreshTEC X-Change, topics included food safety, sanitation, product development, packaging, and supply chain management.
Taking place the day before the expos opened, the United FreshMKT and United FreshTEC Conferences – another new feature of this year's event – included five hours of general session presentations from industry experts.
The FreshMKT Conference attracted produce and fresh foods buyers, executives and trading partners across all retail and foodservice channels looking to jump start their business models and programs with innovative ideas, concepts and lessons from the future. The conference kicked off with a keynote from Ready Pac Foods' CEO Tony Sarsam. Topics for the conference included today's consumer trends; how innovative companies are shaping food culture; and how retail and foodservice executives can identify growth opportunities, as well a consumer panel. Speakers for the FreshMKT Conference included representatives from Google, Ibotta, Food Network, Good Housekeeping, Morning News Beat, and more.
During a break in the conference, attendees had the opportunity to network while enjoying featured fresh grab-and-go snacks from some of the industry's most innovative companies at the Fresh Convenience Snack Break.
At the conclusion of the first FreshMKT Conference, Roger Pepperl, Marketing Director for Stemilt Growers, was presented with the FreshMKT Achievement Award for his significant innovations in the marketing and merchandising of fresh produce.
The FreshTEC Conference featured expert discussions focused on pre- and post-harvest automation; food safety in packing and processing operations; and an intense look at controlled growing environments. Taylor Farms' CEO Bruce Taylor was the keynote speaker for the FreshTEC Conference, which also featured speakers from Compac, Yamaha Motor Ventures, Soft Robotics, Neogen Corporation, and more.
During a break in the conference, top universities from across the country shared their cutting-edge data, concepts and robotics, as well as their innovative projects in ag technology at the FreshTEC University Showcase. Attendees were able to follow-up with these companies at their exhibits on the trade show floor.
The FreshTEC Conference concluded with the presentation of the FreshTEC Achievement Award to Peter Quiring, Owner & CEO of NatureFreshTM Farms, whose leadership has helped advance the fresh produce industry through innovation in greenhouse technologies.
Other highlights from United Fresh 2017 include:
The Opening Party provided attendees from both United Fresh and Global Cold Chain Expo with a gorgeous backdrop for networking at the Shedd Aquarium.
New this year, the Joint Opening General Session was open to attendees of all four trade shows: United FreshTEC, United FreshMKT, Global Cold Chain Expo, and the International Floriculture Expo. The keynote speaker, Doug Rauch, co-CEO of Conscious Capitalism, left attendees feeling inspired and ready to make connections with produce innovators on the trade show floor.
Hundreds gathered to honor United Fresh's retiring Vice President of Nutrition and Health, Lorelei DiSogra, Ed.D. during the Reception Honoring Women in Produce. The reception was co-located with the Produce Forum for School Success, which brought the fifty top school foodservice directors together in Chicago to explore fresh options and solutions for feeding our nation's children.
United Fresh 2017 came to a close with the Retail-Foodservice Celebrations Dinner, where the industry gathered to honor those on the front lines of produce.
See the latest in produce innovation for yourself next year at United Fresh 2018! The event is back in Chicago, June 25-27.