Macfrut 2022
4 May 2022

-

6 May 2022

Timezone : UTC+0
Follow us :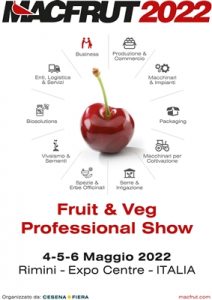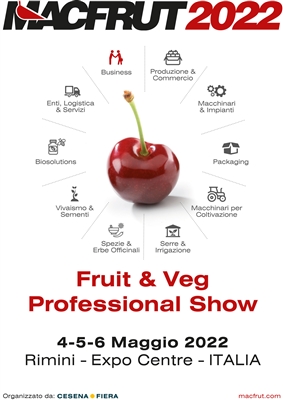 The international trade fair for the fruit and vegetable sector organised by Cesena Fiera will be back again in May as usual: it will be held from 4 to 6 May 2022 at the Rimini Expo Centre. The 39th edition will feature many innovations, which have been revealed to the press and industry professionals live during Expo Dubai on Friday 10 December 2021, with the participation of Macfrut's partners and organisers.

Some of the scheduled initiatives include, once again, the Tropical Fruit Congress, now in its third edition, and a great new addition: the Spices & Herbs Global Expo. Aan exhibition dedicated to the world of spices and officinal and aromatic herbs. Given that the spice market alone is worth more than $6 billion, it is a unique event in the European trade fair industry, which is sure to attract great interest in the global market. The Spices & Herbs Global Expo will be an exhibition in itself, with an exhibition area featuring professionals from all over the world, business meetings with international buyers and technical workshops. It will be organised in collaboration with Cannamela for the area dedicated to spices, FIPPO (Italian Federation of Medicinal Plant Producers) and Assoerbe for the area dedicated to officinal herbs, and Unaproa (national union of fruit and vegetable, citrus fruit and nut producers' organisations) for the area dedicated to aromatic herbs.

One of the novelties announced is that cherries will be the symbolic product of the 2022 edition, which will make Macfrut the world capital of cherries as it will be hosting the International Cherry Symposium, featuring leading international experts. The Cherry Symposium will consist of several separate events: a two-day advanced training session held at the University Residential Centre of Bertinoro (2-3 May); a global symposium on key issues relating to the cherry tree (global market, sustainability, varietal innovation and covering systems) at Macfrut (4 May); an event focusing on market trends with the participation of the sector's leading players and guided visits to leading companies in the sector that will be attending Macfrut (5 May); and, to conclude, a tour of the main cherry tree growers to get a closer look at product innovations (6 May).

On an international level, the focus will be on the African continent during the Africa Days. One of the scheduled events is the General State of Fruit and Vegetables, which, on the first day, will bring together experts, companies and institutions to discuss crucial aspects for the growth of this sector in the various African countries. On the second day, which will be dedicated to international cooperation, the AICS (Italian Agency for Development Cooperation) projects in Africa will be presented. A number of sessions focusing on specific countries will also be held in order to present African companies to international exporters and European export companies, as well as the opportunities that this receptive and rapidly evolving market has to offer.

Africa Days will be hosted in collaboration with the Italian Ministry of Foreign Affairs and International Cooperation, AICS (Italian Agency for Development Cooperation), ICE-Agenzia – Italian Trade Agency and UNIDO (United Nations Industrial Development Organisation), in partnership with Confindustria Assafrica & Mediterraneo.

Digital innovations for open field farming will take centre stage in the dynamic area, making Macfrut an unprecedented event in the trade fair industry. "Smart Agriculture", with its 4.0 revolution, will be the key theme of the 2022 edition, with the participation of leading companies that will showcase the latest innovations in the field of precision agriculture: drones, sensors, artificial intelligence, robots and technological equipment specifically designed for the agricultural sector. This area will be coordinated by Rinova, in collaboration with Luciano Trentini, an expert in the field.
Also in the dynamic area, the focus will be on another issue that is pivotal for the future of agriculture: water conservation. Water is universally considered a primary commodity, as demonstrated by Acquacampus. This area, set up by CER (Canale Emiliano Romagnolo) in collaboration with ANBI (National Association of Land Reclamation), will showcase cutting-edge technologies applied to water resources in greenhouses and open fields.

The Biosolutions International Event, the international exhibition dedicated to biostimulants, is also set to return. Biosolutions play a central role: in fact, in order to meet consumer demands, fruit and vegetable production will have to increasing rely on natural plant protection, plant nutrition and biostimulation products. Biosolutions will therefore be featured at Macfrut in an area dedicated to companies operating in this field, along with technical table discussions among professionals. During the Biosolutions Innovation Award ceremony, awards will be conferred to the most outstanding innovations. Agri2000 will be coordinating this area.