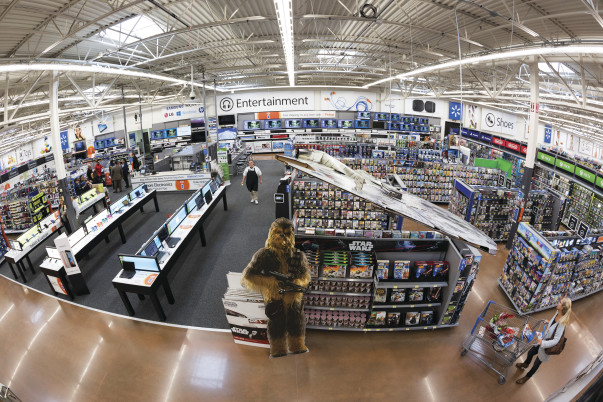 Walmart says it put a "new angle on fresh" as part of its recent facelift of a supercentre in Rogers, Arkansas.
Describing it as the first step toward the "supercenter of the future," Walmart said the revamp put berries — a growing category — in the front of its Fresh department, while bananas, already a huge draw, are near the back to help lead customers through.
The retail giant said the revamp last year of supercentre #5260 included using purple signage in Fresh and throughout the store connects to an increase in organic products, along with improved sight lines and angled aisles.
In an article on the change, Walmart said other features of the refresh are:
Check Out Your Way: multiple options for checkout. Scan & Go supplies a wand so customers can scan items as they're shopping. Hybrid registers can be self-service or manned by associates, depending on the need. And high-velocity checkouts — where a cashier scans items while the customer moves through the line to pay — are more than

three times faster than conventional checkouts

.
Pickup, Up Front: In-Store Pickup and Walmart Services share space up front at Store 5260. It's clearly marked so customers can find it and get their orders quickly.
"Added into the refreshed look were several new approaches to technologies, services, products and layouts, which are currently being tested with customers.
"Early reports are positive, but it's too soon to tell what's working and what isn't. What's clear: Things that seem straightforward could show up in new stores or remodels. Store 5260 is simply the first step toward the supercenter of the future, but it's critical to informing upcoming tests," it said.
Source: http://blog.walmart.com/innovation/20160212/this-store-is-helping-reimagine-the-supercenter