Italian asparagus sector focuses on environmental sustainability
Demand for fresh asparagus is on the rise as consumers seek healthy products all year round.
Thu 02/06/2022 by Gabriele Orsi
Follow us :
COPA Canino invests in new 100% plastic-free packaging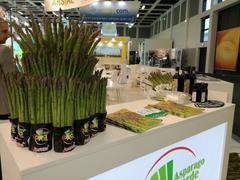 The firm is working towards increasingly sustainable packaging and is preparing for the final sprint to obtain PGI certification for its asparagus: "The presentation and packaging of the Canino asparagus are focused on sustainability, both in the traditional bunches (with polypropylene sleeves replaced by paper) and in the cardboard trays. This path was chosen to meet the demands of consumers, who appreciate the use of plastic-free packaging," said director Giancarlo Benella. While the PGI application to the Ministry of Agriculture awaits forwarding to the European Commission, Canino's asparagus continues to enjoy great success on the markets: 60% is destined for the Italian market while the remaining 40% is sold in approximately 16 foreign markets.
OPO Veneto changes packaging and focuses on quality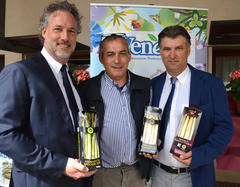 OPO Veneto has altered the packaging of its asparagus and is ever more focused on product quality: "Compared to a few years ago, we have started to reduce the size of the traditional bunch and we are now proposing a new tray packaging, which offers a more practical weight for household use. In our area, where asparagus farming is very important, white asparagus dominates and we have three premium products: the PDO White Bassano Asparagus, the PGI White Badoere Asparagus and the PGI White Cimadolmo Asparagus, consumption of which is growing strongly," said director Francesco Arrigoni. Demand for white asparagus continues to rise in northern Italy and in European markets such as Germany and Switzerland, where demand for an early product is often met through modern cultivation techniques involving heated tunnels.
Bassano White Asparagus PDO has 50 producers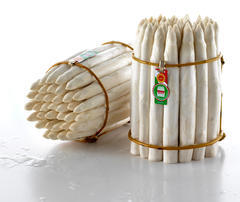 Created in 2007, the Bassano White Asparagus PDO protects the production of premium white asparagus in a specific area of ​​north-western Veneto: "The PDO was set up on land that has historically been suited to the production of white asparagus. The asparagus is grown in soil that is rich in mineral salts which give the product a particular taste," said PDO president Paolo Brotto. The Bassano White Asparagus PDO is produced by about 50 companies, spread across the ten municipalities of Bassano del Grappa, Cartigliano, Cassola, Marostica, Mussolente, Pove del Grappa, Romano d'Ezzelino, Rosà, Rossano Veneto and Tezze sul Brenta. Annual production of the PDO product reaches around 7,000 tons. While most of this volume is consumed in Italy, exports are rising to the Far East, especially Japan, where about 10% of total shipments are destined.