Biofruit Congress: the 6th international congress on organic demand and sustainable supply
Eurofresh Distribution and Fruit Attraction have joined forces to create an event bringing together industry leaders, experts, and enthusiasts from the world of fresh produce. With their combined expertise, this event is set to provide valuable insights and networking opportunities.
Tue 05/09/2023
Follow us :
The event will take place on October 3 and 5 with two different panels. The Market Panel will be held on October 3 from 3-5 pm at Hall 4 FruitForum 4 and the Innovation Panel will be held on October 5 from 10:30 am to 12 noon at Hall 5 FruitNext, IFEMA, Madrid.
Market Panel programme
On October 3, from 3-5 pm, a dynamic Market Panel will take place in Hall 4 at the FruitForum4. This panel will feature discussions and insights from key figures in the industry, providing a deep dive into the current market trends, challenges and opportunities. It's a unique chance to gain firsthand knowledge about the evolving landscape of the fresh produce market.
3:00 pm – Welcome by EUROFRESH & ASIAFRESH editor Pierre Escodo.
3:10 pm – Demand & Supply Chains: How to regain profitability and boost consumption, by FIBL expert Michael Curran and A-Insights expert Miriam van der Waal.
3:40 pm – Retail & Distribution leaders: How a holistic approach can help promote the category, by retail leaders: Ecoveritas head of marketing Sophie Pagnon; CEO of Naturland, Steffen Reese.
4:15 pm – Water & Social Challenges: How to communicate effectively about and ensure more responsible sourcing, by Freshfel Europe/ Footprint Initiative, General Delegate Philippe Binard; Proexport Chair of the Lettuce Committee & Primaflor Corporate Director Cecilio Peregrin; WWF Agriculture Delegate Felite Fuentelsaz; and GLOBALG.A.P. – Grasp & Spring expert Nolan Quiros.
Innovation Panel programme
IPM & Post-Harvest innovations: key advances for the future
The excitement continues on October 5 from 10:30 am to 12:00 pm in Hall 5 at FruitNext. The Innovation Panel will explore the latest advances and breakthroughs in the fresh produce industry. From cutting-edge technology to innovative practices, this panel is designed to inspire attendees and spark discussions about the future of the field.
10:30 – How IPM solutions are key to improving sustainability, particularly with field crops.
Latest advances with R&D experts of: Bioline Manuel Gomez, Certis Belchim Pedro Juan, Kimitec Alejandro de las Casas and Koppert Spain Valter Ceppi
Collaborators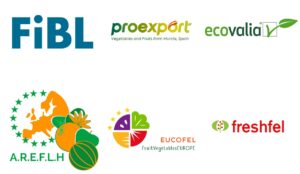 Sponsors