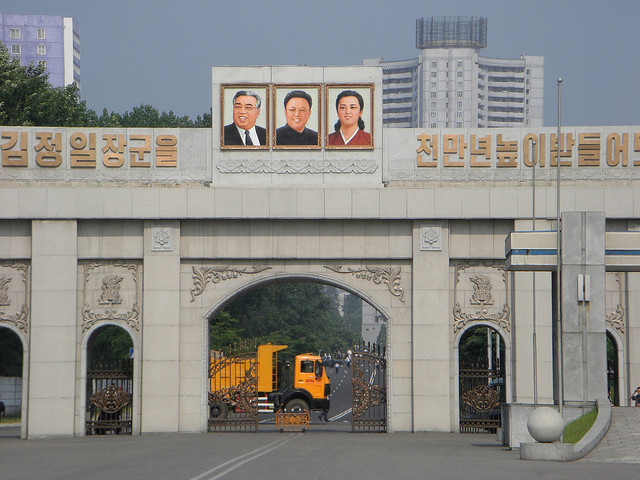 A symbol of the recent change in North Korea is that tropical fruit and imported products, which used to be sold at stores only for high-ranking North Korean government officials or foreigners, are on sale all year in jangmadang (marketplaces) where commoners usually go to buy daily necessities.
So reported University of North Korean Studies professor Yang Moon-soo in a speech on the implications for agriculture from the marketisation of North Korea which has been published as a USDA GAIN report.
"Ordinary North Korean people have a new custom, it is said, setting rare fruits, such as pineapple and banana, on the table for a wedding feast or birthday party," Yang also said.
Other signs of the country's move to more of a market economy are streets teeming with cars in downtown Pyongyang, car sales ads plastered all over the city and fast food franchises and Italian restaurants increasingly popping up, he said. Also the number of cell phone subscribers has soared from around 1,600 in 2008 to more than 2.4 million in the second quarter of 2014.
Yang said another example is the intercity bus terminal in Pyongsong, where the largest wholesale market in North Korea is located. The number of intercity bus routes from the terminal rose to 49 as of the end of 2013 and is reportedly still increasing, with individual investors, not the North Korean government, running the bus businesses.
"These recent enormous changes in the North Korean economy and society are closely related to the phenomenon called 'marketization,'" he said.
North Korea's Food Supply and Demand
The above table provides an estimate of North Korea's food supply and demand situation, but does not reflect the situation in North Koreans' real lives, Yang said. "The problem is that the official food supply and demand in North Korea is different from what North Koreans actually experience; they have access to informal markets to supplement official supplies. This gap between the (estimated) official situation and the true situation tends to get bigger as time goes by and free markets develop."
The report is an abstract by Professor Yang, an invited speaker at the 4th annual Roundtable on DPRK Agriculture hosted by FAS/Seoul, presented a paper entitled "Marketization in North Korea: Implications for Agriculture," which describes the steps being taken toward an unofficial market economy in North Korea and its future prospects.
Image of Mansudae Art Studio. Pyongyang, North Korea by (stephan) [CC BY-SA 2.0 (http://creativecommons.org/licenses/by-sa/2.0)], via Wikimedia Commons.