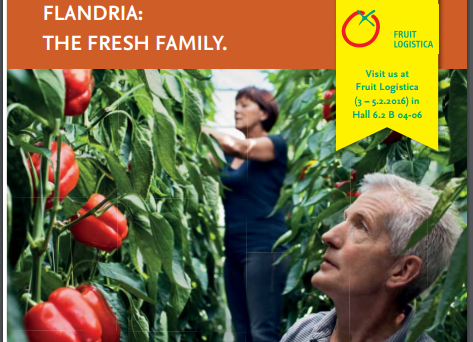 Belgian exporters will celebrate the success of the Flandria label, which in 20 years has evolved from a niche brand to one exporting 60 premium products.
Twenty-five suppliers of Belgian potatoes, fruit, vegetables and fruit trees will welcome you in Berlin at the VLAM booth at Fruit Logistica. Together with the auctions, they present a wide range of top quality products for the visitors. Find them in hall 6.2, stands B-04, B-05, B-06 and B-07. VLAM will be participating with a new booth concept: a bright, light structure in white, with a touch of yellow as a nod to the region of Flanders, combined with nice showcases for products. On top of the stand, modern video loops will attract our attention to the products and emphasize the benefits of Belgian products.
The companies attending are: Bel'Export, Boussier / Belfrutex, Calsa/Weiss, De Plecker – Lauwers, DBS / DBS Agro, Demargro, Devos Group, Dries Sebrechts Fruit (DSF), Frans Michiels Belgium (FMB), Gemex, Nicolaï Fruit, Pacbelimex, Vanco Belgium, Vergro and Fruithandel Wouters.
20 years of Flandria
Special attention goes to the Flandria label, which has existed for exactly 20 years. During this period, Flandria has evolved from a niche label for tomatoes and Belgian endives to one of the most important players on the European fresh market. Flandria offers more than 60 products and has a yearly produce of almost 600,000 tons. Seven potato suppliers are looking forward to meeting their customers: Bart's Potato Company, Binst Breeding & Selection, Dauchy, De Aardappelhoeve, Pomuni, RTL Patat and Warnez. Also, two Belgian fruit tree growers will be present at the VLAM booth to show their products to an international audience: Johan Nicolaï and Carolus.
New customers for apples and pears
In 2014, Belgium produced 318,411 tons of apples and 374,325 tons of pears, an increase of 44% and 19% respectively in comparison with 2013. Since 2011, Belgian pear production has been bigger than apple production. Production of strawberries has come to 39,320 tons, up 9.5% in comparison with 2013, whereas apple exports dropped by 15% in 2014. The main export destinations were The Netherlands (24%), France (23%) and Germany (23%), followed by Russia (11%), the UK (4%) and Spain (2%). From January to August, 2015, apple exports increased by 26% compared to Jan-Aug, 2014. Their neighbouring countries remain the most important buyers: The Netherlands (26%), France (25%) and Germany (15%). Due to the boycott, exports to Russia have completely stopped, and Latvia (5%), the Czech Republic (4%) and India (3%) are the newcomers in the top 10. The year 2014 was excellent for pears, both for production (up 19%) and exports (up 34%).
For pears, Russia even remained the number 1 destination, representing a share of 23%, thanks to a very strong start of the season. The neighbouring countries followed far behind: The Netherlands (15%), France (10%) and the UK (10%). From January to August, 2015, exports of pears fell by 11% compared to Jan-Aug, 2014. This was due to the Russian boycott, which changed the distribution of the export destinations enormously. The Netherlands (16%), Lithuania (13%), Latvia (12%), France and the UK (both 11%) were the most important markets in early 2015.
Strawberry exports are rather stable and have hardly been affected by the Russian boycott . The Netherlands were the most important destination in 2014 (21%), followed by the UK (20%), France (19%) and Germany (7%). Belgian strawberries had a good start in 2015, with an increase of 31% from January to August 2015 compared to Jan-Aug 2014.
796,392 tons of premium vegetables
In 2014, Belgian growers produced 796,392 tons of vegetables for the fresh sector, an increase of 0.5% over 2013. Tomatoes are the absolute number one with production of 249,245 tons. Leeks (154,000 tons), carrots (81,000 tons), lettuces (almost 63,000 tons), Belgian endives (39,330 tons), white cabbages (31,500 tons), bell peppers (25,580 tons) and cucumbers (17,590 tons) are also the main products from the Belgian vegetable sector. Belgian exports of fresh vegetables rose in 2014 by 0.7%. Their neighbouring countries are by far the most important destinations for fresh vegetables: the French market took first place in 2014 with an export share of 40%, followed by The Netherlands (21%) and Germany (19%). From January till August, 2015, there was growth of 6% in comparison to Jan-Aug, 2014. Neighbouring countries France (38%), The Netherlands (21%) and Germany (21%) remain the top ranked and their volumes have even increased recently. Due to the boycott, exports of fresh vegetables to Russia completely fell away. This gave an opportunity to Latvia and Lithuania, two countries that gained remarkably in importance in Belgian exports of fresh vegetables.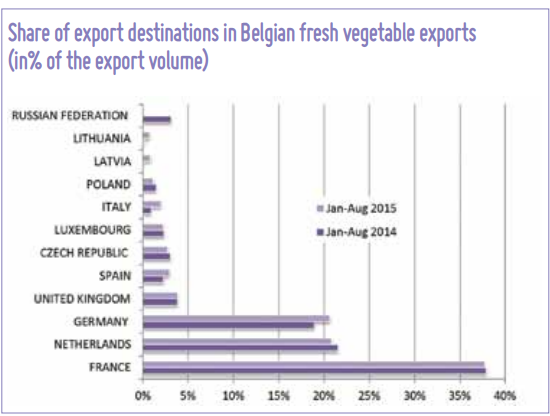 2 million tons of potato exports
In 2014, the Belgian potato growers produced almost 3,690 million tons of potatoes (provisional data).
The Netherlands is in the lead as the most important buyer of fresh Belgian potatoes, with a share of 64%. Far behind in the list follows France (19%) and the UK (3%). The share of countries outside the EU rose to 4% in 2014. Belgian processed potatoes are also very popular abroad. In 2014, they exceeded 2 million tons of exports. Their neighbouring countries are the most important destinations, with France (23%), The Netherlands (15%) and the UK (15%) in the lead. Also outside the EU, Belgian processed potatoes are becoming more popular. In 2014, third party countries took a share of 21% of total exports. From January to August, 2015, exports increased further, mainly towards third party countries, representing growth of 32% in comparison with the same period in 2014.
Responsibly Fresh: a collective sustainability label
The Association of Belgian Horticultural Cooperatives (VBT) has been working for a number of years with the associated auctions on a sustainability project. A new report will be published next June, 2016, to give an update on the multiple activities. The process is underpinned by companies' concern for sustainability on the one hand and the range of labels highlighting specific subsidiary aspects of sustainability on the other. The auctions have striven from the outset to adopt a proactive, individual and collective approach. After all, the associated growers are just as diverse in their business situations as the varied crops of fruit and vegetables they produce and collectively market. This diversity means that sustainable development cannot be accommodated within a limited set of criteria, but it is the objective of a whole spread of activities. Responsibly Fresh stresses the effort made by the collective of producers involved. The auctions add their own touches too, and it is this diversity that Responsibly Fresh also seeks to take into account while at the same time concentrating on the collective results.
From the outset, Responsibly Fresh has been focusing on four themes – low impact, biodiversity, proximity and food thrift. These are topics in which the producers and auctions have already made huge efforts, and in which there is room for progress.
Low impact: Being frugal with the means of production and applying comprehensive cultivation principles.
Biodiversity: Opting for varied cultivation and supporting scientific research into new varieties and growing techniques.
Proximity: The structure of the marketing cooperatives ensures a short, integrated chain, resulting in transparent pricing for producers, one-stop shopping for distributors and affordable quality for consumers.
Food thrift: Implementing tried and tested storage techniques, customer oriented portions and continuous anticipation of market demand. "
PE