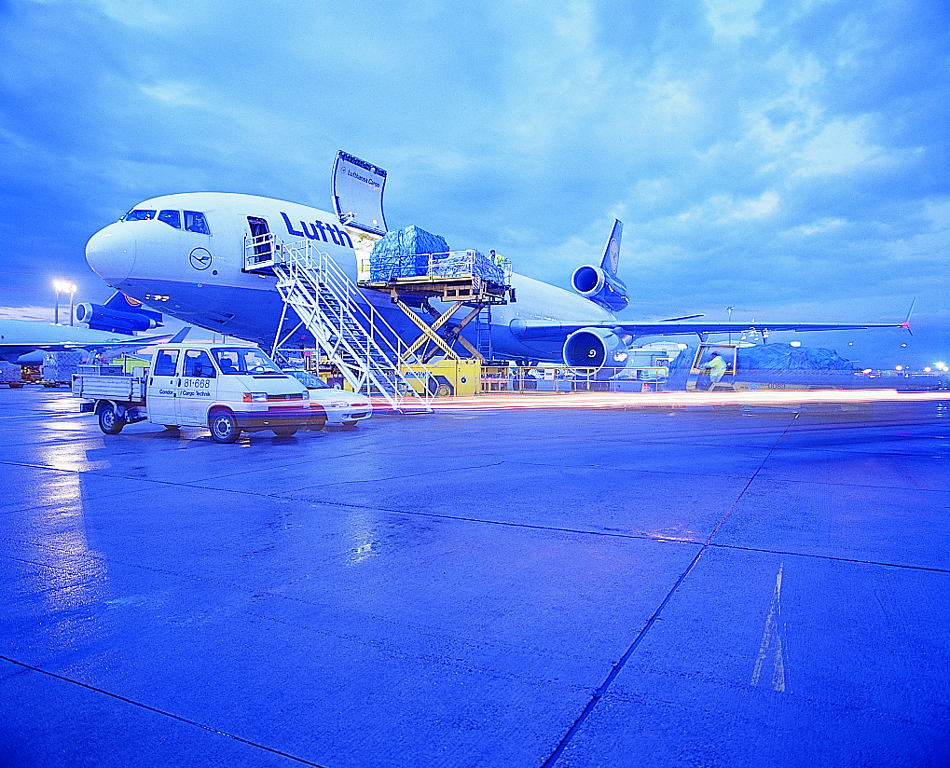 Lufthansa Cargo reports ongoing growth in the transport of berries to Europe from Argentina, Chile, Mexico and, as of this year, Peru, especially during the high demand period for berries during the European and North American winter time. Uta Frank, product manager for the company's Frankfurt-based Fresh/td perishables division, told ED that transport of strawberries from Egypt is also developing strongly, along with ongoing high demand from Brazil for all kind of fruits.
"We have noted an increase in deliveries for shipments coming from Brazil, Ecuador and Kenya which are arriving in Frankfurt by freighter and will be transported to different European countries and Perishable Import Stations such as London, Amsterdam and, as of recently, also to Russia," Frank also said.
Employee checks a consignment of edible flowers at the Perishable Center, Frankfurt (Photographer: Stefan Wildhirt)
"We are noticing an increase not only in flowers but now also fruit and vegetables being transported to Russia, e.g. from Kenya, maybe due to the new restrictions on goods from Turkey. But we can also see that many customers are interested in direct flights to Russia instead of transporting them by truck. Additionally, we are now seeing trial shipments by sea for flowers from Kenya, as well as some blackberries from South American countries. So it will might be interesting in the future to the developments, but we are still expecting demand for air freight," she said.
Vacuum-cooling used to extend shelf life
Optimising the appearance and shelf-life of produce is Fresh/td's main focus, Frank said. With that aim, and in cooperation with the Perishable Center Frankfurt (PCF), it offers the possibility of vacuum-cooling in Frankfurt. "This is a service preferably used for flowers subject to a long transport time overall, coming from South America or Africa and then facing another long trip from Frankfurt to their final destination. The vacuum-cooler can cool down two PMC pallets (96×125 inches) in just 30 minutes. Its fast yet gentle cooling helps maximise the lifespan of sensitive, perishable goods such as flowers. A fast cooler is also available in the PCF for use with fruit such as berries.
"In order to keep products such as flowers, plants, fruit and vegetables in good condition and to even extend their shelf life, the combined effort and co-operation of all partners in the supply-chain is becoming more and more important, from the farm right through until delivery to the consumer," she said.
Employee checks a consignment of mangoes at the Perishable Center, Frankfurt (Photographer: Stefan Wildhirt)
Frankfurt's role as Europe's perishable imports hub
Founded in 2014 to strengthen Frankfurt's position as one of Europe's key perishable import hubs, the Air Cargo Community Frankfurt and its working group 'Perishable Professionals' continue to work towards this aim, especially to speed up processes in Frankfurt during transit or for import shipments. "We have again improved our Fresh/td To-Door Services together with our partner CCG DE GmbH (Cool Chain Group) to reach a seamless supply chain which is safe and transparent," Frank said.
Lufthansa's global perishables capacity
Lufthansa Cargo ranks among the world's leading cargo carriers. In the 2014 business year, the airline transported around 1.7 million tons of freight and mail and sold 8.6 billion revenue tonnage-kilometers. The cargo carrier serves around 300 destinations in 100 countries with its own fleet of freighters, the belly capacities of passenger aircraft operated by Lufthansa and Austrian Airlines, and an extensive road feeder service network. The bulk of the cargo business is routed through Frankfurt Airport. Five B777F and twelve active MD-11F three-engine wide-body long-haul aircraft currently make up the heart of the Lufthansa Cargo fleet.
"With our MD-11 freighter we are serving the main perishables regions such as Central and South America (Brazil, Ecuador, Mexico) and Africa (Kenya, Egypt). Out of Frankfurt, larger shipments will be transported by using our Road Feeder Service with temperature-controlled trucks to European destinations or together with our delivery partner for Fresh/td To-Door, the Cool Chain Group, we are delivering directly to the final consignee in Europe," Frank said.
Photos: Lufthansa Cargo