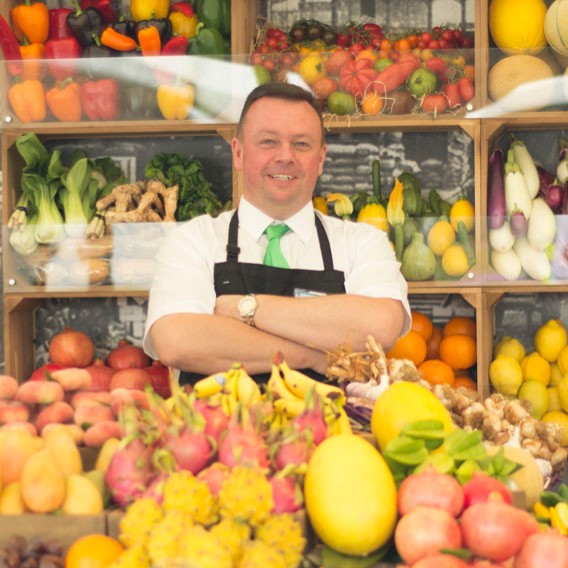 Stubbins, one of the UK's leading fresh produce growers and importers, has expanded into ambient and frozen, dairy, fish and confectionery. "And we have plans in place to extend the range further in the near future," Stubbins managing director Peter Turone has told ED.
Having notched up 50 successful years and evolving into a pan-European distribution company and one of the biggest suppliers of salads to the UK's large supermarket chains, the Waltham Cross-based firm has been quietly repositioning itself as a supply chain specialist and wider food group.

Stubbins managing director Peter Turone
Turone said Stubbins won't abandon its fresh produce roots, but is harnessing its successful approach to partnerships in the produce world to offers its services to a wider network of customers, "with a broader range of exciting new products."
"Over the years, our commitment to long-term partnerships has allowed us to forge exceptionally close ties with local, national and international growers, and underpinned the relationships at our own growing facilities in the UK, Italy, Spain, Poland and Holland that have allowed the company to be a reliable supplier of top-quality produce year-round," he said.
"We are our partners' one-stop solution supply chain specialist, whether that be in the fresh, chilled, frozen or ambient product sectors."
Waltham Cross food hub
The one-stop, supply chain specialist
In 2007, Stubbins opened its Fresh Salad Box in London's New Spitalfields Market to sell its own products and operate through one wholesale facility. "This busy London market has brought us closer to customers, in particular the restaurant and foodservice industry as well as the fast-expanding 'ethnic' market trade in and around London. In just eight years, sales have quadrupled on our first year and we sell the total range of produce from fruit to exotics and vegetables to salads," Turone said.
And this January Stubbins introduced freezer display cabinets for its first ever frozen fruit and vegetable offer, "and the first in New Spitalfields."
Fresh Salad Box's David Kerr
Glasshouse focus on tomatoes, peppers and cucumbers
Meanwhile the firm is continuing to increase its glasshouse production in the UK with particular focus on tomatoes, peppers and cucumbers. Turone said plum types have seen increases year on year in the UK thanks to promotions and added value varieties delivering better taste and flavour. Food service chains have been trading up to premium varieties and helping accelerating their growth. Also seeing growth is the cherry OTV, helped by the presence and good availability of high quality sales of Piccolo cherry tomatoes.
London Produce Show official partner
Stubbins Food Partnerships is an official partner of the London Produce Show and Conference, and host company of the opening cocktail. Turone said the show offers "a national and international brand position from which we can communicate, interact and network with our industry counterparts and find new partners for Stubbins Food Partnerships as we move the business forward."