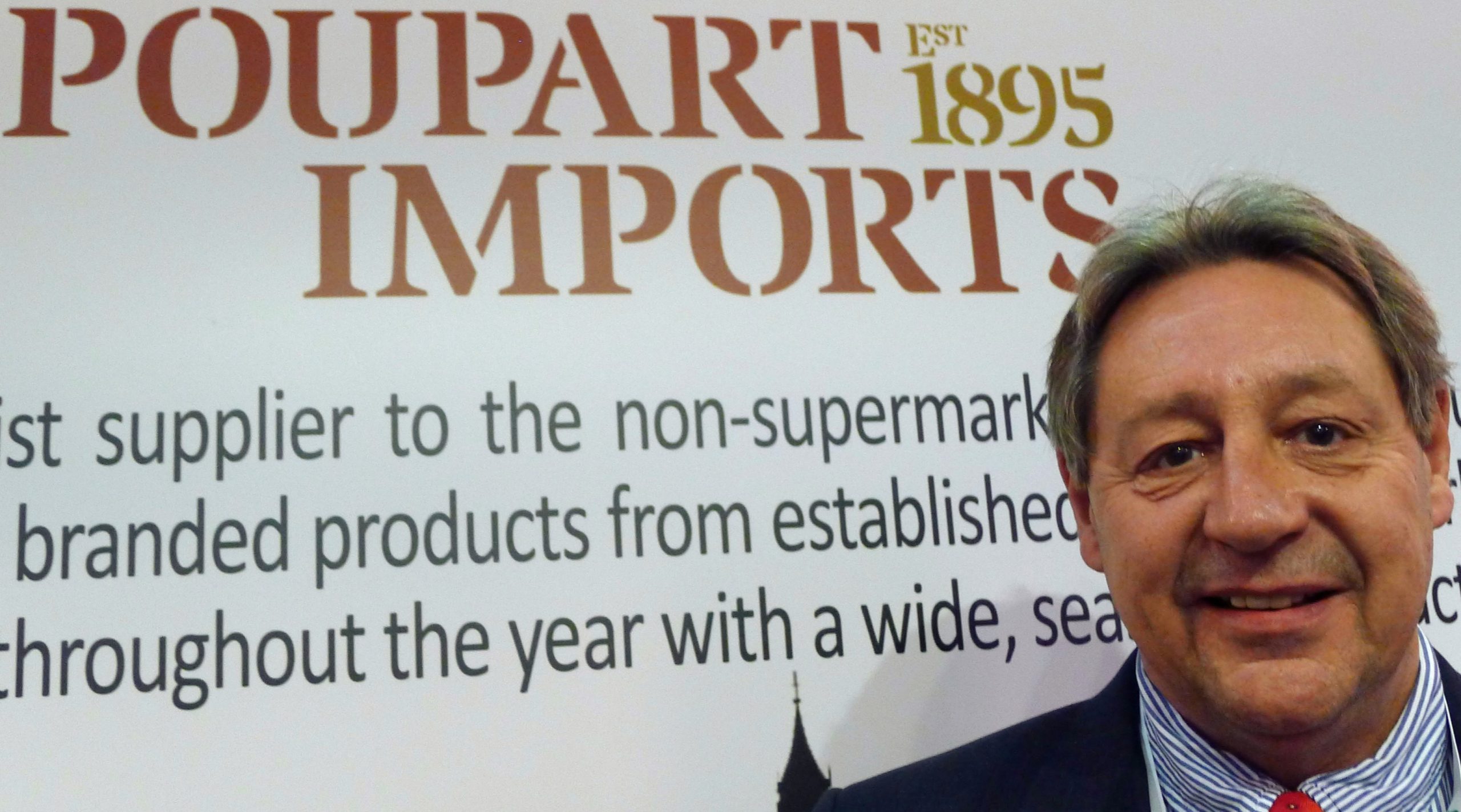 "It's a very dangerous business to be in and it's daily, it's immediate, it's spot, it's the open market. We are still traders, unlike the companies that supply the retailers, who are programmed and automated and predictable – we are the unpredictable end of the fresh produce industry."
That's Poupart Imports Senior Trader Jerry Green talking to ED about the volatile prices in the world of wholesale supply.
While at the London Produce Show in June, he said this specialist supplier to the non-supermarket sector handles high quality produce and trades across the whole UK fresh produce wholesale market, including pre-packers and processors, even retail category managers in the event they run short.
Topfruit, grapes and summer stonefruit/soft-fruit are the mainstays of Poupart Imports' success and continue to show annual growth, Green said.
The company is also a specialist in handling consignments destined for retail which have either become 'compromised' (under-specification, for example) or which are 'excess to requirement' and which need a special type of handling.
Bases in UK & Spain
"We're very well-placed," Green said. Poupart Imports – part of the Poupart Ltd Group – has offices in 3 different areas.
Deep sea procurement, off-market sales, accounts and logistics are run out of its head office in Hertfordshire, in England, while most of its European procurement is handled out of its base in Figueres, near Barcelona.
A third office in Surrey, also in England, is a 2-person operation controlling some 35% of the company's total sales volume.
Why wholesale supply is so unpredictable
Tomatoes are a huge item for the importer, which offers the whole gamut, be they round, plum, cherry, cherry on the vine, cocktail tomatoes, etc. Green said they are a good illustration of the challenges of buying on the spot market as it takes very little to change the supply and demand equation.
"A little blip in the temperatures in the production area and it looks like there's a spike in demand. There's not, demand is constant, it's just the supply is not there, so it contributes to a hugely volatile market."
Also volatile is the market for iceberg lettuce, where a 5kg box can be £10 one day, £5 the next day, £2 the following day and £8 the day after, Green said.
"We operate within probably the purest form of the oldest economic law, that of supply and demand. Prices move in an instant depending upon the perceived availability or under-supply."
Salad and vegetables procurement via Spain
Poupart Imports offers a wide, seasonal product range. Green said salad items and vegetables are procured almost exclusively by the firm's base in Spain. "We handle all sorts of salads, leaves, capsicums, aubergines, courgettes, tomatoes and a range of vegetables – a pretty comprehensive range – but there are various products, like potatoes and onions that we don't find worth touching as we don't have the product knowledge, contacts or expertise properly to manage these categories."
Spain is the main source of Poupart's salads and vegetables but it also sources from France, Italy, Morocco and Poland.
Avocadoes: mainly sourced from Peru but also South Africa, Spain
Poupart aims to supply avocadoes year-round, mainly drawing its supply from Peru (50%), South Africa (25%) and Spain (25%). Green said Hass is the biggest seller in the UK, and what the retail sector mainly sells, but Poupart Imports doesn't tend to handle that variety. The open spot market sells mostly greenskins, such as Fuerte, Pinkerton and Zutano.
The company doesn't tend to import products such as pineapples as a retail programme is required to successfully manage the individual season and to mitigate losses incurred in the spot markets. "This is really outside the remit of Poupart Imports as non-retail is the target market," Green said.
The company does however import melons – from Europe, Brazil, Costa Rica, Honduras, Panama and Guatemala – for its open market business.
Year-round grape supply and largely seedless
It imports grapes throughout the year, averaging about 60 pallets a week but attuning its volumes to supply and demand. "If there's an oversupply, we will attempt to dissipate that supply across the market, if there's an undersupply we do our damnedest to procure whatever we can, safe in the knowledge that it can be traded successfully in such times of high demand."
The company does import a seeded grape variety in Red Globe but about 85% of its grapes are seedless and mostly white varieties, particularly Thompson, Sugarone and Superior. Red varieties such as Flame and Crimson complete the offer.
"Obviously we start off in Europe, and that lasts us through to about September-October, from there we go to Brazil, Peru, and then South Africa. After Christmas it's still a bit of South Africa, then we major on Chilean red and green grapes before going heavily into India. At the end of the Indian season, which is about now (early June), you're looking at bringing in Israeli, and Egyptian before we go back into the European season in about a month's time."
"We bring it in in bulk 9kg, in 4.5 kg boxes and in ready-packed 10 x 500g punnets, labelled or unlabelled, and with single or mixed varieties in the punnet – whatever the customer wants."
Wide client base
As for its clients, Green said Poupart supplies virtually every Total Produce outlet in the UK wholesale sector and views the group as an integral part of its customer base.
Other clients include Barton & Redman in Manchester's New Smithfield Market; H G Walker, Premier Fruit and P&I at New Covent Garden Market; JT Produce, Payne Simmons and Mirpa/Cypro Food in London's Spitalfields Markets; Burbank in Bradford, Crossley and Graham, and Nicol & Dow in Glasgow, just to name a few.
Keeping customers by keeping them happy
"We never become complacent about our customers and fully accept that no customer belongs to us no customer belongs to us, they just happen to be customers who are reasonably loyal to us in the short term. There's no long term about it unless we continue to perform for them and keep the customers satisfied. We do manage to keep customers loyal to us and in some ways dependent upon us because we're pretty good at what we do and have become acknowledged market leaders in the sector," Green said.
"We have a 12 man sales desk if you like, albeit split up between the 3 offices, and we attempt to service the best part of 138-140 customers. Every single day, they will all get at least one phone call a day from us and if they don't take one particular product they'll take another. Very rarely do you put the phone down without selling somebody something."
"We're there five days a week most of the year and six days a week during the summer months when there's a lot of stonefruit. We are viewed as being one of the two principal suppliers to the wholesale sector," he said, "and continue to enjoy this position thanks to the professionalism of the procurement and sales teams, the synergy between the two, the back-up provided by the admin and logistics departments and above all by the comprehensive nature of our daily offer to the market."
Poupart Imports: http://poupartimports.co.uk/
JB