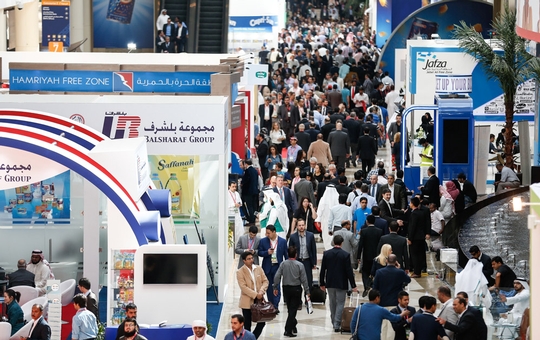 Its 1st Russian pavilion and the 3rd Halal World Food, an upscaled visitor experience and three new indoor halls will be among the features of Gulfood 2016, taking place at Dubai World Trade Centre (DWTC) from Sunday February 21 to Thursday February 25.
Billed as the world's largest annual food and hospitality trade show, Gulfood is expected to draw more than 5,000 international companies from 120 countries, cementing its standing as a leading global food trading platform. And among the 85,000-plus visitors from more than 170 countries expected, it will host international heads of state, ministers, government officials and national trade associations from five continents.
'More Tastes, More Trends and More Trade' are promised for the 2016 edition of this specialist event, which will welcome tens of thousands of finished food suppliers, bulk commodity wholesalers and exporters. Its first Russian national pavilion will be one of 114 national pavilions. Another highlight will be the prize ceremony for the 2016 Gulfood awards – designed to celebrate excellence and innovation across every category of the global food industry – taking place at a gala dinner on the first day of the show.
"Gulfood is internationally renowned for providing a trusted and accessible platform for the world's food industry to meet, transact and trade out of Dubai – one of the world's most diverse, energetic and vibrant trading hubs," said Trixie LohMirmand, DWTC's senior vice president of exhibitions and events management.
"As global food producers and traders establish new supply routes to reach customers and monetise opportunities in emerging markets, the heightened visitor experience will enable industry heavyweights to make strategic purchasing decisions with trusted suppliers, all while consolidating the UAE's key role as a major transshipment destination for food products and hospitality equipment," she said.
Meanwhile, the 3rd Halal World Food, the world's biggest annual Halal food sourcing trade event, will leverage Dubai's mounting credentials as a global Islamic Economy capital and increase the emirate's share of year-round trading in halal foods.
"This is now an essential prerequisite for any supplier looking to establish a foothold in the world's fastest growing food industry sectors with the global Halal market expected to reach US$10 trillion by 2030," LohMirmand said.
From specialty and fine food, to the widest range of organic food and drink, Gulfood is an opportunity to discover unique products from hundreds of specialist producers and over 110 international pavilions. Specialty areas covered are artisanal products, children's products, ethnic food, fair trade, gift packs/hampers, gourmet & fine food, Halal products, health/wellness products, organic products, private label, ready meals and special diet products.
Image source: Gulfood