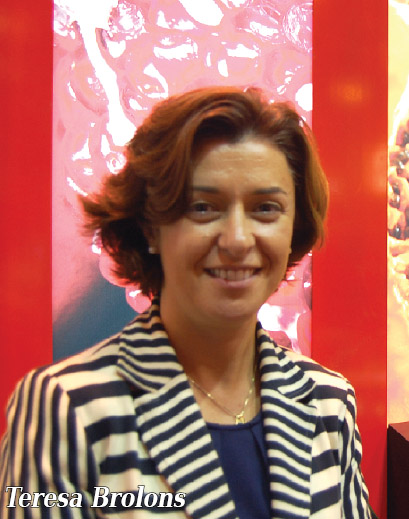 Fresh tomato is still the company's most traded product, with 90 million kilos shipped last season, followed by 55 million kg from the tropical range and around 14 million in plantain and bananas. Their estimates for the current campaign point to 5% growth in tomato and tropical fruits, but the highest growth will be reflected in their new "Sanflavino" gourmet range, with a forecast increase of 20%. This new line includes a variety of prepared tomato produce such as sun-dried tomatoes in oil, semi-dried Canary or cherry tomatoes in saffron or basil and a wide assortment of natural refrigerated products like gazpacho, salmorejo, tomato juice…
In fresh produce they plan to expand into Dubai, the United Kingdom, Scandinavia and both Eastern and Western Europe. With their gourmet product Sauflavino Bonnysa intend to open up markets such as Japan, China and the United Arab Emirates in addition to trading in countries such as France, Germany, the UK and Denmark. "As Marketing Director at Bonnysa, my prediction for 2014 is that Sanflavino will be a resounding success in emerging countries", notes Teresa. Sanflavino stands out as natural and with no preservatives, "from seed to plate." It's a product for people who enjoy eating well and trying new flavours, but who aren't such good cooks", adds Teresa.
The new gourmet products line is divided into several selections. The Chef Selection features highlights such as traditionally dried tomatoes, semi-dried peeled tomatoes with saffron or basil and an olive oil accompaniment or semi-dried cherry tomatoes. The Spreadsto line consists of artichoke or tomato varieties for spreading or use as a garnish. Finally, the "Tomato Recipe" delights us with gazpacho, tomato juice, salmorejo, or striped tomato, all with the most natural and Mediterranean flavour.
Their next launch will be grenadine juice, which they expect to stand out from the rest due to its preventive powers against cancer and heart disease.
This year the company has invested in machinery and land. They take in everything from the nursery seed beds to harvesting and packing, with crops located in Alicante, Almeria, Murcia and Tenerife.
They hold the UNE-EN ISO 22000 certificate from AENOR for tomatoes and bananas, but are most notably pioneers in achieving an AENOR Certificate of compliance with BRC technical requirements for companies supplying farm food products. They have also rolled out the ISO 22000 standard to develop a food safety management system for their produce.