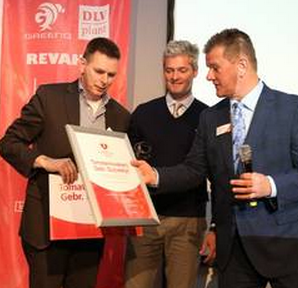 The Dutch company Duijvestijn Tomaten has been deemed the best tomato grower in the world in the field of crop and process technology after winning the Tomato Inspiration Award 2015.
The prize was announced in Berlin last Thursday, February 5, during the 2nd edition of the Tomato Inspiration Event, and presented by John Newell, from last year's winner Windset Farms.
Duijvestijn Tomaten was particularly praised by the jury of experts for its efforts in the field of geothermal energy and development and realization of the ID Kas, a new sustainable and energy-efficient greenhouse concept.
R & L Holt from England finished in second place with its ultra modern Springhill Nurseries.
Houweling's Tomatoes from Canada and Royal Pride Holland from the Netherlands shared third place, while United Farms from Mexico completed the top 5.
Other nominated companies were Wiig Gartneri from Norway, D'Vine Ripe from Australia, Matysha Maroc from Morocco, Scherzer Gemüse from Germany and RedStar from the Netherlands.
The Tomato Inspiration Event was attended by more than 200 horticultural representatives and among them the top 100 tomato growers in the world, of which 10 were nominated for the award for the world's most innovative tomato grower in the field of crop and process technology.
The jury consisted of Gene Giacomelli, director of the Controlled Environment Agriculture Center at the University of Arizona in Tucson (US), Ep Heuvelink, professor at the chair group Horticulture and Product Physiology at Wageningen University (Netherlands), Stefania De Pascale, professor of horticulture at the University of Naples Federico II (Italy) and Tadahisa Higashide, chief researcher at NARO Institute of Vegetable and Tea Science in Tsukkuba (Japan).
Click here for more information about the Tomato Inspiration Event.