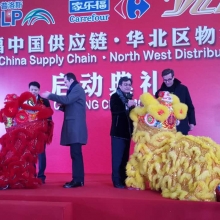 Carrefour has consolidated its supply chain in China with the December 2 grand opening of its North-West China distribution centre in the Tianjin municipality.
The centre is intended to be a bridge for Carrefour China's supply chain in northern China, radiating out to the Beijing-Tianjin-Hebei integration economic cycle and Shandong, Shanxi and other provinces' logistics and distribution network. It is also designed to increase distribution efficiency, support the business of stores, and boost regional economics.
Located in ProLogis modern international distribution park, Wuqing economic development area, in the Tianjin municipality, Carrefour's northern distribution centre covers 39,000 m2.
It will use the Voice Picking System, achieving 99.997% in its picking accuracy rate. The trays utilise 100cm*120 standard operating procedure to reduce packaging and labour costs and improve efficiency; moreover, the centre is equipped with professional temperature controlled room which sustain temperatures of 18-22 degrees for the storage of alcohol, chocolate and milk powder.
The northern China distribution centre will cover more than 30 stores in northern China, greatly improving the company's northern China supply chain system to provide more high-quality, convenient products and services for numbers of consumers, Carrefour said in a press release.
After the establishment of the distribution centre in Eastern, western and northern region, it plans to set up 2 new distribution centres in North-East Territory and South Territory of China.
By the end of 2016, Carrefour estimates it will have completed the establishment of 6 modern distribution centres in China, covering more than 200 hypermarkets in China to fully support its emerging businesses such as its e-commerce operations and "easy Carrefour" convenience stores.