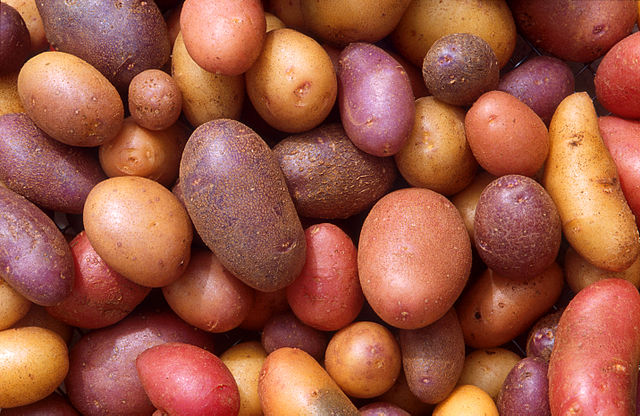 The 13 major potato states in the United States held 197 million cwt of potatoes in storage as at February 1, down 2% on the same date last year, according to a new report by the country's statistics service, NASS.
Potatoes in storage accounted for 49% of the fall storage States' 2015 production, 2 percentage points lower than last year, it says.
Potato disappearance, at 202 million cwt, was up 3% on February 1, 2015. Season-to-date shrink and loss, at 16.9 million cwt, was 7% lower than last year. Processors in the 9 major States used 108 million cwt of potatoes for the season, up 1%.
The potato stock estimates in the report are based on a survey in the first week of February in the 13 major fall potato producing states in the US, which together account for 90% of all the nation's potato production, the report says.
Source: US National Agricultural Statistics Service (NASS) potato stocks report
Image: Different potato varieties, by Scott Bauer, USDA Agricultural Research Service, Public Domain via Wikimedia Commons