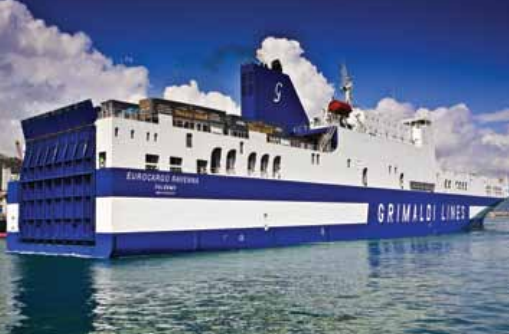 The Grimaldi Group shipping company began 2015 with big news: as of February it launched a new direct maritime service between Civitavecchia and the North American Ports of Baltimore and Halifax for the transport of cars and other rolling cargo. The new link is the first direct and regular service between the Mediterranean and North America for the ro-ro carrier sector.
And in Jamuary, Grimaldi had also strengthened the connection between Savona and Barcelona that has become a daily service thanks to deployment of the M/V Ro/Pax "Florencia" that has been added to the 4 "Eurocargo" units which already serve the line.
From 6th July, Grimaldi will launch a new standard service between Brindisi, Igoumenitsa and Corfu adding to the service already offered throughout the year between Brindisi, Igoumenitsa and Patras.
In February, Grimaldi Group improved the Brindisi-Greece service thanks to the employment of the M/V Euroferry Olympia and Euroferry Egnazia, able to carry up to 3,200 lm and with a cargo capacity of 200 ro-ro units and 600 passengers. The Ravenna–Greece direct link joined the already operational transhipment connection, thus increasing the number of departures from Ravenna to Igoumenitsa and Patras to 5 a week.
Due to changes in the market, the Grimaldi Group has also decided to meet demand from the market by modifying the previous Rostock-Helsinki itinerary and introducing the harbour of Hanko to the line. Indeed, as of January, there are now 2 connections from Rostock to Hanko and vice versa and 2 connections from Rostock to Helsinki and vice versa.
In order to face the big challenges of 2015, Finnlines, the company serving the Baltic market and of the Grimaldi Group, has decided to invest in eco-friendly technologies on which it is spending about €65 million. Grimaldi Group is a leader in the maritime transport of cars and all ro-ro vehicles with one of the biggest fleets in the world of roro/multipurpose vessels and car carriers.
The fleet today consists of more than 100 vessels. The vessels are ro-ro/multipurpose, Pure Car and Truck Carrier, Cruise Ferry and High Speed Ferries. The current maritime connections operated by the group serve more than 120 ports in 47 countries in the Mediterranean, Northern Europe, Western Africa, North and South America.
Nowadays the Motorways of the Sea Network in the Mediterranean and Baltic Seas alone is made up of 100 maritime lines operated by Grimaldi, Minoan, Finnlines and Malta Motorways of the Sea for the transport of cars, trailers, trucks and passengers.
MV