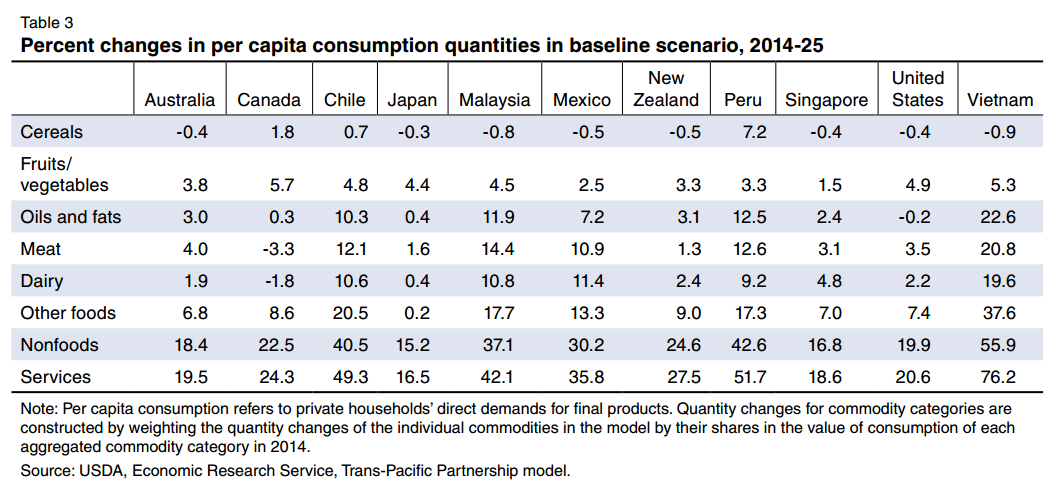 Fresh produce consumption to rise in Pacific Rim
Canadians will be eating 5.7% more fruit and vegetables and Americans 4.9% more by 2025, according to the USDA Economic Research Service (ERS).
And per capita fruit and vegetable consumption will similarly rise in Vietnam, by 5.3%, Chile 4.8%, Malaysia 4.5%, Japan 4.4%, Australia 3.8%, New Zealand 3.3%, Peru 3.3%, Mexico 2.5% and Singapore 1.5%, it predicts.
The figures are in the ERS's baseline scenario for percent changes in per capita consumption quantities for 2014-2025 and appear in its recent report "Agriculture in the Trans-Pacific Partnership (TPP)".
Fruit and vegetable consumption increases as incomes do
The report says the figures reflect that income growth is associated with higher intakes of fresh fruits and vegetables in low, middle and high income countries. "This is due to factors including improvements in the quality and diversity of fresh produce and the effects of higher income on the demand for fresh fruits and vegetables."
The report assesses the potential impacts of the proposed TPP trade and investment agreement under negotiation by 12 countries in the Pacific Rim, including the US. Population growth will be the main engine driving the 10.4% real growth in the region's demand for food over 2014-25 under the baseline scenario, it says.
Increased trade in fruit and vegetables
The ERS expects the value of intra-TPP agricultural trade to rise 16.8% by 2025, compared to a 9.3% gain across all commodities.
Read the report:
http://www.ers.usda.gov/publications/err-economic-research-report/err176.aspx