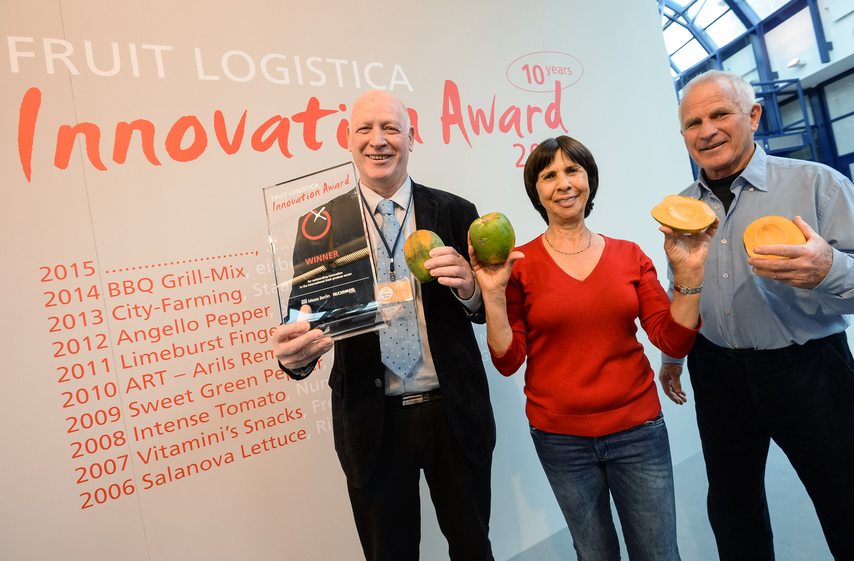 Trade visitors at last week's Fruit Logistica fair in Berlin chose the "Aurora Seedless Papaya" as winner of the Fruit Logistica 2015 Innovation Award (FLIA). It was selected out of a field of 10 finalists, all of which were on display at the event.
| | | |
| --- | --- | --- |
| From Aviv Flowers Packing House Ltd. in Israel, "Aurora Seedless Papaya" has a delicate fragrance and firm, full-flavoured pulp. The product of natural selection and crossing, its target markets include the EU,, Switzerland and Canada. | | |
The second place FLIA winner was the "Lemoncherry" tomato.



Developed by BelOrta, a growers' cooperative based in Belgium, this yellow, sweet-tasting cherry vine tomato features a distinctive, lemony aroma.
Third place honours went to the "DIY Fresh Packs" produced by Bakker Barendrecht (part of the UNIVEG Group) in the Netherlands.

These products are designed for consumers who want to use fresh ingredients to prepare a full meal, soup or side dish for four people.
Fruit Logistica's showcase of fresh product ideas
Fruit Logistica global brand manager Gérald Lamusse described the ten finalists for the award as "outstanding new fruit and vegetable industry products and services that are driving new trends in the international marketplace."
The other finalists were :
"Eye-Catcher" – A product display system for crates at the POS, from Cabka Group GmbH, Germany;

"FC 15 Fruit Chunker" – A cutting machine for pineapple and melons, from Atlas Pacific Engineering, Inc., USA;

"Holzdekor-RPC" – Reusable plastic crates with a natural wood look from Polymer Logistics, Germany;

"Low Carbon rPETeCo" – Packaging material consisting of 90% recycled plastic bottles, from Holfeld Plastics Ltd, Ireland;

"Portable Nondestructive Fruit Quality Meter" – A portable quality-control measuring device, from Sunforest Co. Ltd., South Korea;

"Regal'in™ Apple" – A new apple variety, from Regal'in Europe, France;

"UP-8000" – A peeling machine for carrots, cucumbers, white radishes and other long vegetables, from Hepro GmbH, Germany.
Lamusse said the award is "the industry's most coveted distinction" and attracts huge international media attention.
See more photos at the Fruit Logistica site.