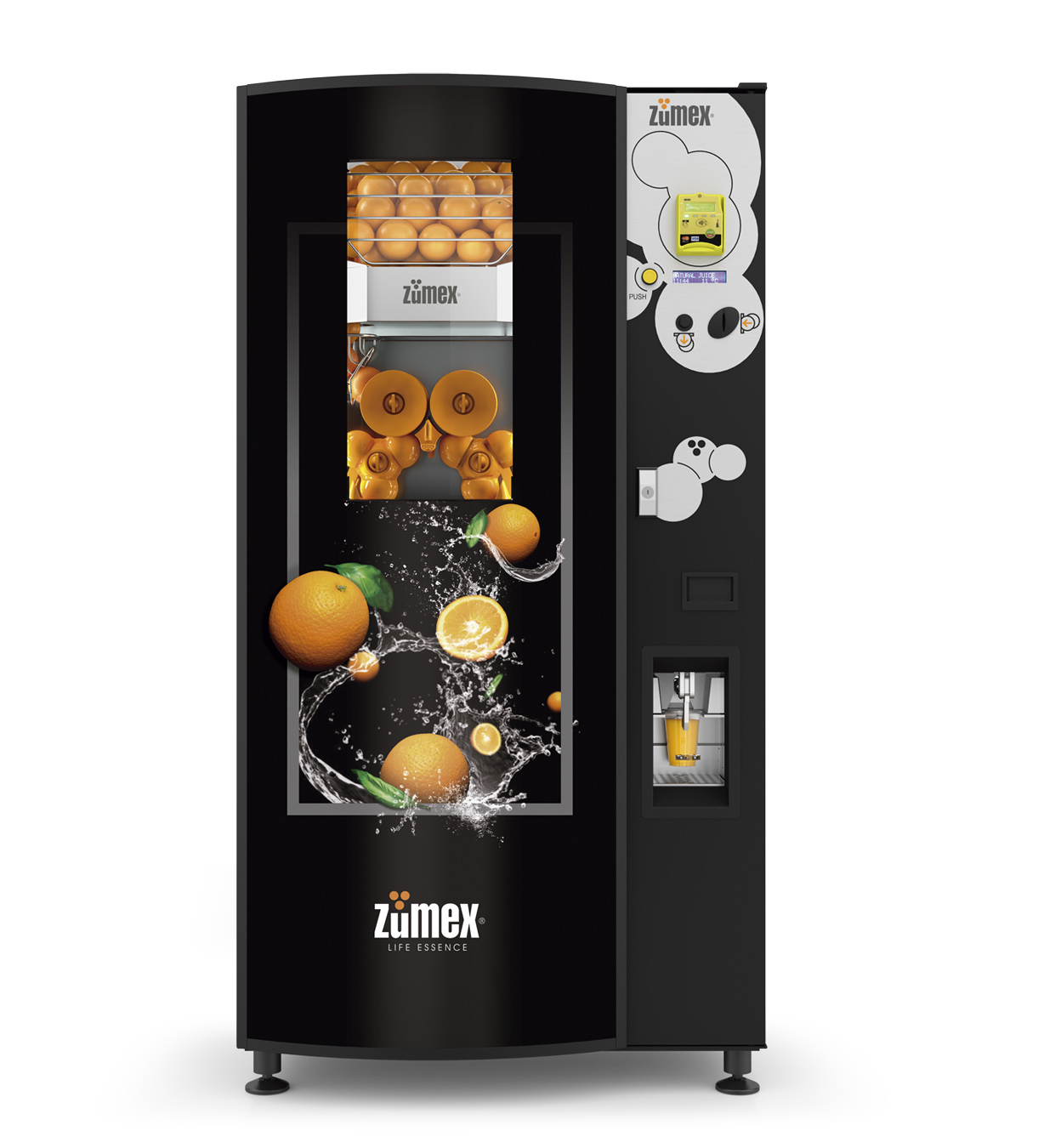 The multinational's new freshly squeezed juice vending machines, with a more transparent front and enhanced performance, are the smartest, most comprehensive solution available on the market
The company is once again spearheading innovation in the healthy vending market with its revolutionary freshly squeezed juice vending machines, which include a comprehensive remote control system with real-time metrics
Natural Vending by ZUMEX® is reinventing the experience of using and operating natural juice vending machines thanks to its telemetry kit, its integrated cashless payment system, a user-friendly display and an attractive and customisable design
Leading international companies such as Decathlon, L'ORÉAL, IKEA and VOLVO have chosen to install ZUMEX® Natural Vending machines in their headquarters, and the company is now launching them in new, fast-moving environments such as shopping centres, gymnasiums, schools, hospitals, and stadiums
Very little time and a fast-paced lifestyle. Consumers are increasingly choosing to eat between meals and outside the home, meaning snacking is on the rise and now accounts for almost 50% of meals.* Growing demand for snacks in the vending channel clashes with the lack of variety and poor supply of fresh, healthy products in this area. Against this background, ZUMEX®, a leading global strategic partner in the juice business, is once again at the forefront of the healthy vending market with its new smart cashless machines based on the "Healthy to go" concept.
The company has revamped its vending equipment line with the launch of Natural Vending, a generation of new smart machines with an attractive transparent design that offer a simple, fresh and healthy alternative to more discerning consumers and companies committed to the future.
Natural Vending is the evolution of the company's high-performance automatic machines, designed with state-of-the-art technology. The new smart vending machines incorporate the latest advances in both telemetry and cashless payment methods. In addition, they feature a programmable cleaning system and a sophisticated, transparent design, making maintenance and management much easier.
Comprehensive remote control for optimal management of your vending business
ZUMEX® Natural Vending incorporates a new telemetry kit that provides businesses with simple yet comprehensive remote management of their pool of machines via a mobile app, based on a centralised control panel for improved visualisation of key business data such as:
Easy management of all machines, in any country, via a single user.
Updated information with real time data on sales and profitability, and the generation of sales reports.
Management of customised alerts to provide an immediate response.
Indication of the status of transactions and the types of payment used (note acceptor, coin acceptor and cashless).
In addition, the new Natural Vending machines feature a new cleaning system that can be programmed by choosing the start time or by setting it to start after a specific number of juice servings have been dispensed, without the need for a water intake. In addition, ZUMEX® vending machines improve the programming of your juice service with a new, user-friendly display that enables you to choose between two juice filling modes: either by number of oranges or by a precise cup filling system that allows you to select the exact amount of juice dispensed.
In short, these latest innovations reinforce remote monitoring of all machine functions with detailed information. Automatic planning of service routes, profitability analysis and an 80% reduction in downtimes are just some of the key results and benefits that make a difference to both distributors and end customers by improving profitability levels, maintenance and user satisfaction.
More flexible payments, more sales
The new ZUMEX® Nayax Cashless Natural Vending payment system offers one of the most advanced cashless experiences on the market and dovetails with the latest trends in payment transactions. The Nayax device provides customers with greater flexibility, ease of use and security; it supports different cashless payment methods such as credit and debit bank cards, as well as mobile payment and corporate staff cards, either by contactless, NFC, magnetic stripe or chip connection. In addition, the new payment reader enables voice interaction in the consumer's local language, which constitutes a significant breakthrough in the field of unattended machines. All of this leads to more sales.
Look through the window into the world of juice
Finally, the brand's innovation and design team has added greater transparency to the ZUMEX® Natural Vending machines which are now also available with a large window. This means that the customer can now choose between three window types: a single window, a double window, or a new large window through which the consumer gets a complete overview of the fruit travelling through the juicing process, using the Original System®.
Finally, Natural Vending models have a 100% customisable backlit cover, offering a unique, highly attractive image.
Natural Vending is a success story with amazing growth potential
Leading international firms and brands such as Decathlon, L'ORÉAL, IKEA and VOLVO have incorporated ZUMEX® healthy vending into their headquarters and are already offering it to their customers and staff. ZUMEX® Natural Vending offers a refreshing "Healthy to go" option with freshly squeezed 100% natural juice available 24 hours a day, anytime, anywhere in less than a minute.
Now the company intends to take this successful formula to new contexts such as shopping centres, gyms, schools, hospitals, etc. where consumers have little time and are looking for practical and healthy solutions. All you need is juice!
* Hartman Group – The Future of Snacking.
ZUMEX® Group is a strategic partner and has been a world leader and innovator in the juice business in the design and manufacture of innovative solutions for fruit and vegetable juicing for more than three decades. It is present in more than 100 countries through an extensive network of distributors and its five subsidiaries (USA, Mexico, UK, France and Germany), which work closely with its headquarters located in Spain (Moncada-Valencia).
The company is well known for the development of patented technologies and exclusive systems and has three major business lines: food service & retail, food engineering and vending.
For further information, contact ATREVIA. David Jorques, Juani Segarra and Gloria Peris-Mencheta. Tel. No.: 96 394 33 14