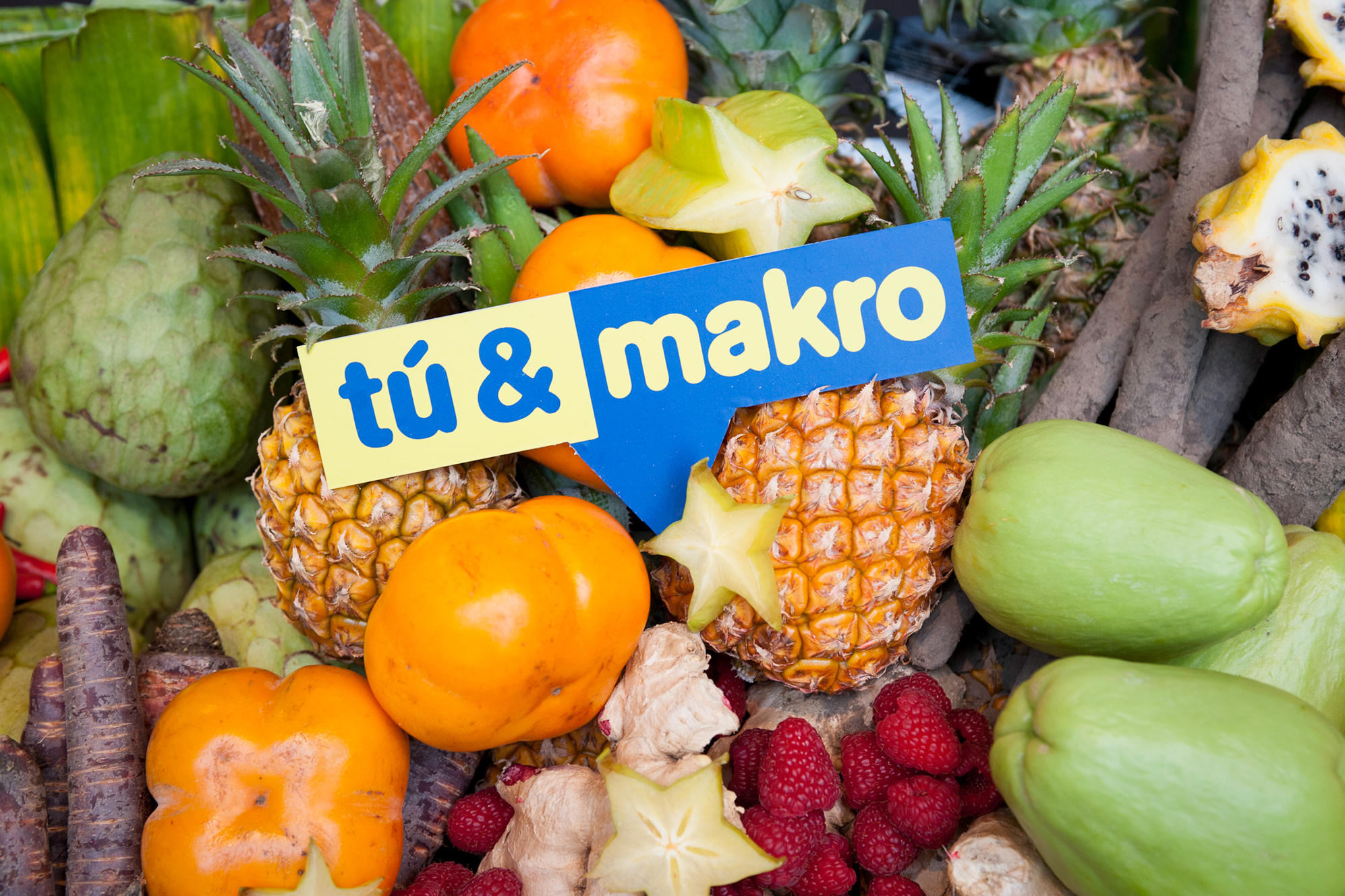 Offering extensive fresh produce product choices – so food service businesses can differentiate themselves – is a feature of the cash & carry giant's approach in Spain
Makro Spain
2013/14 consolidated sales: €1.23 billion (2012/13 €1.21b)
37 stores
3,700 employees
About 1 million registered customers
Logistics platforms: Madrid 9,000m2, Guadalajara 31,000 m2, Valencia 6,000 m2
45,000 different items, more than 400 in fruit & veg
Part of Cash & Carry division of Germany's Metro Group, world's 3rd biggest distribution group
Fruit & veg at Makro Spain
Delivers 10% of total/food turnover
6 in 10 Makro clients buy fruit & veg
80% Spanish, 20% imports (over full year)
Imports: mainly Costa Rican pineapple, Mexican & Brazilian limes
Imagine being the greengrocer for every kind of eatery ranging from the pub next door to a Michelin star restaurant. You must stock the simple spud through to the latest fad in exotic citrus and fungi. Meeting those diverse needs is the remit of Jorge Hernández, fruit and vegetable category manager for Makro Spain.
Part of the global Makro chain of warehouse clubs, also called cash & carries, for more than 40 years Makro Spain has specialised in supplying small and medium-sized catering companies. Today it is a multi-channel business – now also offering a delivery service – but still focused on hotel, restaurant and catering (HoReCa) firms and seeking to differentiate via an extensive assortment, differentiation, communication and innovation. Its 37 stores offer more than 400 items in fresh fruit and vegetables alone.
Speaking at his base in Mercamadrid, Hernández stresses Makro aims to be the best partner to its clients. "We want to simplify their business management and help boost their profitability."
One way Makro does this is to shield clients from market fluctuations by locking in prices for Horeca customers on certain fresh produce for three months at a time. "It saves them a lot of price calculations," Hernández said.
Double digit growth in convenience food
And the philosophy particularly applies to the provision of fresh cuts, "because they are meant to save our clients a lot of time and money."
"We provide a lot of options based on what we see in our work with them. For example, when you put a salad based on iceberg lettuce on a plate it's quite flat, it doesn't fill it much, so we offer other mixes, such as with baby leaves or escarola, that add more bulk for the same quantity." Hernández said.
"We've seen double digit growth every year for the last four years in both volume and value in our fresh cuts, and keep in mind prices in this category don't change much," he said. Pre-cut salads account for about 50% of total pre-prepared sales, with the rest mainly cut raw vegetables such as potatoes, garlic and onion. Makro also supplies peeled orange, sliced lemon, and watermelon and melon balls, and in ready-to-eat has popular Spanish foods such as roasted red pepper.
The key categories: fresh cuts, lettuce, tomatoes, potatoes
Along with fresh cuts and lettuce, potatoes and tomatoes complete Makro's four pillars in fruit and vegetables. In the latter, it is adding very practical value for clients via a soon-to-be-released usage guide to the many varieties.
Makro offers more than 30 kinds of, although the type that accounts for most of its tomato sales is the "firm salad tomato". (This is also an area illustrating the importance of Makro's regional buyers, as in the south of Spain they tend to like their salad tomatoes greener than they do in the Cataluña.)
Such a guide has already been released for Makro's onions. Need to caramelise an onion? Try a mild white one. Making a sauce? Use a shallot. Granos are good for casseroles, Chata (flat) onions for baking, and so on, it explains.
Big demand for microgreens
Sales have also been increasing for one of Makro's specialty items – micro-mesclun. Sourced from Valencia, this mix of very young leaves and shoots provides great volume and colour on a plate and is proving very popular. Makro is expanding its range of such products, including sprouts and edible flowers, as well as mini–vegetables such as zucchini, eggplant and cauliflower, plus algae and "living" lettuce (with roots in water).
Another specialty is the broccoli hybrid Bimi. So far it is better known in the UK but Makro is working with an exclusive supplier in Spain "with good results." "Such products help our clients differentiate themselves," Hernández said.
Wild about wild mushrooms
Another increasingly popular product is the wild mushroom. "Every year we're seeing really strong growth in sales of them. They are the seafood of the grocery section – they're exclusive and delicious but expensive, and all the time more chefs want to use them."
The importance of fruit ripeness and rotation
As for fruit, Makro sells less of it than vegetables as in food service it is mainly used only in desserts. But of the fruit used in the sector, oranges in particular, but also the pineapple, lemon, melon, watermelon and strawberries, are the most important.
As its clients are not the end consumers, all Makro's fruit is bought ready–to–eat either the next day or within a set number of days. It withdraws produce from shelves preemptively, usually 2-3 days – or in some cases 4-5 – before it becomes overripe.
Citrus: cost certainty and exotic options
Oranges are another key product for Makro and mainly end up in desserts or juices. Another illustration of Makro's efforts to make running their businesses easier for its clients is its orange range that literally promises "3 oranges will provide 200 ml of orange juice."
"Having a fixed cost like that is highly valued in hospitality," Hernández said.
Makro's citrus range also includes (according to season) exotic options such as citrus caviar, bergamot, and the ancient Buddha's Hand. Mainly sourced from Elche, in Valencia, the latter is used in cocktails and desserts in upscale venues.
Recovering wild strawberry flavours
Berries – and by far strawberries – are another important category, particularly for pastry goods and desserts.
And as part of its Alma Makro (Makro Soul) project, the company is working with small-scale farmers in Aranjuez, south of Madrid, to recover wild strawberry (Fragaria vesca) varieties – and their different flavours – that centuries ago grew in extensive market gardens there.
New strategy for private label products
In terms of fruit and vegetables, Makro's own brands – Horeca Select and Fine Life – currently account for 40% of sales. The three key values for its own brand strategy are traceability, freshness and food safety.
However, Makro plans to stop working with Fine Life, to focus on Horeca Select, and, under a Metro Cash & Carry project shortly to be piloted in Spain and Belgium, will generally reduce its involvement in own brand products while adding more value to those it does offer. It will be also be even more selective in the branded lines it stocks, maximising the value for clients, "not just in the product but the packaging and the communication on it."
Potential but small sales in organic
Though Makro is seeing stable sales for its small but growing range of organic produce (mainly of products that can be eaten raw), 99% of its produce is still conventional as there aren't many organic restaurants in Spain yet. "But there is a market trend there and so we want to be there," Hernández said.
Regional, national and international purveyance
Makro tries to offer a range of local products in every store. Its emphasis on sourcing local produce not only helps local producers, it results in a smaller carbon footprint in transport and fresher produce. Local produce is sourced by regional buyers, of which there are four: one each in the north, south and east of Spain, as well as the Canary Islands. The national level is looked after by staff at Mercamadrid and the Metro Group's international procurement office in Valencia sources certain imports and local products.
Overall fruit and vegetable category management comes under the wing of Hernández and his team – Beatriz Dominguez, José María Rubio and Miguel Heras – at Makro's Mercamadrid platform. "We aim for long term relationships with our suppliers and three quarters of them have been with us more than a decade," he said. These suppliers must comply with strict product specifications, such as on colouring, degrees Brix, weight, ripeness and firmness.
Makro's clients and competitors
Makro's clients – who tend to buy from it at least once a week – fall into three main categories: HoReCa (food service), resellers and office services, accounting for 75%, 5% and 20% respectively of its fruit and vegetable sales. Its strategy, however, is to increasingly focus on the hospitality sector, especially tapas bars and casual and fine dining restaurants.
As for its rivals, there are about 10,000 fruit and vegetables distributors in Spain. "It's a very fragmented market," Hernández said, admitting it's a challenge, "as our clients could also shop at supermarkets, local stores, specialty suppliers or via our main competitor – the door-to-door distributor."
Preference for 'green' packaging
Because it supplies the hospitality market, Makro can't sell loose product. "We have to have traceability," Hernández said, "everything has to have a bar code so you know who grew it." Apart from that, Makro values "packaging that is attractive, that communicates according to what's inside and is appropriate for its category." It also prefers it to have the least net environmental impact – ideally recycled or recyclable – and tries to avoid double packaging, e.g. boxes with bags inside.
And in transport, multi-temperature trucks – for example with separate sections for frozen and chilled food – are used, which make groupage easier and increase efficiency.
JB
This article was originally published on pages 18-19 of edition 136 of Eurofresh Distribution magazine. Read it online here.