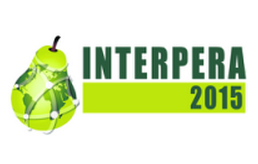 Interpera – the international pear congress of organised by AREFLH – takes place this November 19-21 in the Italian city of Ferrara, within the Emilia Romagna region well-known for growing the Abate Fetel pear.
This major event for the pear world will be held within the context of the first European fair dedicated to the pear – FuturPera.
Interpera brings together the growers and other key players in the international arena to discuss key technical and economic topics. Reports and presentations to be released and discussed at the conference include on:
Production this year in the Northern Hemisphere
Analysis of the production and storage in the main producers countries of the Northern Hemisphere
2015-16 forecasts
Analysis of the commercial results and of production forecasts for the main markets in the Southern Hemisphere
Innovative systems in the cultivation of pears in the world
Pear logistics: the new technologies and costs to tackle the markets of the world
New markets: the barriers and the phytosanitary requirements, instruments that prevent the free movement of pears in the world
Changes in pear consumption in Europe and in the world
Which instruments and projects are necessary to promote the consumption of pears in Europe and in the world?
For more information or to register: http://interpera.weebly.com/
AREFLH is the Assembly of the European Regions producing Fruit, Vegetables and ornamental Plants: www.areflh.org