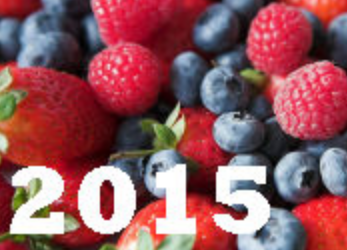 Berries and grapes together account for half the total value of all fruit sold in Ukraine, according to statistics presented to delegates from Ukraine and European countries at the Berries of Ukraine 2015 6th International Conference, organised by APK-Inform: Vegetables & Fruits project.
The conference was held in May in Kiev and hosted 160 agrarians who heard the presentations of professionals concerning the challenges and benefits of the berries sector.
It is possible strawberry exports from Ukraine will be at record level this season, said Tatiana Getman, head of the project. Last year, the country exported 300 tons, and this year the amount may reach 1,000 tons.
Last season, cherries and sour cherries topped the exports. However, this year, with the embargo imposed on Ukrainian fruit, problems with exports may arise, Russia being the top buyer of Ukrainian products.
Growing demand for niche berries
At the same time, the demand for berries at the local market keeps growing, and the number of farmers willing to grow them increases faster than the interest in any other crop. Therefore it is essential to choose the right strategy from the very beginning, said Oleg Bosyi, international expert in the sector.
He recommended starting to grow traditional berries, such as strawberry and raspberry. As for experienced produces, they are interested in offering niche berries as well. Blueberry, bramble and honeysuckle are niche berries chosen by more and more consumers.
Gooseberries
(Image by neurovelho via Wikimedia Commons)
The demand for cranberry and for gooseberry keeps growing too, the latter being one of the most prospective niche berry, believes Alexander Yarechshenko, science PhD from the Horticultural Institute. It is a pity gooseberry is wrongly forgotten by the farmers, he said. There are currently 600 ha of gooseberry in Ukraine, only 1/3 of them being cultivated commercially. At the same time, demand keeps growing, and gooseberry production has many advantages: the use of the plantation is 15-20 years, and harvesting may be done by machines.
Low Ukraine grape consumption
Meanwhile, Ukrainian table grape producers are less optimistic. Per capita grape consumption in Ukraine remains very low – 1.1 kg against the 12 kg recommended by European health organisations. The reasons are high prices, poor production conditions and lack of modern cold store facilities.
Optimal crop protection among other topics covered
The berries conference program also addressed export potential, the current situation of the frozen berries market, and discussion of new sales channels. The delegates attended master-classes by leading Ukrainian and foreign experts who explained how to choose optimal crop protection and optimal approaches to business barriers in Ukraine in general.
NB

The 6th International Conference Berries of Ukraine-2015: Frozen Produce & Fresh Market
Gooseberries: Image by neurovelho (own work) [GFDL (http://www.gnu.org/copyleft/fdl.html) or CC BY-SA 3.0 (http://creativecommons.org/licenses/by-sa/3.0)], via Wikimedia Commons