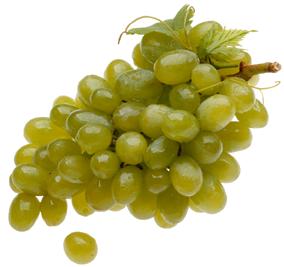 Global consumption of fresh table grapes is set to rise for the 6th consecutive year, going from just over 15.6 million tons in 2009/10 to an expected 20.9 million tons in 2015/16, amounting to growth of nearly 34%.
China, India, the EU, Turkey and Brazil are the top 5 consumer markets.
Production
Meanwhile, world table grape production is also headed up, by 479,000 tons to 21.1 million in 2015/16, as continued growth in China more than offsets declines in Turkey, according to new projections by the USDA Foreign Agricultural Service (FAS).
In its latest report on world markets and trades for deciduous fruit, the FAS also said global trade in fresh table grapes is likely to remain steady at about 2.7 million tons in the 2015/16 marketing year.
Both Peru and China are increasing their shares.
China: is the world's biggest fresh table grape grower and consumer, accounting for about 46% of both global production and consumption.
China's production is forecast to jump 800,000 tons to 9.6 million on higher area in 2015/16 and its exports to surge 35,000 tons to 165,000 as lower prices and good quality fruit boost exports to neighboring Asian markets. Imports into China are expected to rise 24,000 tons to 250,000 on higher shipments from top suppliers Chile and Peru.
Chile: the top table grape exporter, with a 27% share of the global market, Chile faces a slight contraction in production to 925,000 tons on continued low yields following last year's March floods and July snow, which affected orchards in the north.
Before the bad frost of 2013/14, Chile's production had been above the million ton mark. Its 2015/16 exports are forecast down 10,000 tons to 740,000 on lower exportable supplies.
United States: production is forecast up 29,000 tons to 984,000 on higher yield in California despite drought being a concern for many growers. Exports are forecast to remain flat at 390,000 tons on unchanging demand from top markets Canada and Mexico. Imports are forecast to slip 7,000 tons to 540,000 on lower availability from top supplier Chile, the FAS says.
Peru: production is forecast to rise a modest 10,000 tons to 510,000 as new plantings, driven by strong foreign demand, continue to come into production. Exports are forecast to rise 15,000 tons to 295,000 as market share continues to expand in top markets China and the EU. Peru ranks third after Chile and the US for fresh table grape exports, holding an 11% slice of the world market.
Turkey: is the world's third biggest fresh table grape grower (and ranks fourth as a consumer) but production is forecast to drop 345,000 tons to 2 million tons as the main growing region of Western Turkey was hit by a spring frost. Exports are forecast to drop 78,000 tons to 179,000 on lower output and reduced shipments to top market Russia, where a ban on certain Turkish imports goes into effect January 1, 2016.
EU: imports into the EU, the world's number one fresh table grape import market, are projected down slightly to 600,000 tons on stable demand and higher domestic production.
EU production is forecast up 49,000 tons to 1.7 million on increased output in Spain. Despite the Russian ban, exports are expected to remain stable at 105,000 tons on sustained exports to new markets in North Africa and the Middle East.
Russia: imports are forecast to fall 51,000 tons to 250,000 as consumer purchasing power continues to fall, consumption declines, and shipments from Turkey are reduced following Russia's ban. Russia's production is forecast down 9,300 tons to 90,000 on reductions in both commercial and household production.
Source: "Fresh Deciduous Fruit: World Markets and Trade (Apples, Grapes, & Pears)" December 2015, USDA Foreign Agricultural Service.
NB: The United States and Mexico are on a May-April marketing year for table grapes. All other Northern Hemisphere countries are on a June-May marketing year. Southern Hemisphere countries of Argentina, Chile, and New Zealand are on a calendar year indicated as the second year of the split year; South Africa is on an October-September marketing year (adjusted from calendar) on the first year of the split year. Some countries may include raisin-type and/or table-type grapes.