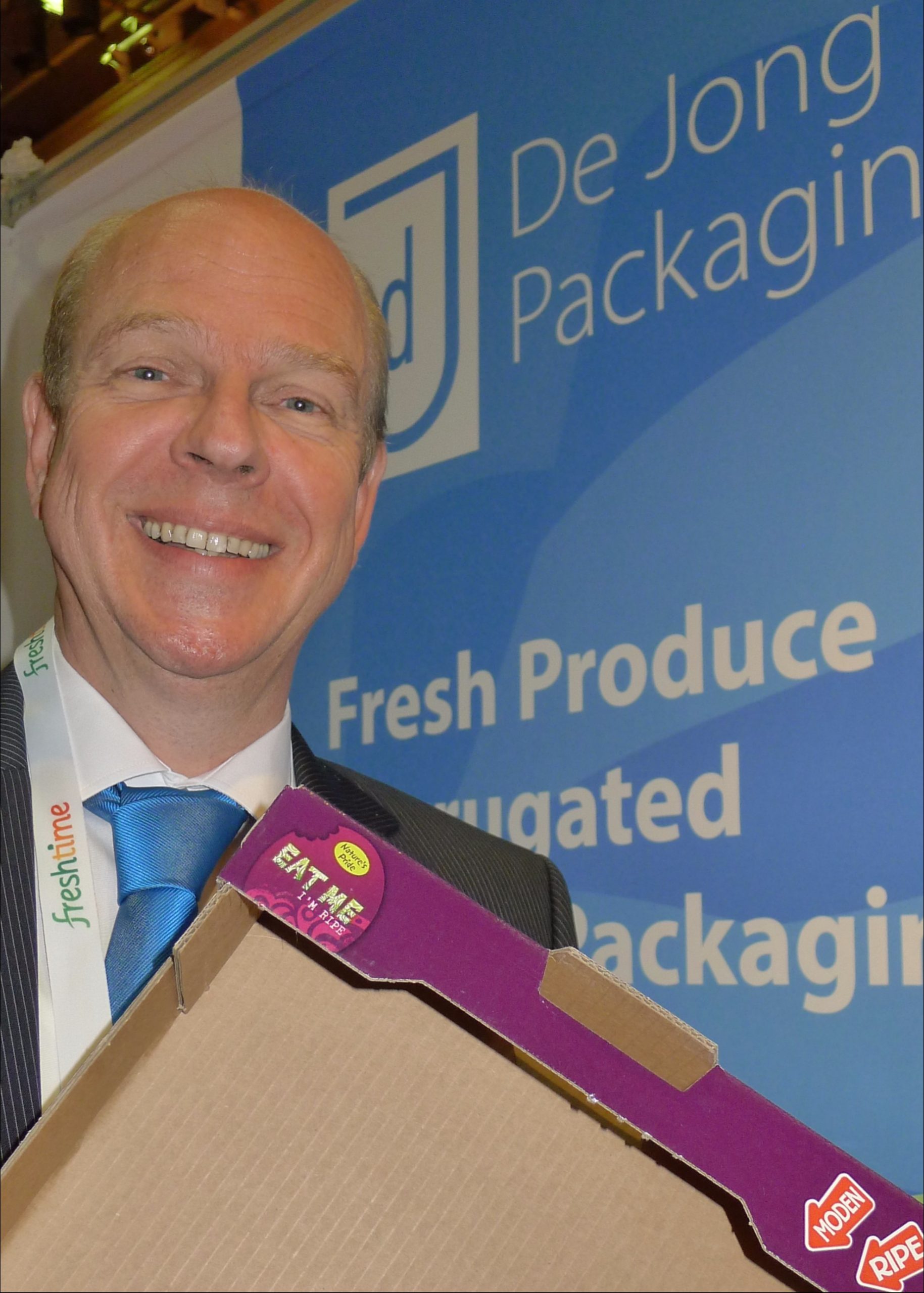 De Jong Packaging has started selling its corrugated packaging in the UK and has big ambitions there.
The Dutch company already supplies corrugated board boxes and trays for fresh produce in Germany, Belgium and its home market. De Jong Packaging's sales and marketing director Arie Barendregt says being the Netherlands' cost leader in corrugated packaging – "and its 3rd largest corrugated board factory and the only independent one" – are just two of the strengths it now brings to the UK market.
Speaking to ED at the London Produce Show in June, Barendregt said that at any one time, De Jong Packaging has 25-35 million boxes and trays in stock and ready to ship. It produces more than 300 million corrugated board trays and boxes a year and supplies fresh produce customers 7 days a week, 365 days a year. "Two out of every three trays in use in Holland are produced by us."
With Aldi and Lidl making strong headway in the UK market, the company has been in touch with these discounters to find out more about their needs. Barendregt said that in Holland, Aldi is already a heavy user of De Jong Packaging's wooden-look boxes, because of their natural aspect.
But when it comes to its fresh produce clients, the company, which celebrates its 20th anniversary next year, has prospered on a policy of doing business with small and medium-sized firms only. Barendregt said it's because "the big, pan-European companies always want to be the first, so they take away my capacity, they squeeze my prices, they add to my costs, because they want all kinds of additional layers of paperwork." He said the result is a lot of business but less flexibility and increased costs. "In the end, the customers who I really care about, the small and medium enterprises, have to pay the bill," he said.
The policy has served the manufacturer well, allowing it to stay close to its customers and meet their needs for bespoke products, strengths it believes will also see it thrive in the UK.
De Jong Packaging has 300 employees in its factory in Holland but also has a share in two Dutch flower box wholesale companies, and three Dutch and one Belgian fresh produce tray wholesale companies. "This brings us closer to indirect customers and gives us control of these sales channels," Barendregt said.
De Jong Packaging
London Produce Show
De Jong Packaging's sales and marketing director Arie Barendreg at London Produce Show in June, 2015