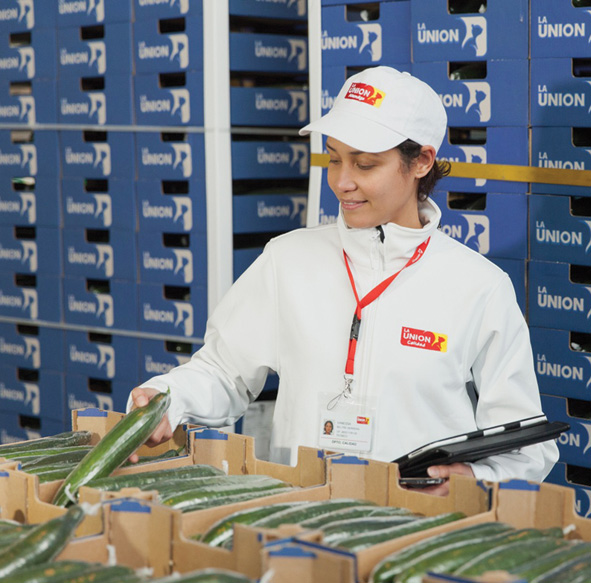 Alhóndiga La Unión is a leading company in the Spanish and European sector.
This year, it is carrying out several research projects, such as Biovege and Decidrop, with which it intends to develop and improve the entire agricultural life cycle.
In addition, Alhóndiga La Unión has rolled out phase 2 of the watermelon production line, an investment that will ensure greater efficiency and speed. Around 65% of the firm's produce is exported to European markets, with Germany, France and Poland the main destinations.
The main export items are: Cucumber, pepper and courgette. The company's objectives are based on covering all the product varieties demanded by their clients and taking in the entire domestic production cycle.
Alhondiga La Unión is a major company in the European scope, specialising in trading fruit and vegetables, at all times ensuring quality and food safety in its produce. It is important to note that 90% of production is destined to large-scale retail distribution.
Alhóndiga La Unión is committed to food quality and safety as its core message, as director-general Jesus Barranco, explains: "The key to marketing success is the combination of quality vegetables and food safety."
Moreover, Barranco said that in terms of brand image they have now begun using new packaging designs, which will gradually be extended through time. Since 2006, the company is certified under the UNE-EN ISO/IEC 17025 standard, as well as Global Gap, GRASP, Integrated Production, BRC and IFS.
Alhóndiga La Unión was set up in 1993 to work with employees, suppliers and customers to achieve greater profitability for farmers, providing the consumer with produce that meets the highest food safety standards. The product range includes cucumber, pepper, tomato, courgette, aubergine, beans, watermelon and melons.