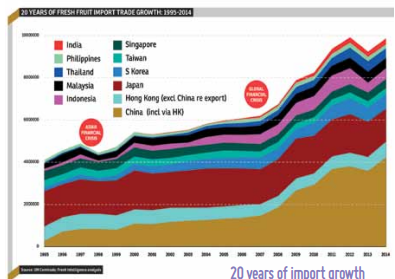 Asia's impressive rise as a fresh fruit importer has been impressive over the last two decades, as highlighted at the latest Asiafruit Congress.
Asia will be the standout growth opportunity for the global fresh produce trade in the next decade, and its ever-increasing demand is set to have a much greater influence on world suppliers and markets.
That was one of the key messages left ringing in the ears of delegates to the last Asiafruit Congress in Hong Kong, which attracted close to 350 industry decision makers from 34 different countries, celebrating its 20th Anniversary.
Panelist John Piper, founder of Hong Kong-based Food Asia Marketing, agreed, suggesting the fruit trade would continue to grow despite recent concerns about an economic slowdown in Asia. "Despite previous global economic dips, Asia has seemed to sail through," he said. "In Asia, fruit imports are a luxury, but they're a little luxury that people can afford and will continue to pay for."
Nick Kukulan, president of Paramount Export Co, was also upbeat, noting that appreciation of fruit and vegetables in Asia, particularly for their taste and aesthetic qualities, was "unmatched" in any other part of the world. "Asian consumers have been a driving force for development of varieties in the US, whether it be with white-flesh peaches or grapes; it's an incredible place to do business if you follow what consumers want in terms of taste and texture."
More stimuli for growth, despite recent financial "correction"
Geoff Green, head of Capespan Global Procurement, shared his first-hand insights into the impact on the global supply base, particularly for Southern Hemisphere suppliers who have been shipping much more of their produce to Asia to meet counter-seasonal demand.
"Asia seems to be the only thing on growers' minds now, whether it's in Peru, Chile, South Africa or India," said Green. "With everything being planted, the only thing on the growers' minds is the Asian markets. They're no longer planting varieties as they did before for Europe and the UK."
While acknowledging that China's economy was undergoing "a long overdue correction", Piper urged everyone to keep 'the bigger picture' in sight. Looking to the next ten years, he said the challenge would not be to grow the market for fresh produce imports in Asia, but rather to keep pace with demand.
Marketing health: a 'capitalist' opportunity
Clint Smith of The Silk Initiative and Zhongxing Zhang of McCann Health explained how marketing the health and nutritional benefits of fresh produce in Asia could deliver sales growth.
Smith said Chinese consumers are very conscious about the heating and cooling properties of foods as well as their natural medicinal properties. "It's about keeping a balance between heating and cooling properties," he explained. "There's also much work to be done to educate consumers on less familiar fruit and vegetables." "Most of us know avocados are very nutritious but when they first came to China, people didn't like them," said Smith.
Zhang followed on from Smith's advice, urging delegates not to be so modest when it comes to promoting the health benefits of fruit. "Let consumers see the link between fruit and its health benefits," Zhang said. "Communication needs to be changed; nobody has told consumers the health aspects of each specific fruit."
China's banana market: opportunities in Southeast Asia
Goodfarmer's Liu Zijie painted a picture of the opportunity to develop China's banana market with perspectives for domestic production. Vanessa Perez of Austrade Philippines and Edgar Fernandez from the Philippines retailer Rustan Supercenters outlined the market opportunities in this rapidly emerging South East Asian economy. James Christie of US-based market development agency Bryant Christie also led a breakout session on the changing landscape in terms of maximum residue levels across Asian countries, with expert insights from colleague Matt Lantz and from John Chapple of Hunter Food and Agriculture Services.
China & Taiwan: huge markets for NZ cherries
Taiwan and China are the main two markets for NZ Cherry Corp with approximately 60% of its volume going to these two markets. Chinese customers seek big, red, firm and juicy cherries, it reports. "We believe we have the best quality from NZ and are in a good position to provide the size, quality and packing the customers need. We harvested 510 tons this year and we expect a better season for the coming year, thanks to an increasing number of growers in our company. We are currently working on some projects to increase our production quantity."
Asia: a growing opportunity for Indian produce too
Asia is also giving growing market opportunities for Indian produce. One of its top 7 exporters, Seven Stars Fruit, confirms they are already exporting to Hong Kong, Malaysia, Singapore and the ME market too, though their main export market is Europe, especially the UK and Germany. "This is our 2nd time at AFL. We are here to find new opportunities for grapes, pomegranates and onions in South East Asia. This year, we have also started a banana plantation of 35 ha to get year-round production and we expect the first harvest in April 2016," say their managers.
Seven Stars Fruit is a major exporter of Indian fruit, especially pomegranates, table grapes, mangoes and bananas, and they are looking for opportunities in onions and potatoes in the Far East and Russian. Last year, Seven Stars Fruit exported table grapes from a total production area of 1,200 ha, and pomegranates from an area of 200 ha. Seven Stars works closely with growers and has developed the web app "Farm View" for growers, the production team and their customers, which will help to monitor production on the farms, packing operations and traceability for their customers. This will ensure monitoring of pesticide residues and food safety, which are major concerns for the EU market.
SM
This interview first appeared on p38-39 of edition 139 (Sept/Oct 2015) of Eurofresh Distribution magazine. Read more of that issue online by clicking on the image of it here: