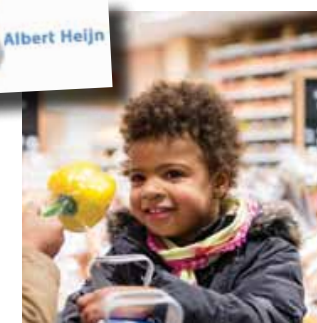 With a 34% market share in the Netherlands today, Albert Heijn continues to improve its market position
The leading Dutch supermarket chain continues to improve its market position mainly due to an increase in the number of stores and the development of e-commerce. The market share of Albert Heijn shops in the Netherlands has risen by nearly 10% over the last 10 years from 25.3% in 2004 to 34% in 2014.
A new stage of sustainability
"To be able to market these specific ready-made salads with specific types and varieties of lettuce, long-term planning with our suppliers is even more necessary," said Leon Mol, sourcing manager for vegetables. These suppliers are located in North-Western Europe and Southern Europe, though unexpected weather conditions in Southern Europe have made it very challenging to meet our requirements in volume and quality. Sustainability has been at a high level for a long time and has now entered a new stage of development. After mainstreaming basic requirements across the whole fruit & vegetable category, there is renewed attention for specific crops in specific regions of production. These projects can really make a difference for such an area.
Organics, ahead in transparency and traceability
"The organic sector is ahead of the conventional sector when it comes to traceability and transparency," Mol said. The professionalisation of the organics sector is ongoing and very much needed for further growth in the organics market. Although full transparency of the supply chain is a basic requirement, more attention is still needed. "The identity of a product is more and more a part of the market proposal," Mol said. The sales of organics represent about 3% of Albert Heijn stores' sales and this is due to rise significantly, since the number of items has grown.
PE
This is a short version of an article which appeared on page 30 of edition 135 of Eurofresh Distribution magazine. Read it for free here.