Suhol controls the entire supply chain
The leading fruit and vegetable provider for the Omani market integrates the entire supply chain from production to import, logistics, wholesale and retail. "We are the number one supplier of […]
Sun 18/10/2015
Follow us :
The leading fruit and vegetable provider for the Omani market integrates the entire supply chain from production to import, logistics, wholesale and retail.
"We are the number one supplier of fruit and vegetables for the country, with an estimated 40% market share of imports and 60% of supermarket supplies," states Abdul Latheef, CEO of Suhol Al Fayha Trading. Suhol serves as the full service provider and category manager for the major supermarket chains in Oman, like the 30 Khimji hypermarkets, the largest chain in the country, Al Meera, Lulu, Spinneys (operated by Al Fair) and Spar.
The company is run by the chairman Zahir Zahran from India and the co-founder Abdul Wahid, the local partner. Both have a vision of serving the Omani population with premium quality products at the most competitive price, via the shortest and most effective supply chain. Suhol provides more than 45,000 tons of premium fruit and vegetables a year to every market segment. Bananas are the top product category by volume, followed by apples, citrus, stone fruit, root vegetables (carrots, garlic, ginger, onions and potatoes) and leaf vegetables.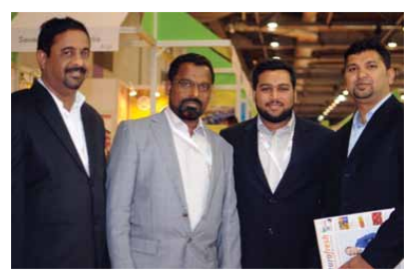 The main import sources for vegetables are Jordan and Iran in winter, and Holland in summer. Among the leading brands delivered by Suhol in Oman are Zespri kiwis, Apollo apples from New Zealand, Capespan from South Africa, Sun Choice and Ever Season citrus, Fruit Root apples, Dole pineapples (from the Philippines), True Cape apples, Bella apples by Nava (Italy) and Blue Whale and Copex from France. Despite its short shelf life, summer fruit is a major category distributed by Suhol, including peaches and nectarines, will all the supplies coming from nearby countries (Lebanon, Jordan, Syria, Turkey and Iran). Suhol's concern for food safety is also high, since the group is ISO 9001 certified. "Delivering our customers a premium quality service is important for our customers as well."
Photo courtesy of http://www.suholalfayha.com/gallery.html
A vision of integration and consistent development
Today, the company has more than 656 employees, having doubled in the last decade. "Our mission is also in line with the short and long term goals of consistent integration, aiming to multiply employment opportunities for both locals and expats," said Latheef. Suhol is also present as an importer and wholesaler in the Al Aweer market of Dubai, Doha and recently Jeddah in Saudi Arabia. "Our long term goal is to establish ourselves as a dedicated, specialist retailer in other markets in the Gulf," explains Khan.The group has already opened a fruit and vegetable store in Jeddah.
On the logistics side, Suhol runs its own fleet of trucks and has increased its storage capacity to over 2,000 tons. Its logistics centres are based in Sohar and Muscat, with a third one planned to be built in Halban by 2017. The group runs wholesale divisions in the markets of Muscat, Sohar, Nizwa, Salalah and Sur. Suhol is also the largest service provider for institutions and the food service sector. Among the famous brands supplied are KFC, Pizza Hut, Subway, Shangri La , Golden Tulip and Crown Plaza.
Retail specialists Suhol handles the entire fruit and vegetable section for its major retail customers, such as Khunji hypermarkets. It provides all the staff and installations, and runs the the supplies and merchandising daily. "We are just renting the space and are running the entire section," Latheef said. At Khunji hypermarkets, Suhol provides a large assortment of more than 300 items. It also includes local vegetables cultivated in Oman, such as aubergines, okra, capsicums, cucumbers and tomatoes.
"Modern retail chains are generating significant growth for the production business as well," he said. Indeed, modern retail is growing twice the market average of about 15% every year, and its relative market share within the food retail panorama is still only around 10%. Suhol, for instance, handles the entire category with the fast growing retailer "Anhar Al Fayha," which is expanding with the launch of other new retail concepts like "Liwa, Bid Bid ad Mabalah" hypermarkets, both opened in 2015. "Anhar Al Fayha is planning to open 5-6 new hypermarkets every year. We are helping them by efficiently handling their fruit and vegetable sections," Latheef said.
Oman retail panorama, 10% market share

PE
This interview first appeared on page 18 of edition 139 (Sept/Oct 2015) of Eurofresh Distribution magazine. Read more of that issue online by clicking on the magazine image below.