Peru ranked world's second-largest blueberry exporter once again
Peru exported 162,459 tons of fresh blueberries in the 2020-2021 campaign, worth a total of US$1 billion. The aim for 2022 is to surpass 200,000 tons.
Wed 13/07/2022 by Belén Barbini
Follow us :
Camposol celebrates 25th anniversary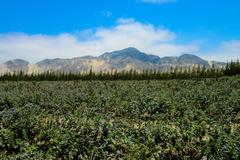 Camposol turned the desert into green fields.
Twenty-five years ago, Camposol made a risky but transcendental decision: to turn the Peruvian desert into a great green field. Thanks to the use of modern, sustainable and competitive agriculture, the company has achieved that and much more. Today, Camposol is present in Peru, Uruguay, Colombia, Mexico, Chile, Cyprus, Costa Rica, Switzerland, Spain, the United States, China, and the Netherlands; and its products are found in more than 40 countries around the world. The Camposol management is thankful to the more than 25,000 collaborators in 12 countries without whom the group's success would not have been possible. Jose Antonio Gómez, CEO of Camposol, said:
Agrovision posts record sales with vertical integration, advanced genetics and superior quality
Agrovision's sales have taken off.
US-based berry firm Agrovision is already the third-largest single grower and exporter of blueberries from Peru, with more than 70% of plantings incorporating improved genetics, including the largest global production of the impressive new Sekoya varietals. The company's new showcase 100 ha farm in Mexico is growing premium genetic berries for the North American market. A new variety trial centre is also planned for 2022 to exhibit and screen the company's various exclusive and in-house breeding programmes, specifically focusing on raspberry and blackberry development.