Mercadona increases by 3% to €20.8 billion
Wed 13/04/2016 by Richard Wilkinson
Follow us :
Mercadona shared €277 million among its employees by way of performance-related bonuses and paid 326 back to society in taxes. From its €611 million net profit (+12% on 2014), 495 were reinvested and the rest issued as shareholders' dividends. Net profit has risen by 12% to €611 million, and investment reached €651 million.
Mercadona's integrated supplier-manufacturer industrial cluster in Spain boasts more than 240 factories and over 47,100 employees. Mercadona's economic impact is estimated at 1.8% of the country's GDP (€19.5 billion), providing 3.8% of the total posts in the country (640,000 employees), and the firm also carries out 85% of its purchasing in Spain, adding up to a total of €15.4 billion.
In 2016, Mercadona plans to carry out an investment of approximately €650 million, which will mainly be destined towards opening 60 new stores, refurbishing 35 supermarkets and the ongoing construction works for the Abrera (Barcelona) and Vitoria-Gasteiz logistics blocks, while continuing to foster technological transformation by starting to build the Villadangos del Paramo (Leon) Data Processing Centre.
Breakthroughs in technological and digital transformation
In 2015, Mercadona managed to move forward in its technological and digital transformation project, in which it has invested more than €90 million. All of this seeks to achieve a double objective: placing information at the service of employee decision-making and improving the shopping experience for customers.
In 2016, and as part of this digital innovation process, Mercadona plans to start building the second Data Processing Centre in Villadangos del Paramo (Leon), at an initial foreseen investment of €6 million. Furthermore, it will re-engineer its website to make it more seamless, agile and visually appealing. In 2015, online channel sales grew by 8%, contributing 169 million euros to the total revenue.
Sustainable Agri-Food Chain: from theory to action
Mercadona's commitment to development of its Sustainable Agri-Food Chain (CASPOPDONA) continues to move forward, and in 2015, caused a positive impact in the Spanish primary sector. A good example of this is the productivity increase in sectors such as rice, where together with farmers in Extremadura and Valencia, integrated supplier Arrocerías Pons has managed to increase its crop yields by 15% while cutting costs by 20%, increasing profitability while minimising environmental impact.
Mercadona's industrial cluster also accounts for more than 240 factories in Spain. They have a joint workforce of 47,100 people, as they have hired 2,600 new employees in 2015. This long-term investment plan has allowed for Mercadona and its 125 integrated suppliers to own more than 240 factories in Spain, making it one of Europe's most dynamic, innovative agri-food clusters.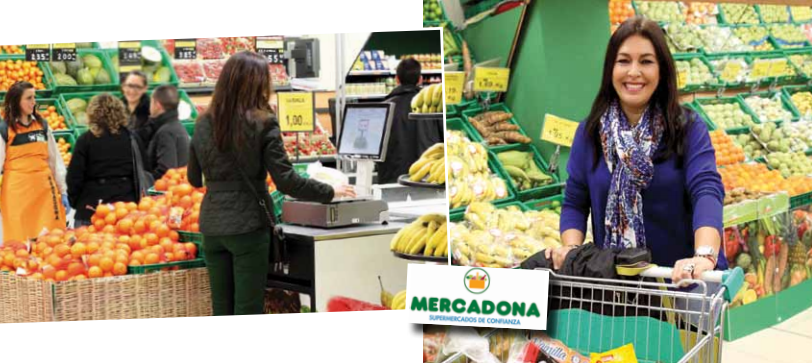 Commitment to fresh local produce
Mercadona is committed to the Spanish primary sector, a key area of the Spanish economy, and to providing customers with top quality, locally-sourced fresh products. To this end, Mercadona maintains stable agreements with 7,500 producers, 4,300 livestock farmers and 12,000 fisheries throughout Spain. In addition, more than 85% of Mercadona's total buying volume consists of products cultivated and manufactured in Spain, in purchases to the tune of €15.4 billion a year.
30% more citrus purchased in 2015
Mercadona rounded off the 2015 Spanish orange campaign with the purchase of 130,000 tons of oranges of national origin, 30% more than in the previous season.
The oranges sold in Mercadona from November to August are domestically-grown. Mercadona supplies oranges from the Valencia Community, Murcia and Andalusia which are successfully sold in supermarkets throughout Spain. The oranges in Mercadona, from the season start-up in November until the following August, all come from Spain. For example, in the Valencia Community, Frutas Tono and Martinavarro, intermediate citrus suppliers to Mercadona, have more than 2,000 local orange suppliers and over 1,700 hectares of crops. So, 90% of oranges that Mercadona sells are of domestic origin.
This article was published on page 20 of the March/April 2016 edition, number 142, of Eurofresh Distribution magazine. Read that issue online here.